KARACHI: The stock market extended gaining momentum on Friday with the KSE-100 index up by 173.93 points (0.51 per cent) to close at 34,377.61.
The market remained largely positive and the index hit intraday high by 230 points in the first session. Traders had their eyes glued to TV screens which covered live the Azadi march in Islamabad during the second session when leaders of major political parties addressed the crowd in support of the JUI(F)-initiated protest.
It triggered a bit of nervousness among weakholders who were seen to be liquidating their positions which dragged it down in the red to touch intraday low by 96 points.
But the market managed to calm down and the index bounced back as heavy buying erupted in the current favourites, cement, oil marketing companies and blue-chip stocks in selected sectors.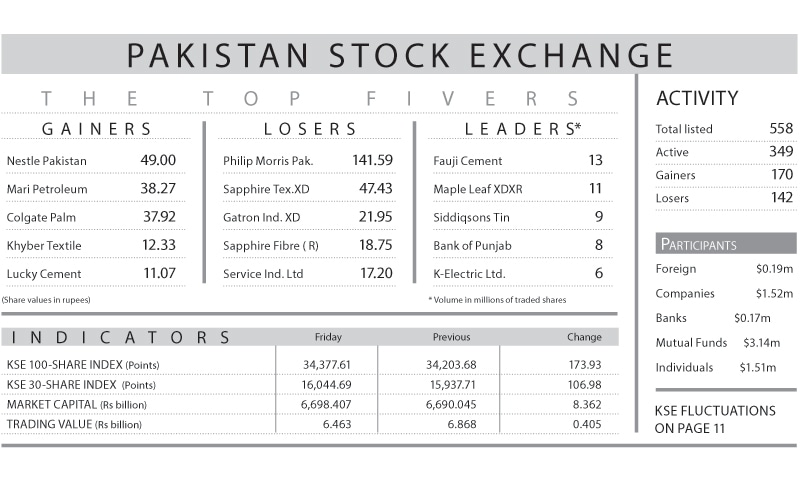 In cement, Maple Leaf, Kohat, Pioneer, Cherat and DG Khan all hit their upper circuits while banking also saw buying interest with rise in share prices of United, MCB and Habib. Exploration and production, automobiles and fertilisers did not attract buyers.
Foreign participation in the day's trade was minimal. Among locals, companies, banks and mutual funds made cumulative net buying of $4.83 million whereas individuals and insurance companies turned net sellers.
The volume decreased 14.6 per cent to 157.1m shares, from 184.0m while traded value declined 6pc to $41.5m, as against $44.1m. Stocks that contributed significantly included Fauji Cement, Maple Leaf, Siddiqsons Tin Plate, Bank of Punjab and K-Electric, which formed 30pc of the total turnover.
Major contribution to the index upside came from Hub Power, up 2.53pc, Lucky Cement 3.15pc, Mari Petroleum 3.51pc, Bank Alfalah 2.87pc and MCB 1.07pc. On the flip side, Oil and Gas Development Company, down 0.89pc, Pakistan Petroleum 0.92pc and Pakistan Oilfields 0.60pc took away 38 points.
Published in Dawn, November 2nd, 2019