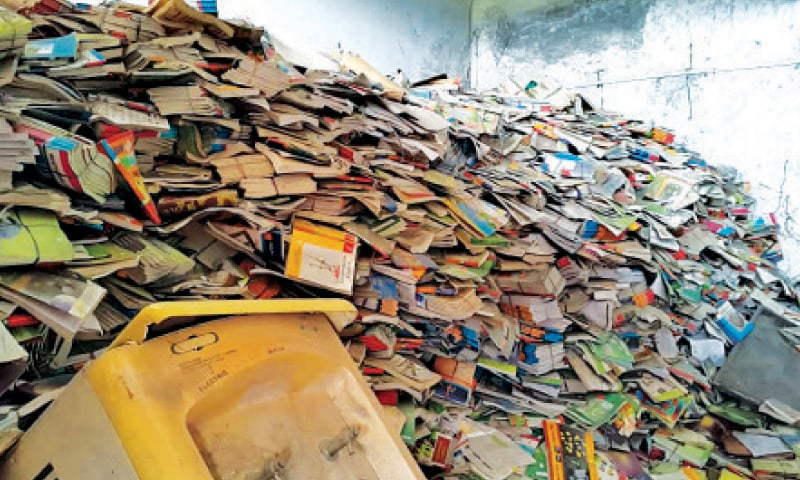 NAROWAL: Thousands of books published by the Punjab Curriculum and Textbook Board have been found rotting in a government school owing to the alleged negligence and incompetence of the District Educational Authority, wasting hundreds of thousands of rupees of the provincial government.
The Punjab government had provided thousands of free textbooks to the Govt High School Narowal for the students of classes VI to X at the beginning of the academic year in February. The school administration however did not issue the books to the students, which were eventually left to rot in a corner in a classroom and were now covered with dust.
Resultantly, students were forced to purchase costly books from the market and the dumped books will most likely be sold to scrap dealers.
A few years ago as well, thousands of books were issued to the school to be distributed among students. The school administration issued some of them, while the rest were left to rot and later sold as scrap.
People have demanded Chief Minister Usman Buzdar take notice of the dumped books that had been damaged due to rainwater and dust.
The officers concerned of the education department were pinning the blame on each other for a large number of books going to waste.
Students Muhammad Arsalan and Irfan Ali said they had not been given all the books sent by the Punjab government at the beginning of the new academic year, adding that they were forced to purchase three books from the market that were not given by the school.
Parents of students Muhammad Anwar and Ghulam Rasool said that the school administration was falsely claiming it had provided the required set of books to students.
They said that previously also a lot of bundles of textbooks were found in three classrooms of the school that were later sold to scrap dealers. They claimed the education department officers are causing a loss of billions of rupees to the Punjab government annually.
District Education Authority Chief Executive Officer Dr Muhammad Zulfiqar said that the books found in a classroom of Govt High School Narowal were not required by the school or demanded from the Punjab Curriculum and Textbook Board Lahore.
The ones they required instead were not sent. He claimed that he would write to the textbook board and return these books to them.
Published in Dawn, October 28th, 2019