September 06, 2019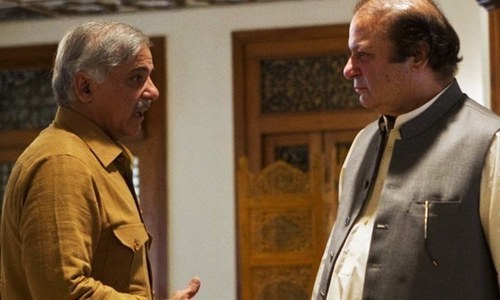 LAHORE: PML-N president Shahbaz Sharif on Thursday visited his elder brother former prime minister Nawaz Sharif at the Kot Lakhpat jail and their one-and-a-half-hour meeting further fuelled rumours about the possibilities of a deal that could send the Sharif family head abroad for few years.
Quite contrary to the speculation in the media in recent days, the PML-N's sources on the subject said Mr Nawaz Sharif was not prepared to leave the country. Sources did not rule out that the Sharif brothers might have discussed some 'deal offer' in their latest meeting.
Sources also confirmed that emissaries had been sent to call on Mr Nawaz Sharif in recent days, without specifying the sender. "A property tycoon recently called on Mian Sahib in jail and conveyed to him that it was in the best interest of everyone that he and his daughter Maryam Nawaz left the country, to return at the right time. The same gentleman had earlier carried the message of an 'important person' to Nawaz Sharif to step down as premier," a PML-N source said. The source further said the approach had been made in the wake of a realisation that the economic stability in Pakistan was subject to political stability in the country.
Whereas some reports in media have insisted that Prime Minister Imran Khan was the biggest opponent of the idea of allowing Mian Nawaz Sharif a passage to a foreign country, according to the account of a PML-N insider there was an attempt to put pressure on the former prime minister by using the emotional family card. The source claimed that even the mother of Mr Sharif had been asked to convince her son to 'leave' the country. "But Mr Sharif has categorically said that he has nothing to lose and he will not cut a deal. His wife is no more, his sons are living in exile, his daughter is in jail and he is portrayed as a thief in the worst kind of trial by media … he asks what else there is for him to lose," the source said.
PML-N's information secretary Marriyum Aurangzeb dismissed 'deal' reports and she denied that any property tycoon had met Mr Sharif in jail. "Mian Sahib had returned to Pakistan along with his daughter Maryam Nawaz clearly knowing that he was going to jail in the Al-Azizia Mills case, leaving behind his beloved wife on death bed for the rule of law," she said.
Dr Adnan Khan, a personal physician of the former prime minister, also called on Mr Sharif on Thursday and examined him. He had recently written to the Punjab chief secretary, demanding provision of adequate medical facilities "to cope with multiple co-morbidities which cannot be treated from within the jail premises".
Ms Aurangzeb said the PTI government should better provide the required health facilities to Mr Nawaz Sharif as he was not well. She lamented the Punjab government's step to 'deny' a specialised cardiac ambulance at the Kot Lakhpat jail. "Mian Sahib has multiple health issues related to his heart, kidney and neck and he needs specialised medical care round-the-clock," she demanded.
Published in Dawn, September 6th, 2019