When writing on the Bard's works, one cannot afford to ignore A.C. Bradley's monumental Shakespearean Tragedy: Lectures on Hamlet, Othello, King Lear, Macbeth, though many other books have appeared on the subject in recent decades. Likewise, when it comes to the Progressive Movement in Urdu literature and the study of works in different genres, be it fiction or poetry, or criticism or the history of the movement, the last word remains Khalil Ur Rahman Azmi's Urdu Mein Tarraqqi Pasand Adabi Tehreek, which appeared in print way back in 1972.
Now, almost half a century later, re-examining what remains a seminal work on the subject, no less a critic than Professor Gopi Chand Narang calls Azmi's book "a dynamic work without which no account of [P]rogressives can be written." Another reputed literary historian, Shamsur Rahman Faruqi, calls it "a landmark in modern Urdu criticism", going on to say that "[Azmi's] opinions and judgements are still valid and enlightening."
However, many literature enthusiasts were bogged down by their inability to read the Urdu script, and/or not being fully aware of the Progressive Movement in the language, as well as of the gems created by the ardent, or even somewhat mild, exponents of thoughts and themes that departed from the traditions of escapist writings. This void has been aptly filled by Azmi's daughter, writer and academic Huma Khalil, who has transcreated (not translated, mind you) her father's invaluable book and named it Many Summers Apart: Gems from Contemporary Urdu Literature. She was merely six when her illustrious father passed away, but she had the advantage of being equally at ease in both Urdu and English and of having grown up with the original work on her bedside table, not to speak of her contacts with literary luminaries who were her father's contemporaries.
In addition to being a top-ranking literary critic, Azmi (1927-1978) was a poet of no mean stature and a professor at Aligarh Muslim University. He also mentored the reputed British Urdu scholar Dr Ralph Russell, who later co-authored with Khurshidul Islam what is arguably the finest book on Ghalib in the English language.
A seminal Urdu treatise on the Progressive Writers' Movement is rendered into English by the formidable author's daughter
Azmi, whose doctoral dissertation was on the Progressive Movement in Urdu, firmly believed in examining literary works in their historical contexts. He didn't think Progressive thinking began in the 1930s. He quoted Allama Iqbal's line — now forgotten by average Pakistanis who consider him merely an 'Islamic poet', if one may coin the expression — "Utho meri duniya ke ghareebon ko jaga do" [Let us wake up the poor of the world].
Azmi believed that the concept of Progressivism was not stagnant, nor was it a recent phenomenon: "It is a continuous and flowing process of interspersing past glorious traditions and demands of the new era into a streaming live force." He regretted that some young writers were victims of "extreme excess and abundance of emotions at the beginning of the Progressive Movement." They ignored all the past literary masterpieces and portrayed a mechanical image of Progressivism.
Earlier, the year 1932 saw the publication of an epoch-making compilation of the works of "the hot-blooded and aggressive writers" Sajjad Zaheer, Ahmad Ali, Rashid Jahan and Mahmooduzzafar. The stories in the slim volume were revolutionary, in that they were intensely against the shallow views expressed in traditional literature. The collection, aptly named Angaarey [Sparks], did not go down well with orthodox mindsets and, quite understandably, evoked hostility. The authorities were also displeased and — what Azmi, for some reason, doesn't mention — lost no time in usurping all copies of the publication. But neither the traditionalists nor the colonial government could hinder the profound impact that Angaarey had on Urdu literature in times to come.
In 1935, a group of young revolutionaries comprising Zaheer, Dr Mulk Raj Anand (who wrote in English), Dr Mohammad Deen Taseer and two Bengali writers — Dr Jyoti Ghosh and Pramod Sengupta — formed a literary group in England which they called the Progressive Writers' Association (PWA). Anand was unanimously 'elected' its president.
The first manifesto prepared by these writers said that the association's aim was "to bring literature and art where they can be used as catalysts in reforming society and to extract it from the clutches of tradition and conservatism." The points raised included the demands that the association in London ought to merge with associations back home, that it should include writers from different languages, that it closely associate with all literary organisations which were not against the PWA, that Urdu and Hindi ought to blend into Hindustani and that the Roman script be adopted for writing purposes. In the chapter 'The First Manifesto' in the book under review, Zaheer is quoted as urging to remove biases towards the regional languages and to help writers get support from each other in their literary endeavours.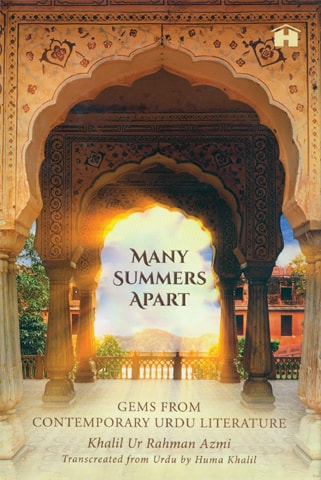 The first Progressive Writers' Movement (PWM) conference was held in 1936 and, along with eminent Urdu and Hindi literary figures, their counterparts from Bengal, Gujarat, Madras [Chennai] and Maharashtra also spoke at the two-day event held in Lucknow. No greater icon than Munshi Premchand was persuaded to preside over the meeting. His address, a document of true literary worth, has been reproduced in its entirety in Many Summers Apart.
Another conference was held the following year and a yet grander event was held in 1938 where Pandit Jawaharlal Nehru also spoke and Nobel laureate Rabindranath Tagore's message was read out. Both are very much there in Azmi's invaluable book.
In the chapter on the Progressives' writings on Partition, Azmi raises the question of discord between Urdu and Hindi and applauds the stand taken at the Progressive Writers' Conference of Uttar Pradesh to bring Urdu and Hindi closer and its insistence that, in order to "seamlessly blend" into each other, it was essential that both be allowed to grow with their respective scripts. It strictly opposed the Sanskritisation and Persianisation of the two languages.
This reviewer, as indeed many others, would not agree with Azmi when he remarks, "In Pakistan, Saadat Hassan Manto and Hasan Askari presented an escapist view through their writings, negating the basic truths and higher aspects of humanity." At least where Manto is concerned, who can ignore the hair-raising stories he wrote about the tragedies of Partition? His classic Toba Tek Singh, for instance, ranks among the most touching short stories written in Urdu.
The quintessence of the chapter on revolutionary poetry is a quote from Sajjad Zaheer, who opposes sermonising. He opines that a preacher cannot be appreciated, however genuine he may be.
The chapter 'The Prominent Poets' deals with many who are now on the verge of being forgotten as also those who have stood the test of time, such as Faiz Ahmed Faiz, Firaq Gorakhpuri, Asrarul Haq Majaz, Majrooh Sultanpuri, Kaifi Azmi, Sahir Ludhianvi and Ahmed Nadeem Qasmi. Then there is the revolutionary critic, poet and preacher Ali Sardar Jafri who, for instance, didn't approve of Faiz's subtlety and criticised his short poem on Partition, "Ye daagh daagh ujala, ye shabgazeeda sahar/ Wo intezar tha jiska ye wo sahar tou nahin" [This stained light, this night-bitten dawn/ This is not the dawn we had yearned for]. Jafri's contention was strongly criticised by many, including Zaheer. Way back in the late 1990s when this reviewer brought Jafri's viewpoint to poet Javed Akhtar's attention, Akhtar had said, "Well, it's simple, he is jealous of Faiz's stature."
The section on the genre of short story — arguably the most developed genre in Urdu literature — starts with Premchand and rightly maintains that his work was a bridge between daastaan and realism. Azmi then focuses on such accomplished narrators as Krishan Chander, Ismat Chughtai, Rajinder Singh Bedi, Balwant Singh, Satyarthi, Manto and Qasmi. He views their contributions objectively as indeed he does the works of novelists. Commenting on Azmi's views on both genres would demand a review twice the size of one of his entire volumes.
Theatre was a popular medium, but the plays staged were largely escapist. However, the PWM brought refreshing changes in themes. One wishes Azmi had referred to the Indian People's Theatre Association (IPTA), which was an offshoot of PWM.
The chapter on humour and satire leaves one unsatiated, mainly because we lack the quality to laugh at our own weaknesses. Two humourists are addressed in some detail: Kanhaiyalal Kapoor, who was inspired by Patras Bokhari, and Ibrahim Jalees, who never rose above mediocrity. The main hall at the Karachi Press Club is named after him because of his columns that appeared in a leading Urdu daily.
In the concluding chapter on literary criticism and leading Urdu critics, Azmi does a commendable job in condensing an exhaustive subject in a few pages, without leaving the reader dissatisfied.
One last word: Azmi supports his viewpoints by quoting critics; this proves that, for one thing, he was very well read and, for another, he had the ability to recall the right quotes at the right places. Credit also goes to Huma Khalil for updating the text where she deemed necessary.
The reviewer is a senior journalist and author of four books, including Tales of Two Cities
Many Summers Apart: Gems from Contemporary Urdu Literature
By Khalil Ur Rahman Azmi
Transcreated from Urdu by Huma Khalil
Hay House, India
ISBN 978-9386832825
403pp.
Published in Dawn, Books & Authors, August 25th, 2019