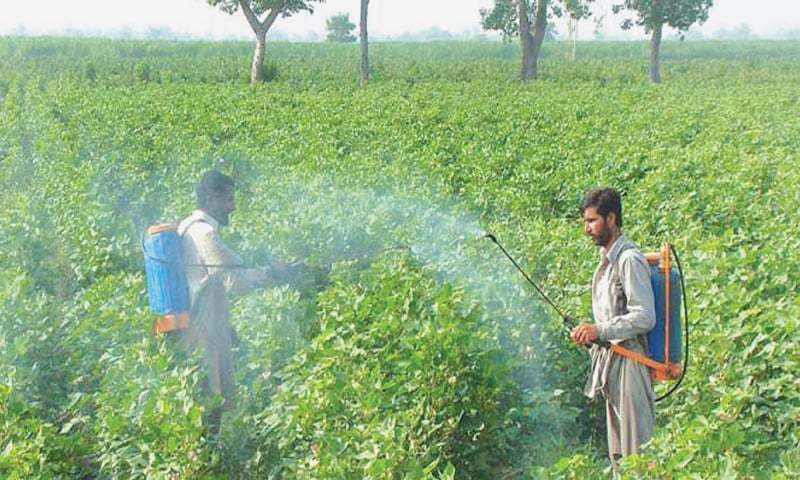 The market for agro-chemicals has developed gradually since the introduction of pesticides in 1954. But its growth became rapid during the last few decades.
Estimated to be $220 million, the market size is expected to increase by almost 57 per cent to $345m by 2024.
The cotton crop is the major consumer of pesticides. Around 80pc of agro-chemicals are used to kill bugs that attack cotton as growers administer eight to 13 sprays during the crop season. It is estimated that 88.3pc of pesticides are being applied in Punjab, which contributes 79pc to the total produce.
The Agricultural Pesticides Ordinance 1971 and Agricultural Pesticides Rules of 1973 regulate the use of pesticides in the country. Yet the overuse of insect killers by farmers and malpractices by distributors and dealers are rampant.
A Punjab task force, set up to control spurious pesticides and fertilisers, confiscated at least 180,949 litres of fake agro-chemicals during the last seven months (Jan-July) in seven cotton-growing districts.
'The only drug-testing laboratory in Punjab's capital is part of the problem rather than solution'
The task force — which was established in 1998 but remained dormant for a decade or so — said in its report that at least 144 dealers were arrested and cases against more than 1,000 others were registered. The reason was that either they were overcharging customers or their samples were spurious. A couple of factories making fake agro-chemicals were also raided and sealed during raids in Multan and Khanewal districts.
Mehar Muhammad Akram, who serves on the task force as additional director (pesticides), says that large signboards showing a WhatsApp number for complaints against pesticide adulteration are on display at 16,659 dealer points in the cotton belt. He claims that the task force takes action on complaints within 24 hours.
However, growers complain that the situation is far more worrisome than the one reflected in the task force's reports. They point out that the only drug-testing laboratory in Punjab's capital and the unscrupulous elements within monitoring teams are part of the problem rather than solution.
Chaudhry Iftikhar, a progressive grower from the Bahawalpur district, alleges that the lab may issue a favourable report on a spurious sample or an unfavourable report on a good-quality chemical depending on the underhand exchange of money.
Fake lab reports are causing financial losses worth billions of rupees to growers as well as the national exchequer, says Pakistan Kissan Ittehad General Secretary Mian Umair, who is also a cotton grower.
Mr Umair claims that no pesticide was effective against the recent whitefly and pink bollworm attacks. Sprays, sometimes up to five times, failed to eliminate bugs from the affected fields, he says. He says the government should at least ban the company/distributor that supplied the ineffective product.
He also highlighted the 'unreasonable' hike in the prices of agro-chemicals, saying their rates have risen up to 900pc in some cases. The 'pesticide mafia' blamed the increase on the closure of some chemical plants in China, he added.
He wondered why prices of the same chemicals did not register a similar increase in other regional countries like India that also rely on supplies from China.
Mr Iftikhar pointed out the 'discriminatory' prices for small farmers. As an example, he claimed that small landholders have to buy a certain pesticide at Rs1,500 per litre while the same is available to big landlords at Rs400 per litre and that too on credit in some cases.
Published in Dawn, The Business and Finance Weekly, August 19th, 2019