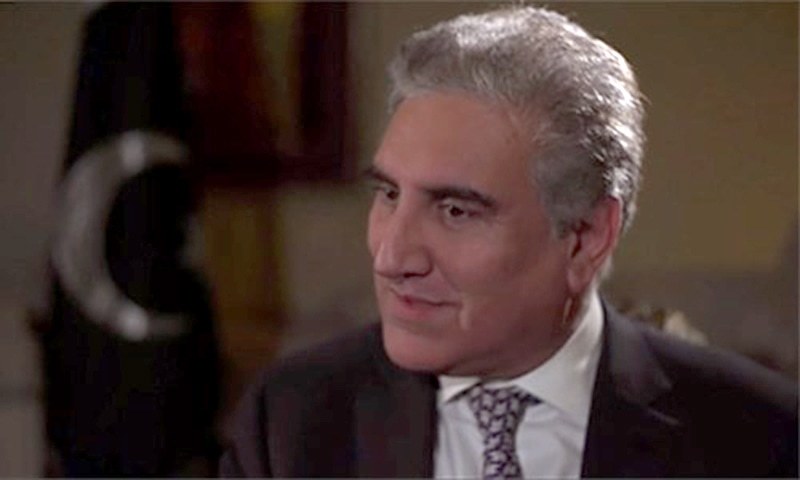 ISLAMABAD: Pakistan on Friday denounced Indian Defence Minister Rajnath Singh's hint at altering India's nuclear policy of "No First Use" (NFU) as "irresponsible" and "unfortunate", and vowed to maintain credible minimum deterrence posture.
Foreign Minister Shah Mahmood Qureshi, while giving the government's formal reaction to Mr Singh's statement, said at a presser: "The substance and timing of the Indian defence minister's statement is highly unfortunate and reflective of India's irresponsible and belligerent behaviour."
He said the Indian defence minister's statement further exposed the pretence of India's NFU to which Pakistan never accorded credence.
Defence Minister Singh renewed speculation about an impending change in India's NFU policy amid heightened tensions between arch-rival neighbours — Pakistan and India — in the aftermath of annexation of Occupied Kashmir by the latter. Mr Singh, while visiting Pokhran — the site of 1998 nuclear tests — said: "Till today, our nuclear policy is 'No First Use'. What happens in future depends on the circumstances."
Timing of defence minister's statement on 'No First Use' policy reflects Delhi's belligerent behaviour, says FM
Mr Singh later tweeted: "Pokhran is the area which witnessed Atal Ji's firm resolve to make India a nuclear power and yet remain firmly committed to the doctrine of 'No First Use'. India has strictly adhered to this doctrine. What happens in future depends on the circumstances."
The NFU policy means a pledge by a nuclear-armed state to use its weapons only in response to a nuclear attack. Pakistan has always doubted the credibility of the Indian NFU policy. Experts say the doubts were further strengthened when India in 2003 added two caveats to its nuclear doctrine with respect to NFU, saying that it may use nukes in case of a large-scale attack on India or its interests anywhere in the world or use of chemical or biological weapons against it. This, experts believe, had already rendered NFU ineffective.
NFU, Foreign Minister Qureshi said, "is non-verifiable and cannot be taken at face value, particularly when development of offensive capabilities and force postures belie such claims".
He recalled Pakistan's proposals for Strategic Restraint Regime in South Asia and reaffirmed the pledge to "maintain credible minimum deterrence posture".
Syed Mohammad Ali, nuclear expert and senior fellow at the Islamabad Policy Institute, said Mr Singh's statement was an admission that "Indian NFU has been a diplomatic farce to hide New Delhi's massive nuclear arsenal build up and global political ambitions. Pakistan never believed it. It's time world realises that turning a blind eye towards Indian nukes could be fatal."
This is not the first time an Indian defence minister has made such indications. Mr Singh's predecessor Parrikar also hinted at rescinding NFU. A possible change in India's so-called NFU policy has been in the works for some time now in the form of an academic debate within the Indian strategic community. People like Shiv Shankar Menon have been advocating an end to the stated NFU policy.
India's so-called NFU policy is merely an academic formulation aimed at point-scoring and earning brownie points with the international community. Operationally speaking, it was not even thought through in depth when it was first propounded some decades ago.
In India's officially declared Nuclear Doctrine, there are a number of caveats and operational situations visualised wherein India has actually reserved its right to use nukes first notwithstanding the so-called NFU policy, which in itself is confusing and contradictory.
Withdrawing the NFU policy, which Mr Singh hinted at, would be meaningless and would make no difference to Pakistan because Pakistani strategists do not believe in it in the first place. They proceed from the assumption that India can and would use nukes first in certain situations. Therefore hinting today and announcing tomorrow that India has moved away from NFU to 'First Use' has no practical or operational connotations for Pakistan, Mr Ali maintained.
Published in Dawn, August 17th, 2019