KARACHI: The first proper monsoon rain spell in the city played havoc with the ill-maintained civic infrastructure and power distribution system, causing nine deaths, flooding in low-lying areas and hours-long traffic jams on Monday.
Power supply was suspended with the first drop of rain in the morning. Many city areas even remained without electricity for over 15 hours.
Due to the intensity of the rain, the Sindh government announced that all public and private educational institutions across the province wotuld remain closed on Tuesday (today).
City receives 69mm rain
The Pakistan Metrological Department warned that the trend was likely to continue on Tuesday. The pre-dawn downpour continued till late in the evening and the Met Office recorded 69.4 millimetres, or 2.73 inches, of rain till 8pm.
The Met observatories recorded 69.4mm of rain in Surjani Town; PAF Faisal Base and its surrounding areas (66mm or 2.59 inches); Airport (50.4mm or 1.98 inches); North Karachi (55.6mm or 2.18 inches); Gulistan-i-Jauhar (50mm or 1.96 inches); PAF Base Masroor (45mm or 1.77 inches) and 32mm, or 1.25 inches, of rain was recorded in Landhi and its neighbouring areas.
Schools, colleges across Sindh closed today; city gets 69mm rain till 8pm
"The much-awaited rain system entered Sindh early in the morning," said the city's weatherman Sardar Sarfaraz. "Due to climate factors the system landed a little late in the region but since it's here we are expecting moderate to heavy rains in the city to continue for the next 24 to 36 hours."
He said that there were two systems currently circulating in the region — one in the Arabian Sea and the other in the Bay of Bengal.
People endure traffic jams
The rain badly affected the traffic in the city, where hours-long traffic jams were witnessed on key roads. The traffic started slowing mainly in the second half of the day when the downpour turned stronger and took hours to normalise amid non-functioning of several traffic signals, absence of traffic officials and blockade of some major roads due to accumulation of rainwater.
In district South, hundreds of vehicles were stuck in a traffic mess on I.I. Chundrigar Road, M.R. Kayani Road, Sarwar Shaheed Road, Abdullah Haroon Road, Napier Road, Hasrat Mohani Road, Burnes Road, Shahrah-i-Liaquat, Saddar and Sharea Faisal.
Officials said the rain badly affected two key links of East district — Korangi Causeway and Korangi Road — which link Korangi with the rest of the city, as people opted for alternative routes which further swelled the number of vehicles on available arteries.
The vehicular traffic on roads along Liaquatabad, some blocks of Nazimabad, a few sectors in North Karachi and parts of Shahrah-i-Pakistan remained slow but kept moving after the alternative system to drain the rainwater was installed by authorities.
In East district, University Road remained the worst-hit area where hundreds of vehicles were seen lined up after sunset due to accumulated rainwater. Similarly, in Central district construction works on key traffic intersections made the situation difficult for vehicular traffic.
Flights cancelled
The rain also affected the air traffic as many flights from Karachi to different destinations were cancelled due to weather conditions.
A spokesman for Pakistan International Airlines said that eight flights from Karachi to Sukkur, Karachi-Gwadar, Karachi-Multan and Sukkur-Islamabad had been cancelled.
He said that all measures had been taken in view of the forecast of heavy rains in the city and passengers were being provided with help at the airport in case of delays/cancellation or diversion of their flights.
A CAA official said that in all eight flights were cancelled and four were delayed due to rain in Karachi.
Up to 15 hours of power breakdown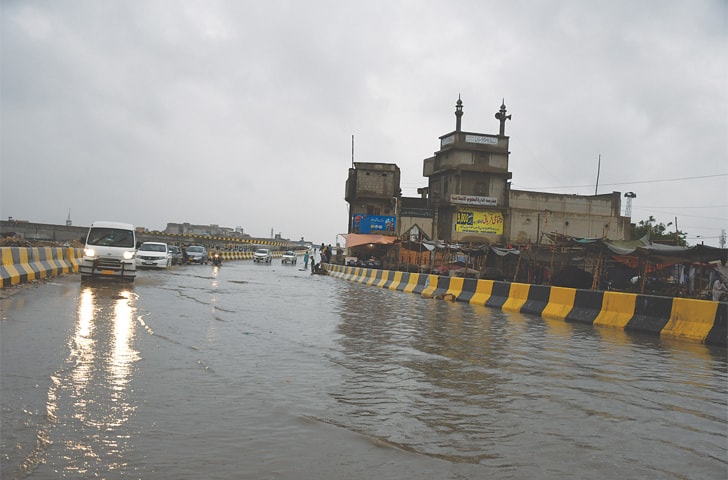 With the first few drops of rain, the power supply system in the city failed to prove its effectiveness.
The K-Electric blamed "unprecedented" and "heavy rain" for prolonged power failures that extended up to 15 hours in many areas in the city till 11pm.
In the evening, the KE claimed to have restored power supply in most parts of the city, but residents from different localities called Dawn offices to share their sufferings due to hours-long power breakdowns even after 11pm.
"Unprecedented and heavy rains disrupted power supply to some areas in Korangi, Landhi, Lyari and Bin Qasim," said the power utility. "The K-Electric's rapid response teams are in the field, working swiftly to restore power to all affected areas."
It said: "Power supply to parts of Jail Chowrangi, Gulshan, Nazimabad, Gizri, PNT Colony, Numaish, Punjab Chowrangi and Garden has already been restored. In [a] few cases, power supply to kunda-infested and low-laying areas has been deliberately turned off as a safety precaution to avoid any serious incident. Inconvenience is regretted."
Poor response from Sindh, local govts
The local and provincial governments came under criticism over poor response during the rain.
However, Local Government Minister Saeed Ghani said: "Key roads of the city which always got submerged after rains are not in that bad condition this time. We are only facing challenges in a few areas where drainage system is not capable to handle this amount of rain. But we are going for alternative solutions, which would improve the situation in next few hours."
Meanwhile, the Sindh government announced holiday for educational institutions on Tuesday due to intermittent and continued rains.
"There would be a public holiday for educational institutes, both public and private, across Sindh province on Tuesday because of continued rains," said Education Secretary Qazi Shahid Pervez.
Published in Dawn, July 30th, 2019