Swedish ambassador hosts reception
Ambassador of Sweden Ingrid Johansson hosted a farewell reception at her residence for Head of Political Affairs and Business Promotion at the embassy Fabian Fossum Hylin, who will be leaving Pakistan in August. The event was attended by an eclectic mix of people that Fabian had engaged with during his stay in the country.
Ambassador Johansson said: "Dear friends, thank you for accepting my invitation tonight to see Fabian off. He isn't actually leaving immediately but I will be away and I wanted to host this properly. It was almost exactly two years ago to the day that Fabian was here on his pre-visit and I hosted the same thing for his predecessor."
She added: "It is extraordinary that two years can pass by so quickly. You all know Fabian – a very good person, a nice friend and an excellent colleague, in all aspects. He is loyal to the tasks, his colleagues and his boss and always delivers. You know when Fabian is on something, something will come out of it and he has the integrity to say if something needs to be tweaked."
Fabian, who is leaving to work with the special unit for the Feminist Foreign Policy in Stockholm, said: "Two years ago I was standing in the crowd, and I remember feeling very excited to come here. Looking back, it has been challenging sometimes but so rewarding and that is thanks to all of you representing diplomats, civil society, universities and others. This represents the unusual role that I had here as I worked with human rights one day and the next day helped Swedish companies increase trade with Pakistan. It has been such a wide experience because of the broad portfolio."
The ambassador presented Fabian with a traditional carved Dala horse painted in the truck art style, a uniquely Swedish and Pakistani gift.
Farewell for American diplomat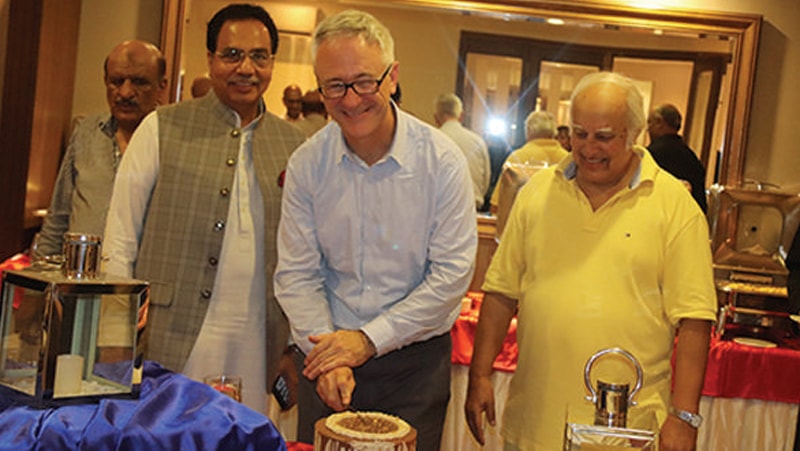 Counsellor Ted Craig is returning to Washington DC after heading the political section at the American embassy in Islamabad. He will be succeeded by Terry Gonzales, who is yet to arrive.
Former senator Enver Baig held a farewell reception at the rooftop of his elaborate hillside home off the main road to Murree outside Islamabad.
The event was well attended by diplomats, members of the business community and other guests. Senator Baig's sons and daughter attended, including Najeeb Baig, who is honorary consul general of Lebanon to Pakistan, and Sameer Baig, who is Uruguay's honorary consul general. Saad Mahmood, Iceland's honorary consul general to Pakistan, and Senator Baig's son-in-law, was abroad and couldn't attend, but his wife and son were there.
Kathrine M. Mortensen, another American diplomat of Danish descent, attended. "Scandinavia was well represented in the midst of the American event," joked a guest.
Former foreign secretary Salman Bashir was among the prominent guests. Mohammad Naveed Chaudhry, a senior PPP politician, had travelled up from Lahore to attend the send-off of the senior American diplomat.
In their speeches, Senator Enver Baig and Counsellor Ted Craig, as they cut a cake in the dining hall, valued the cooperation between their countries, and indeed the personal friendship they had developed over the years that the senior American diplomat had served in Pakistan.
New Portuguese envoy welcomed
The Pakistan chapter of the Global think tank 'Diplomatic Council' and a diplomatic magazine held a dinner in Islamabad to welcome the new Portuguese envoy, Ambassador Paulo Neves Pacinho. This is the first time the embassy is being headed by a full ambassador as it earlier has been head by a charge d'affaires. The event was attended by Shah M. Jamal, who in the autumn of 2018 was posted as Pakistan's ambassador to Portugal.
The event was also a farewell to the Tunisian ambassador Adel Elarbi, who has served in Pakistan for seven years. In their speeches, the incoming and outgoing envoys stressed the importance of the cordial cooperation their countries enjoy with Pakistan. They said there is still great potential for broadening of cooperation, especially in trade and commerce, but also in other fields.
The event was attended by over 30 invited envoys. They had the opportunity to enjoy a sit-down dinner at roundtables in the beautiful Crystal Ball Room in Marriott Hotel.
The host of the event, Diplomatic Council in Islamabad, is a global think tank as well as a world business network and charitable organisation. It has consultative status with the United Nations.
Published in Dawn, July 29th, 2019