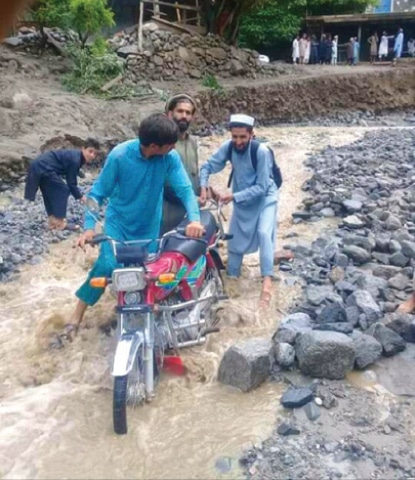 BUNER: A man was killed in a rain-related incident in Gagra area of Buner district, while flash floods washed away small hydel powerhouses, roads, standing crops and orchards in Upper Dir district.
A man died after suffering critical injuries as heavy rain fell in Gagra area.
The torrential rain also damaged three houses in the area and blocked roads. Also, the flash floods caused by rain washed away portions of main Gawaldi Road in Upper Dir district and damaged a mosque.
However, members of a Tableeghi Jamaat team, who stayed in the mosque, remained safe.
The floodwater also swept away a vehicle parked on the roadside in Sundrai area.
Floods wash away small powerhouses, roads in Dir
The residents said the Gawadi stream witnessed medium flood. Ibrahim Khan of Sundrai area said the flash floods washed away many small hydel power houses in Gawadi suspending electric supply. He said the flash flood had hit Kohistan area for the third time during the last few days.
The Provincial Disaster Management Authority has already issued a flash flood warning for Upper Dir district. Residents of Gawadi Dara area said the washing away of the road by flash flood had cut off the area from other parts of the district.
They said the road was badly damaged by a flash flood a week ago.
The residents demanded the early repair or reconstruction of the road and others washed away by flash floods. A medium flood was reported in the River Panchkora.
The heavy rains destroyed standing crops and orchards in Usheri Dara area of Upper Dir district. The Met Office forecast more rainfall across the district in few days.
The district administration directed the residents to stay away from rivers during rainy days to prevent any unwanted incident.
Meanwhile, 18 cattle were killed after the rain caused a roof to collapse in Landi Hassanzai area of Torghar district. Torrential rains also lashed Parachinar and other parts of Kurram district.
The residents said the rains, which lasted over three hours, suspended electric supply. They said emergency was declared in local hospitals as 22 people suffered injuries in rain- related incidents.
Heavy rainfall was also reported in Bajaur, where it began raining coupled with thunderstorm at around 2am and continued until Thursday evening intermittently.
The residents said the rainfall, which was normal, turned the weather pleasant.
They said the rainfall was reported across the district, which caused suspension of power supply to most areas.
Published in Dawn, July 26th, 2019