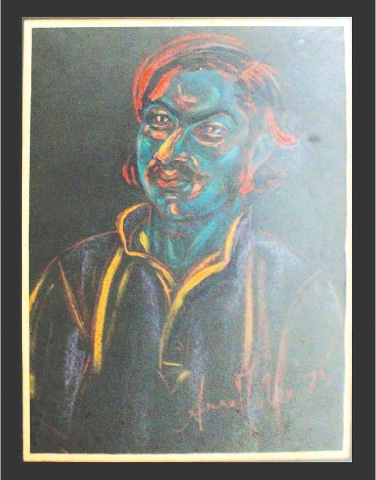 Art museums play an important role in preserving artistic legacies. In Pakistan, the absence of public art museums has affected the art scene. As a result, there is a lack of historical knowledge on the part of students and artists about the art produced in the past or even recent past.
The National Gallery of Art in Islamabad that houses a collection of modern and contemporary art, was established as late as 2007. The Lahore Museum hosts some rare collections of miniature art. In Karachi, the Mohatta Palace Museum has held significant retrospectives such as 'Sadequain: The Holy Sinner', curated by Hameed Haroon and Salima Hashmi in 2002-2003. The Sadequain Galleries at the State Bank Museum host some of his most iconic murals. But by and large, important historical art remains hidden away in collectors' home.
In this context, commercial galleries have showcased important works from time to time, with private collections being the only sources. The VM Gallery, for example, showcased a retrospective of Ahmad Parvez (1926-1979) from the Wahab Jaffar collection in 2004.
Some recently exhibited artwork from the Saigols' personal collection provides connections to Pakistan's rich art history
Recently, some artworks from Rehana and Shakil Saigol's extensive collection were displayed at Canvas Gallery in Karachi in a show titled The Summer Show — Works from the Collection of Rehana & Shakil Saigol. The exhibition, curated by Hameed Haroon, was an eclectic collection ranging from landscapes to figurative paintings, such as an elegant landscape in gouache and ink on paper by Ustad Allah Bukhsh from 1952, and two striking portraits in pastel on black paper by Anna Molka Ahmed from 1973.
The fine and delicate rendering of the rocks and fauna in Bukhsh's painting reflects a treatment similar to his famous 'Sohni Mahewal' (1923) while different from the figurative depictions of the popular folk characters such as 'Heer Ranjha' (1954). Bukhsh, as Rehana Saigol says, was a frequent visitor to her father's home and would come to stay with them for days and paint.
The Saigols are mostly interested in figurative work but, in the show, two landscapes by Zulqarnain Haider and Khalid Iqbal, both from 1988, were also on view. Dr Akbar Naqvi, in his seminal book Image and Identity, Painting and Sculpture in Pakistan 1947-1997, writes in detail on the nature of realism and landscape painting in Lahore with regard to the work of Bukhsh, Molka, Iqbal and  Haider, among other artists. 
This exhibition hosted a wide range of early figurative works by Jamal Shah (2007), Mian Ijaz ul Hasan (1981), Anwar Saeed (2010), Sumaya Durrani (1999), Nahid Raza (1992), Tassaduq Sohail (2002), R.M. Naeem (2002), Quddus Mirza (2008), and an exquisite miniature each by Imran Qureshi (1997) and Qureshi's student, Khadim Ali, from his famous 'Bamlyan Series' of 2004.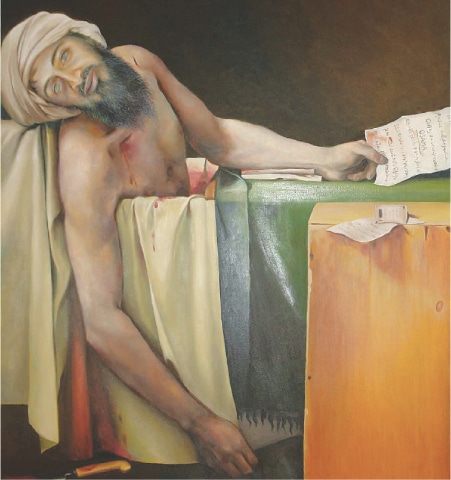 There were two large canvases in oil by Mohammad Ali (2013), one of which was titled 'The Death of Osama Bin Laden'.
Then there were the two early pigeons in gouache on paper by Jamil Naqsh from 1990. Rehana Saigol narrates, "On my 16th birthday, Chand (Shakil) gave me a painting by an unknown artist, because the girl in the painting 'looked like me'. We both instantly fell in love with the painting and I became the proud owner of a Jamil Naqsh."
"The Summer Show – Works from the Collection of Rehana & Shakil Saigol" was displayed at Canvas Gallery in Karachi from 18th June to 27th June, 2019
Published in Dawn, EOS, June 30th, 2019