June 15, 2019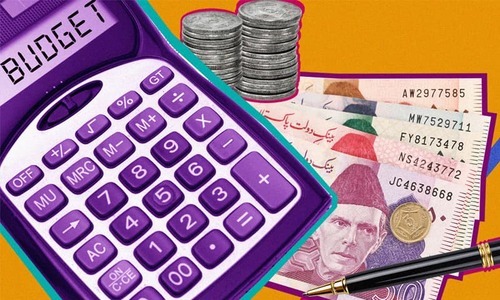 KARACHI: The provincial government has projected 32 per cent increase in federal transfers in the next fiscal year over the outgoing year.
According to the budget document, the federal transfer for FY20 is expected at Rs835.3bn compared to Rs665bn.
The Sindh government estimates the total revenue receipts to increase by five per cent from last year's target of which the share of federal transfers — Rs835.375— is expected to be at 74pc, whereas the province's total tax and non-tax revenues are expected to increase to Rs288.70bn up 18pc from target of Rs243.08bn set in the last fiscal year.
It projects total expenditure to clock in at Rs1.1217tr with total current expenditure at Rs870.217bn, Annual Development Plan (ADP) at Rs208bn down 17.4pc compared to last year's targets.
However, the province is well on its way to achieve the sales tax target of Rs120bn set for FY19 against the target of Rs145bn for FY20.
Due to shortage of revenue collection in the fiscal FY19, the federal transfers saw a massive drop in the outgoing fiscal year. The federal government has set ambitious revenue target of Rs5.55tr for FY20; an increase of Rs1.4tr compared to the last year. This increased revenue could help the province to achieve the target set for FY20.
Sindh has also set higher targets for tax receipts excluding general sales tax on services. The target for provincial receipts for FY20 was Rs121.5bn compared to Rs103.2bn last year while the estimated revised target for FY19 was Rs101.5bn.The provincial non-tax revenue target was also set higher at Rs22.1bn compared to revised estimate of Rs19.2bn in FY19.
Despite failing to raise projected revenues, the provincial government borrowing from banks remained below the target set for FY19.
Published in Dawn, June 15th, 2019