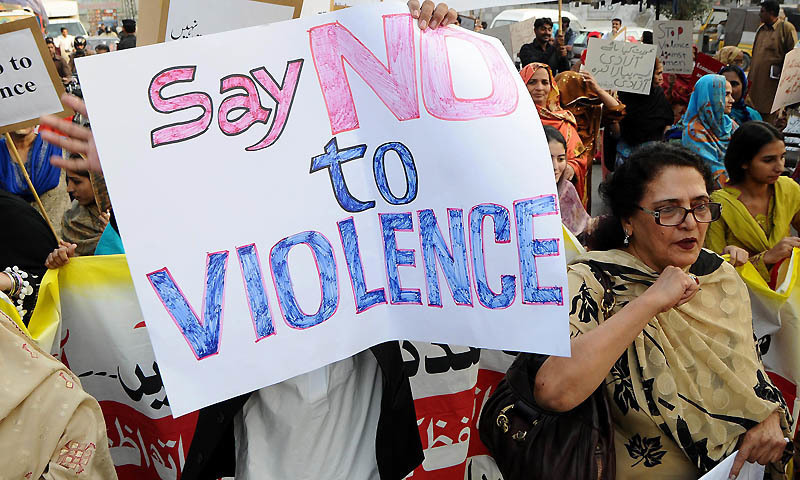 A third of all women in Punjab between the ages of 15 and 64 have faced some form of violence, according to a survey conducted by the United Nations Population Fund (UNFPA).
The survey, funded by the UK's Department for International Development (DFID), was conducted in collaboration with the Bureau of Statistics and Punjab Commission on the Status of Women, and sampled 32,000 households from 36 districts of Punjab.
The Pakistani woman: Where does she stand and where is she going?
Joanna Reid, the head of DFID Pakistan, said the results of the survey — which was part of generating data to advance women's economic and social well being in Pakistan project — "tell us we have a long way to go" to empower Pakistani women.
"DFID believes passionately that women's empowerment and participation are critical for building a prosperous Pakistan," she is quoted as saying in a UNFPA press release. "This survey tells us we have a long way to go. There are barriers in society and in the ways women feel about themselves. I hope these data will help government, communities, families and women themselves to build a more inclusive Pakistan where women are treated as and feel like equals."
Differently-abled women have it even harder, according to Fauzia Viqar, the chairperson of the Punjab Commission on the Status of Women.
"Women with disabilities experienced higher incidence of violence (10 per cent) in the past 12 months," she observed. "And 53 per cent of all women with disabilities (ages 15-64) are not involved in education and employment."
Lina M. Mousa, UNFPA's representative in Pakistan, said that the survey results are meant to "provide evidence and baseline data to inform policies, legislations and programmes to protect women and girls from sexual and gender-based violence".
While Pakistan has made progress in "creating an enabling environment to empower women ... through progressive legislation, policies and interventions", the country still has to battle through "entrenched socio-cultural norms, inadequate resources and implementation mechanisms and lack of data", the UNFPA report noted.
The shortcomings, the UN organisation said, "undermine" the country's overall efforts in this regard, and results in gender inequality in sectors including education and employment.