Creating something useful from waste — like old newspapers, empty boxes, tissue paper rolls, plastic bottles etc. — is a great way of going green, which means you reuse things until they literally become of no use. Today we will make a pencil/pen holder with a handle so that you can carry it easily without dropping anything.
The supplies that you will need for this craft are likely to be present in your house so you won't find difficulty in making one for yourself.
Things you need:
Empty tissue paper rolls (4)
Scissors
White glue
Pencil
Some pieces of wrapping paper
Hardboard (10-inch length-wise, 6-inch width-wise)
Hardboard strip (size according to the base of the tissue paper rolls)
Decoration material such as glittering paper, stickers, ribbons, etc.
(optional)
Directions: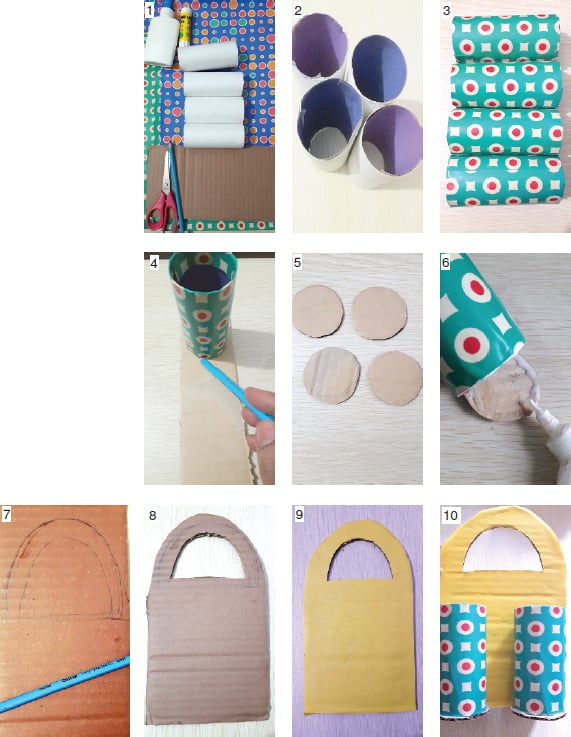 Paste the colourful paper inside the tissue paper rolls, picture 2.
Paste the wrapping paper on the outside of the empty tissue paper rolls, picture 3.
Draw four circles (the base of the tissue roll) on the strip of hardboard and cut them out, pictures 4 and 5.
Paste the circle on any side of the roll (this will be the bottom), picture 6.
Draw a semi-circle on top of the hardboard, then cut the inside out picture 7 and 8.
(Note: This semi-circle actually works like the handle, with which you can carry it with you.)
Paste any colourful paper or wrapping paper on it (both sides), picture 9.
Carefully glue two rolls on each side leaving some space in between, picture 10.
Decorate it in any way you want.
Published in Dawn, Young World, February 23rd, 2019