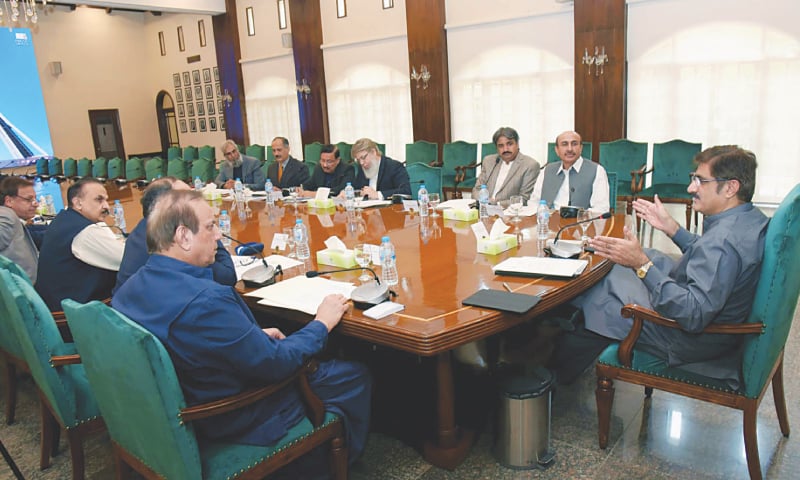 KARACHI: Sindh Chief Minister Syed Murad Ali Shah has said that the Joint Coordination Committee (JCC) of the China-Pakistan Economic Corridor will take up some mega projects of Sindh, including the Karachi Circular Railway, Keti Bandar port, Dhabeji Economic Zone, river lining and desalination plant for Karachi in its upcoming meeting to be held in Beijing by the end of this month.
He said that the KCR was the most important project, which would not only resolve traffic issues of the city but also lift the overall image in terms of urban transport facilities.
Read: Sindh cabinet orders desalination plant for Karachi
The chief minister said this while presiding over a JCC preparatory meeting, which was attended by ministers Ismail Rahu, Imtiaz Shaikh, Awais Shah, planning and development chairman Mohammad Waseem, Principal Secretary to the CM Sohail Rajput and others.
The CM recalled that the JCC, in its meeting held on Dec 29, 2016 in Beijing, had approved the KCR, Keti Bandar and Dhabeji special economic zones projects for their inclusion in the CPEC. He said these projects would be taken up again as their required formalities had been completed.
"I want to give my people a gift," he said and added that the $1.97 billion KCR project would resolve traffic issues of the city.
Talking about Dhabeji Special Economic Zone project, the chief minister said that it was being established on 1,530 acres. "The zone is located at the most important location connected with National Highway and close to the motorway. This project would cost around Rs43 billion."
The KT Bunder project would be a jetty in the first phase to be used for coal export and in the second phase it would be upgraded to a fully-fledged seaport, he added.
Mr Shah said that he also worked out some other projects and "we may also request for river lining from Guddu to Sukkur to benefit from tremendous progress of China in the agriculture sector".
"I have started consultations with water experts and all the consultations would be finalised within next 15 days so that this project, if feasible, could be tabled in the JCC meeting," he said about the river lining project.
He said that the agriculture project would include change of cropping pattern, introduction of low delta and high-yield crops and mechanisation of the entire agriculture system.
Mr Shah said that the river lining would not only be helpful in conservation of water but it would mitigate the effects of water logging on the right and left banks of the river where thousands of acres of land was submerged. "This would also save the katcha area from flooding," he added.
Published in Dawn, December 8th, 2018