October 26, 2018
KARACHI: As euphoria over the Saudi package of $6 billion in financial assistance simmered down a bit, investors resisted the temptation to take fresh positions across the board, which slowed down the bullish momentum. Still, the benchmark index extended Wednesday's massive upsurge with the addition of another 360.79 points (0.92 per cent) on Thursday to close at 39,631.91.
The market started on a resounding note, stretching the intraday gains by 798 points but later day trading direction was set by the corporate results. Some weak earnings announcements spo­­ilt the investor mood. Results of Habib Bank turned out below expectations and sent the share spiralling down to hit its lower circuit.
It was followed by results of DG Khan Cement which also posted lower than expected earnings. Surprisingly, foreign investors entered to buy stocks worth $0.349 million. Among local participants, mutual funds made heavy purchases of $11.4m, while individuals decided to take profit with sale of shares worth $8.28m.
As more investors poured into the market after the massive rally witnessed a day ago, volume increased to a 57-session high at 343m shares while traded value also jumped to a 56-session high of Rs13.3bn. Small-cap stocks dominated trading, with 29pc of total turnover.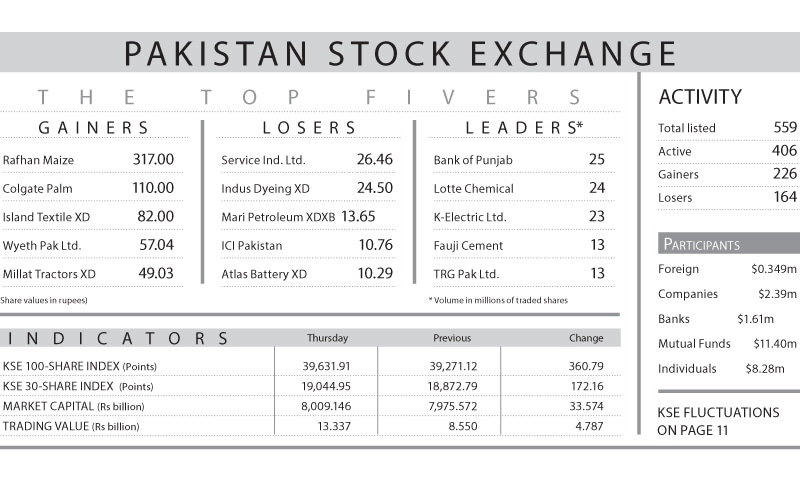 Fertiliser and cement sectors pulled the index up by 266 points as investors were enticed by attractive valuations. Other gaining sectors were oil and gas marketing companies 70 points, engineering 26 points and autos 24 points. On the other hand, commercial banks took away 132 points and exploration and production 21 points.
Among scrips, Fauji Fertilisers, up 4.88pc, Lucky Cement 5pc, Engro Corporation 2.10pc, Pakistan Petroleum 1.42pc and Hub Power 1.75pc, added 219 points. On the flip side, Habib Bank, down 4.36pc, Oil and Gas Development Company 0.82pc, MCB 0.45pc, Pakistan Oilfields 1.49pc and United Bank 0.82pc were the major dampeners.
Published in Dawn, October 26th, 2018
Download the new Dawn mobile app here: