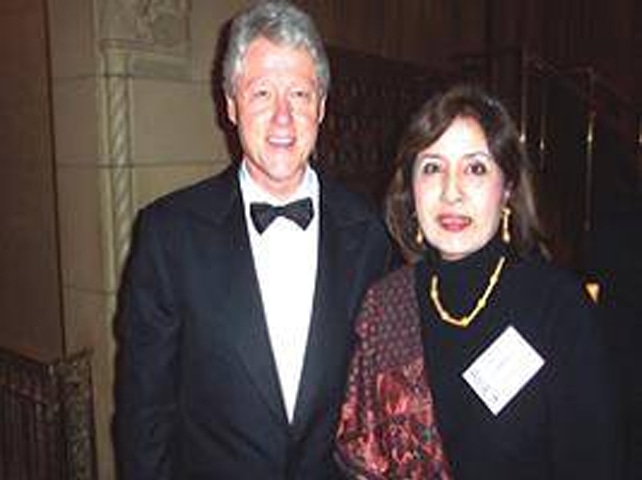 "IN the autumn of 2010, when the trees turned a bright red, bronze, gold and mustard, Zainab, my daughter, with Jaweed, my husband, and myself spent mornings at the kitchen table editing each page of the manuscript, while comparing it to the typed document Umar had composed. Oftentimes we'd break for coffee and a breather when hit by a brick wall refusing to let up. How many times I must have wished for my father to be present to help us get over our panic, with paragraphs and sentences missing from these fragile pages waiting to disintegrate in our hands! There were some juicy parts father wrote, only to score them out later, perhaps an afterthought. The journalist in me itched to include them in the text. Could I have? Not in a million years! What father scrapped, the daughter dare not resurrect."
This is Anjum Niaz, who died in the United States on Saturday. The locale is New Jersey, and she is struggling to salvage and edit what would ultimately be published as her father's memoirs — Pakistan: the Promise of the Early Years & Memoir. She was beholden to her father, Fida Hassan. As Chief Secretary of West Pakistan, he was uncrowned king of what the press used to call the 'western wing'.
A passion for cricket was among the many traits she inherited from her father. It found repeated mentions in her writing, especially the historic voyage to England with the Kardar-led team, because prime minister Khawja Nazimuddin had appointed Hassan as manager of the team that has been remembered by generations of Pakistanis for the historic 1954 Oval win.
She quotes Wisden: "In the cricket history of Pakistan the date, Tuesday, August 17, [1954] will live long. On that day at the Oval, Pakistan became the only side to win a Test match on a first visit to England." One of her last columns, titled "the last of the cricketing greats", appeared in Dawn magazine on Feb 5 last year, and paid tribute to Imtiaz Ahmad.
Born in 1948, Anjum did her masters in English from Punjab University, another masters in journalism from the University of Karachi, taught at Karachi American School and Pakistan American Cultural Center before joining the Dawn group of newspapers in 1984, initially at the evening paper The Star, before moving to Dawn in 1987.
A hard-working and well-read person, she rose rapidly in her career, eventually becoming editor of Dawn Magazine. In 1993, she moved to Islamabad when Jaweed was transferred to the capital by his company. There she covered the foreign office, besides writing her column, Crème de La Crème, until 1996 when she resigned and moved to America. From the benefit of hindsight I say her best days as wordsmith came when she was no more a Dawn staffer.
As magazine editor, as reporter covering the foreign office and as columnist Anjum showed her ability to switch over to the idiom required of the 'beat' she was given. She paid sedulous attention to detail. Her columns had a bewildering variety of topics and were written in a style that was all her own, and at least one scholar of repute told me he read the weekly magazine basically for the literary flavour in her pen.
Her column, 'View from the US', contained in my opinion some of her finest pieces, for she was merciless when it came to Pakistani politics. One that I would recommend was titled 'the drama queens of Pakistan's politics' and is a superb example of word craft.
She was keeping good health, devoting herself to writing and to sorting out her father's document, but her visit to Pakistan in 2016 turned out to be the last, for she postponed her 2017 visit, citing health reasons.
In May this year, she indicated some serious health problem, and to one of my emails, she replied from a New York hospital where she had gone for further checks. It was now obvious to me it was a serious problem.
Shortly before Eidul Fitr my wife sent her some duas, but Jaweed replied that she was too weak to sit up and pray. There was no contact from Jaweed as months passed. On Sunday evening, the News Editor broke the news to me.
On a personal note, her death is a loss for my wife and me. Her homes at Lahore and Islamabad were open to us, even though the Niazs had migrated to America. Each time they visited Karachi, the get-together would be a joyous family occasion for us all.
There was no doubt that she was a great journalist and a great woman. She faced many challenges with courage, one of them being her grandson who suffered from autism. She gave him time in spite of her own busy schedule. May she rest in peace!
The writer is Dawn's Readers' Editor and author.
Published in Dawn, October 23rd, 2018
Download the new Dawn mobile app here: