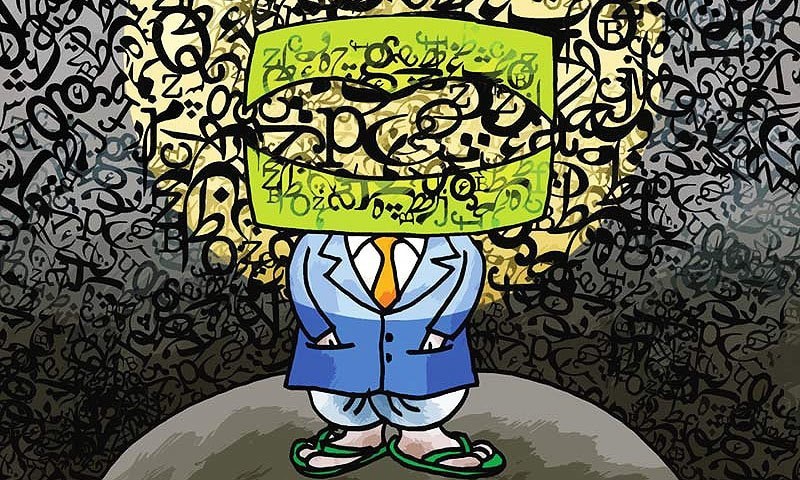 My earliest recognition of Urdu as a language is of my grandfather writing his editorials.
The nuances and tehzeeb of the written word came much later, but at that time as a child, all that fascinated me was his qalam working its way from what I thought was the wrong end of the page.
Pratap was an Urdu newspaper started by my great-grandfather in Lahore 100 years ago and after the batwara, it shifted to Jalandhar, barely a couple of hours' drive from the Wagah border.
For many years, my grandfather continued his daily op-eds until it slowly became apparent that along with the house on Nisbet Road, his love of Urdu will also become a thing of the past.
Fluent Punjabi and Hindi were the only languages spoken or read in the newly divided Punjab and my grandmother, with her Kinnaird College education, had a much better grasp of it.
By the time we children began to climb trees in our colonial red brick house with its sprawling lawns — which once belonged to Chief Justice Sheikh Anwarul Haq — the family had long settled into a rhythm.
Tied and untied: Tensions between Lahore's colonial past and neoliberal present
Akin to the dahlias that bloomed in complete harmony with the roses in the driveway, Hindi and Punjabi had an easy relationship in our house and that fusion as a matter of habit continues even today.
My growing years, much like the clean skies of a small town, were simplistic yet distant from the poetry that flowed in my grandfather's Urdu.
Our family's most treasured member during those carefree childhood years was the cook who had come from the hills of Himachal Pradesh when both he and my father were barely teenagers.
Despite staying with us for more than 40 years, he was not one for too many words, but by the time he retired after my marriage, he spoke Punjabi as though he was a pucca puttar.
The words had the natural inflection which today even a young Punjabi like me speaks a distorted version of.
I learnt just enough to read the fascinating slogans behind the trucks on the highway and disinterestedly cleared my exams.
But that was then.
Urdu, through all this, was like a supporting actor with a recurring role. In the black and white television era of my childhood, I remember conversations at home of a Pakistani drama Sona Chandi that beamed erratically on our sets.
In the pre-'dish on the terrace' days the signal was pure luck, and some days were just snippets of conversation with dollops of vertigo.
But the days got better and we grew up just in time to borrow endless DVDs, loving Tanhayian's Qabacha as much as Marina Khan's hairstyle.
The uses of language snobbery: Urdu and identity politics
For many, it's hard not to be influenced by what goes on either side of the border, the movies this side and the dramas across. But this lovefest is superficial.
Instead, what counts is the ability to switch between our shared cultures with ease, a comfort that brings with it the right of passage. An Imran Khan victory is discussed as earnestly as Priyanka Chopra's engagement.
If I had to search for Urdu's lost glory at home, I would probably take a trip to Lucknow, erstwhile Awadh that is still referred to as the City of Nawabs.
If you go by sheer history and nostalgia, no place in the country radiates this sense of nazakat and culture.
My husband's family belongs to that background and it shows: he addresses older people and kids alike as aap.
Although he never quite said it openly, he wasn't too approving of my use of 'tum' or 'tussi' in everyday conversations. A decade later no less, it finally hit him. There was no disrespect, different things don't always mean they are any less charming.
Beauty, then, is what you make of it, Bulleh Shah for some and dewdrops on a leaf for others. And sometimes, we don't have to go looking, it has a way of finding us.
***
For the last six years, Abu Dhabi has been a second home for me. It is here that I made Pakistani friends who gave me a refresher course in Urdu. Incidentally for food lovers, their mutton on the breakfast table sounds almost poetic.
But, surprisingly it is also somewhere I got an equal opportunity to brush up on my Punjabi. Countless times I have mistaken a Pakistani Punjabi for an Indian because there really isn't much to choose from.
Most of those I met have been taxi drivers happy to immediately strike a conversation with a 'Lahori' descendant. All talk invariably leads to a famous Indo-Pak cricket match in Mohali.
My biggest learning in this multicultural environment has been that language is underestimated as just the written or spoken word.
Many times it is also that intangible bond like the Punjabi cab driver from across the border who waited three days outside my apartment to return the extra money I had mistakenly paid.
Also read: How the Pakistani diaspora in Barcelona established itself in the heart of the city
In millennial times where English has been slaughtered on instant messaging, Punjabi — without being embellished, some would even say crude — still remains a language with a heart, several times a tad too big!
It's the raunaq in Karan Johar's otherwise unfathomable sagas but Bollywood also has an undeniable Urdu influence from Nusrat Fateh Ali to the recently re-packaged Rashk-e-Qamar.
Many years ago, Malaika Arora may have rocked the train with her jhatkas in Chaiyya chaiyya but the song's couplet 'voh yaar hai jo khushboo ki tarah, voh jiski zubaan urdu ki tarah' needs no translation.
Discover: When science was taught in Urdu
The beauty of a language then is subjective but unknowingly it is always close to one's identity. For years, I was a Punjabi who didn't — or rather, chose not to — speak too much Punjabi. It was too vernacular in the big city lights.
But call it growing up, I now prefer to slip into the language at will and sometimes enjoy peppering it with a few words of Urdu, which is my fall back when everything else fails.
Mashallah is a word that describes it all and was possibly coined for the lazy like me.
People sometimes ask me how I named my butter chicken-loving daughters Rayna and Saira.
I tell them, I finally understood why my grandfather's qalam flowed so freely from right to left.
---
Do you have a complicated relationship with language? Share your experience with us at blog@dawn.com