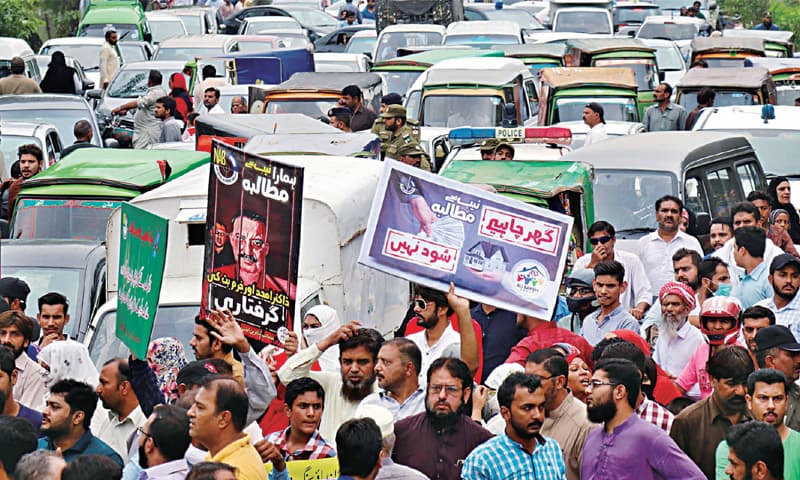 LAHORE: The affectees of the Eden Housing Society on Sunday held a demonstration outside the Zaman Park residence of Prime Minister Imran Khan, urging him to help them recover their hard-earned money looted by the group that launched the housing scheme.
Holding placards the protesters demanded the local administration to allow them to meet the premier to personally inform him of their ordeal. Some top officials tried to persuade them to end their protest by assuring them that the matter would be taken up with the relevant authorities, but they refused to budge.
The protest continued for several hours, suspending traffic on the canal road track leading to the Mall Road.
On not being allowed to meet the prime minister, the protesters chanted slogans against Imran Khan. They also complained of manhandling by police.
However, the protesters finally dispersed after a senior official of the Punjab government gave them an assurance that the National Accountability Bureau would expedite action against the culprits and take steps to make them return the looted money.
The protesters demanded the PTI government should bring Eden Housing group owner Dr Amjad and others back from Canada and recover the looted money from them or ensure the group completed the project and handed them over the houses and plots promised to them.
There are at least 10,000 affectees of the group. Dr Amjad and his two sons had managed to flee the country in April last and travel to Canada as the interior ministry did not put their names on the the Exit Control List (ECL) despite the NAB's request.
NAB has detected the property owned by the Eden group worth up to Rs20bn. The bureau claimed that it would soon compensate the affectees.
Published in Dawn, September 24th, 2018