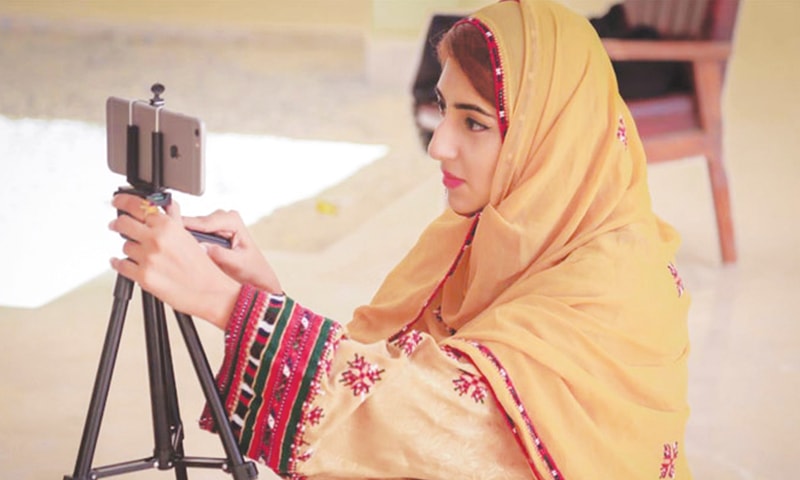 IN her latest post on YouTube titled "Why I visited Turbat", vlogger Anita Jalil Baloch talks about her team's visit to the city where they are going to perform in a theatre production organised by Mariam Zia and Hatoon Gul. Anita is the only girl on the team, but that is a meaningless detail to her — she is confident and has managed to get the rest of her colleagues involved in her vlog.
Anita cracks jokes, talks about Turbat city and thanks play organisers for inviting them to perform. In Balochistan's traditionally conservative and patriarchal society, it is quite rare to see a Baloch girl leave her home behind to go out on her own, let alone make vlogs about it. Anita is exceptional that way and is undeterred by societal constraints. With over 18,000 subscribers following her channel on YouTube, she is gaining popularity. Anita has managed to gain fan following in merely six months, an achievement in its own right.
Born in Gwadar to government employees, Anita lives with her younger brother and her father, an officer at the Pakistan International Airlines. Her mother passed away three years ago. Wanting to give their child a decent education, her parents sent her to the Aga Khan school in Gwadar, where she was enrolled till class seven. The school closed after that and she had to move to Karachi to continue her studies. She returned to Gwadar for her college studies and went on to attend Quetta University.
Working in Dubai first as a teacher and then as a receptionist in a private company, Anita was planning to continue to her life in Dubai, when the worsening health of her mother made her come back. "After my mother passed away, I decided not to go back to Dubai," Anita recalls while speaking with Dawn. "I had to be with my family at the time. I couldn't find anything in the city that interested me, so I thought why not just follow my dreams. I decided to be a theatre artist — which had always been my true passion. Of course, my father did not approve of my choices at the time."
She did not, at first, think she could become a vlogger until she met Chiragh Baloch, a vlogger from Pasni, Gwadar. "I did not intend to be a vlogger, but he inspired me to do it. My dream has, however, always been to be a theatre artist."
Ever since the announcement of the China-Pakistan Economic Corridor in 2014, Gwadar has attracted much attention and coverage in the media. Several people have compared the city to Dubai, Singapore or Shanghai — hoping that it would one day fulfil its potential to reach those heights as a trading hub. Anita does not seem so hopeful though, at least not for the time being as she believes nothing much has changed. "People say the city has transformed, I would argue otherwise. We still live in the same old houses, which we have been living in for as long as we can remember. There is no change. We have the same problems, and we have the same outlook on everything."
Anita says that with her vlog, people have finally seen for themselves that Gwadar is no Dubai or Singapore. "Everything is the same save a few development projects."
In the beginning, Anita recalls, she did not get an overwhelmingly positive reaction. Not from her family, and not from YouTube viewers. In fact, she recalls that there was an air of negativity but that she was prepared for it. "It didn't matter to me, I knew I had to continue pursuing my dreams."
Her father, watching how people were reacting, even requested Anita to stop posting videos if things did not improve.
Within the next three months however, the vlogs began to gain popularity and people began supporting her. Her entry titled "Balochi dresses for Eid" has garnered 216,587 views.
Anita is a source of motivation for girls in Balochistan and she recognises that fact. There are many girls, she says, who are motivated by my videos and they believe they are gaining confidence to pursue their dreams as well. "These girls only need a 'push', and once they have that, there is nothing that can stop them!"
Published in Dawn, September 21st, 2018