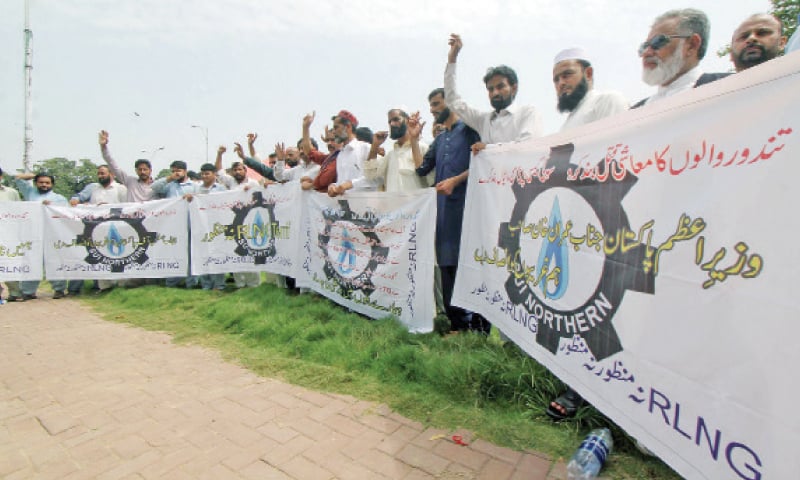 ISLAMABAD: The General Nanbai Association (GNA) on Wednesday called off its second protest against the increase in Regasified Liquefied Natural Gas (RLNG) after receiving assurances by concerned authorities that their grievances will be addressed.
However, they warned they will protest on major roads in the federal capital and close down all tandoors in the twin cities on Friday if their concerns are not addressed.
More than 50 nanbais were carrying banners inscribed with their demands for withdrawing the increased tariff and streamlining the bill issuing procedure.
The protesters expressed concerns regarding the issuance of utility bills three times a month, saying this was a violation of standard rules which require consumers to pay bills once a month.
Tariff has increased by 128pc, protestors say, and that they are billed three times a month
They said the increase in tariff is unjustified and that it will affect their businesses and the common man because of the subsequent increase in the price of bread.
GNA President Fazal Kareem Abbasi told this agency they were conducting a peaceful protest and that they hoped their issues will be addressed on a priority basis.
Mr Abbasi said a 128pc increase was made in the RLNG tariff some six months ago.
"Sui Northern Gas Pipelines (SNGPL) was charging Rs700 MMBTU for a tandoor till 2017 but now the company is charging around 1,600 MMBTU after the conversion of natural gas connections to RLNG and changing the status of a tandoor to that of a restaurant to justify the tariff," he said.
Mr Abbasi added that the company had imposed the tariff without safeguarding the interests of nanbais, who are largely illiterate and that SNGPL had started issuing three bills a month without a warning.
A nanbai, Mohammad Sajjad, who was taking part in the protest, said he recently received a bill for Rs110,130 for three months and that another nanbai had received one for Rs33,000 for two months at the same time. He said this is differentiation and a violation of fundamental rights.
GNA General Secretary Mehmood Ahmed said they had managed to get a stay order from the court against the increased tariff and that they were not paying any extra charges.
He urged concerned authorities to consult with nanbais before increasing tariff.
SNGPL Deputy Chief Sales Department Sardar Nawaz said the price was increased gradually with the increase in the dollar rate.
RLNG is a form of LNG imported from Qatar and transported to Karachi terminals where it is regasified and disseminated across the country via pipelines, he explained.
No subsidy is provided for the gas as it is provided to domestic consumers, Mr Nawaz said.
He added that distribution companies including SNGPL were not importing LNG directly for which the concerned department had to involve Pakistan State Oil (PSO), which has experience in importing.
SNGPL has to pay PSO in advance, he said, which is why they have to issue utility bills more than once a month.
He said nanbais are trying to fool the authorities by differentiating tandoors from restaurants for avoiding tariffs.
Published in Dawn, September 6th, 2018