Short story writer Neelam Ahmed Bashir's novel, Taoos Faqat Rang [Peacock is Just Colour], seeks to grasp and describe the complexity of human reality as lived by the Pakistani diaspora in post-9/11 United States.
As anti-Muslim sentiments are abruptly triggered and Muslims — particularly those of Pakistani origin — begin to be labelled as terrorists, the protagonist Murad finds himself entrenched in a queer politico-existential, almost Kafkaesque situation: he has to contest the charges of a crime that he has not committed. His trial, in turn, unfolds the paradoxical texture of American society: on the surface it divulges the prevalent racism while, on closer reading of the events of the story, the reader comes to identify how callously the American way of life has tarnished the souls of immigrants — a particular irony given how almost everyone in America is an immigrant.
Taoos Faqat Rang is a tale of the real defeat of some passionately nurtured expectations. Murad, his parents and his sister are a Pakistani family that migrated to the United States some 40 years ago. They have not only acquired American citizenship, but also left no stone unturned in assimilating to liberal American values. Murad's father has established a successful business and is preoccupied with remaining alert to emerging opportunities. His children are allowed to live their own lives and, although he has divorced his wife Sajeela, he continues to meet her, mostly to discuss the woes their children are experiencing. The family appears to passionately believe in and follow the liberal, American way of life. But after the tragedy of 9/11, their faith in American society suffers a violent blow when they discover that, despite how deeply they think they have assimilated, they are not really considered American.
A novel grapples with the crises of identities in multicultural America, but fails to flesh out its Pakistani characters
Here Bashir seems to have failed in perceiving the hydra-headed issue of assimilation into a culture that has historically been defined as essentially distinct from other cultures, particularly Pakistani/ Eastern/ Islamic ones. The characters are shown, in a rather simple way, to exhibit 'true' love and seemingly genuine feelings of respect for the American way of life. However, assimilation into a distinct culture is not so simple a matter as Bashir shows. It needs a sort of 'cultural metamorphosis'— a task that can be achieved only, on the one hand, by completely letting go of one's first, or original culture, and on the other by dismantling the way of defining culture in mutually exclusive terms. In the absence of such a cultural metamorphosis, one legitimately expects that the characters would suffer some deep existential crisis, but we find no description of any such crisis. Only Sajeela is shown feeling nostalgic about Pakistan, its values and people, but that doesn't qualify as a 'crisis' or a danger to her normal existence.
Murad works for a company whose offices are located in the World Trade Centre. On the day the twin towers are attacked, he doesn't make it to work on time. But is this fortunate? Keeping in view what followed in the wake of 9/11, this question cannot really be answered in the affirmative. Murad's friend and colleague Asfand loses his life in the attack as he tries to save other people. It then turns out that Murad and Asfand are embroiled in a love triangle of sorts with their mutual colleague Delyla who plays a key role in Asfand's death.
The uncompromising and stubbornly wilful Delyla is the strongest character in the story. Murad, who is married to Shama, finds himself jobless after 9/11. He finds work assisting one Mrs Chain where he meets her adopted daughter Sherry and falls in love. Meanwhile Delyla has set her sights on Murad and opens a beauty parlour in the vicinity of Murad's new workplace so she can be near him. Being determined to win Murad's heart, she is understandably jealous of Sherry. The story then takes a new turn as Delyla finds out that Mrs Chain is actually her own real mother.
We learn that Delyla was born in the notorious Guyana commune established in the 1970s by Jim Jones (wrongly identified in the novel as Tim Jones). While Mrs Chain and her husband were leaving the Guyana commune, they left Delyla, their real daughter, behind and brought Sherry with them.
Delyla seems to epitomise the paradoxical nature of Americanism: although not genetically 'pure' white, she is made to believe she is white. As such, she is discriminatory towards non-whites. It is she who lodges complaints with the American police against Murad. Her allegations are false and vengeful, but they are taken as true simply because they were made by a white-skinned person against a non-white in the atmosphere of post-9/11 Islamophobia.
Delyla is shown adamantly determined to go in search of her personal identity. She has never forgotten her parents who abandoned her, and when she discovers her birthmother, she kidnaps Mrs Chain and takes her back to the place she was born. It is a journey of homecoming, the last and most tragic episode of her life. However, although Bashir places much importance on Delyla's desire to find out who she is, none of the Pakistani Muslim characters are shown as having any urge to go back 'home' and embrace the places, people and cultural history left behind, even though these characters have plenty of good reasons to do so. Bashir seems to have intentionally depicted the Pakistani diaspora as being oblivious to their country of origin and conscientiously struggling to stay loyal to the multiculturalism embodied by the US.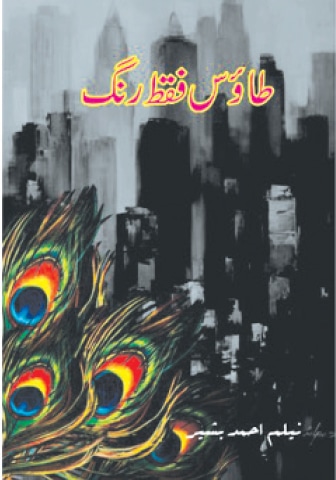 Time and again, Bashir raises the issue of how a country built upon immigration is nourishing discriminatory policies and anti-immigrant emotions against Muslims and Pakistanis. The title also suggests that America is like a peacock, a bird having many colours. The author seems to favour multiculturalism, but the question of how and why war-mongering political ideologies pose a threat to the multicultural ideal remains unattended in her novel.
The reviewer is a critic, short story writer and author of Urdu Adab ki Tashkeel-i-Jadeed (criticism) and Farishta Nahi Aya (short stories)
Taoos Faqat Rang
By Neelam Ahmed Bashir
Sang-e-Meel, Lahore
ISBN: 978-9693530797
296pp.
Published in Dawn, Books & Authors, May 6th, 2018