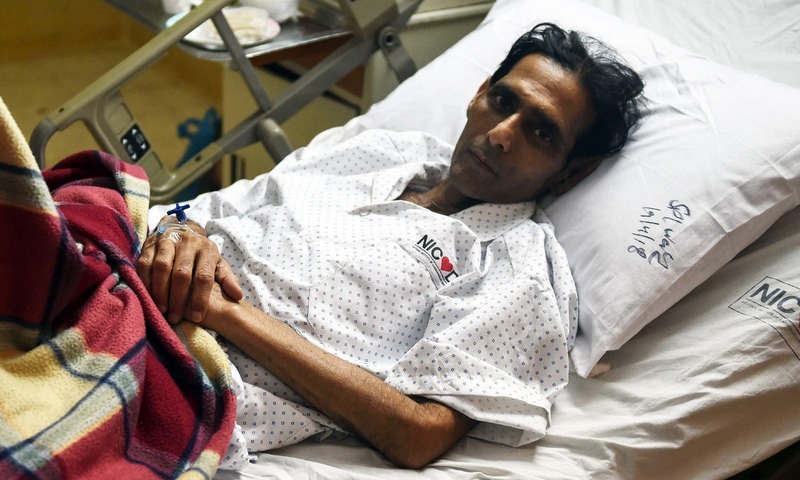 World Cup-winning field hockey goalkeeper Mansoor Ahmed on Monday refused the offer of having his heart transplant conducted in Pakistan.
"Pakistan does not have enough facilities, I want the transplant to be conducted in India," Ahmed said.
Ahmed was reportedly being offered a mechanical heart transplantation which, had he accepted, would have been the first time the procedure was to be conducted in Pakistan.
However, the hockey legend prefers more conventional and proven procedures, for which he believes undergoing a transplant in India would be his best bet.
The ailing sports star had reached out to India last week and asked for help in securing a heart transplant — despite years of breaking the eastern neighbours' "hearts on the field".
The 49-year-old has been suffering for weeks from complications stemming from a pacemaker and stents implanted in his heart.
Ahmed has been a sporting icon in Pakistan since helping the country win the 1994 World Cup in Sydney with his penalty stroke save against the Netherlands in the final.
"I may have broken a lot of Indian hearts on the field of play by beating India in the Indira Gandhi Cup [1989] and in other events but that was sport," Ahmed had told AFP in a recent interview.
"Now I need a heart transplant in India and for that I need support from the Indian government."
Ahmed — who played 338 international matches, participated in three Olympics and various other high-profile events in a career spanning from 1986 to 2000 — said the visa could be a lifesaver.