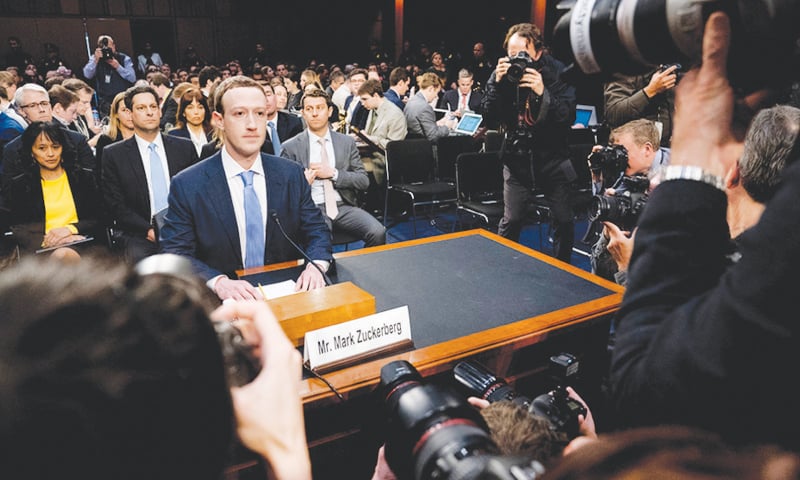 Facebook's CEO has left many Pakistanis wondering how the social media site could influence the country's upcoming general elections — what kind of data could be accessed, exploited and by whom.
During his two-day congressional hearing on an information breach by data-mining firm Cambridge Analytica, which was affiliated with US President Donald Trump's presidential campaign, Mark Zuckerberg said that fake accounts on Facebook could have an impact on Pakistan's elections.
The 33-year-old Internet mogul said he feared bogus accounts "may disturb the transparency of the electoral process in the country".
While talking to Dawn, a social media activist claimed that there was nothing new or shocking in the Facebook CEO's statements.
"The US is years behind us. We have a much more sophisticated pattern. He's whitewashed everything with big words — basically this is all about trolling," he said.
"When the Facebook CEO talks about fake accounts and the data breach, he doesn't mean someone is going to hack into your account and use your data — what this means is that fake accounts will be set up to sway the mind of the public and this has been going on in Pakistan for years.
"Look at Maryam Nawaz's Twitter account, look at how party tweets go viral. People of all ages use social media — they are interested in what Mian sb did or where he's buying clothes from, this helps develop their image of the man and thus his party and their candidate," he explained.
Digital Rights Foundation's Nighat Dad agreed with this point of view, saying: "Facebook, to a lot of people in Pakistan, is the internet and an only option to experience online spaces.
"So when they see something on Facebook without having the knowledge of an alternate narrative, they start believing what they see. So it's important that Facebook builds strong mechanisms around countering false news on its platform."
Controlling your data
Mr Zuckerberg claimed that right now the social media company's top priority was to "protect the integrity of the upcoming elections in Brazil, India, Pakistan and other countries".
Explaining how this would be done, Mr Zuckerberg said that Facebook, which also owns WhatsApp and Instagram, would identify and remove fake accounts seeking to interfere in elections and spread misinformation.
He said the social network was deploying artificial intelligence tools to identify bogus accounts. He also revealed that Facebook, which had more than 30 million users in Pakistan in 2016, would be hiring over 20,000 new employees to ensure security and personal privacy.
Discussing why would it be easy to mine this kind of information in Pakistan, Sadaf Baig from Media Matters for Democracy, a not-for-profit working to defend freedom of expression, media, internet, and communications in the country, said that there were no data protection laws in the country.
"There is no provision for this in the cybercrime law either — your data is being used by telecommunication companies and companies like Facebook… the government is failing to protect our data," she said, adding that this data can also include information available with the National Database and Registration Authority and can be sold without people's knowledge.
What this means
"On the one hand you have people creating technology who don't understand social and political implications and on the other, politicians who don't understand technology… this disconnect is ideal ground for companies like Cambridge Analytica and individuals like Steve Bannon to come in and exploit," said Rahma Mian who teaches politics of technology at Habib University.
Talking to Dawn, she said what is important here is what this case represents about politics and citizens' rights today and where it is headed. Cambridge Analytica's role in Brexit and US elections is really just the tip of the iceberg.
She said that compared to Pakistan, these countries have robust civil liberties frameworks and laws that protect privacy and data, yet despite that, something on this scale has not only happened but was pretty much not mainstream news for two years.
"In Pakistan, we may not have the exact same scenario unfold due to our particular history and electoral politics — in a bizarre twist our dysfunctional political system is actually helping us — but what can and is happening is that our data is being collected by the state and by these tech companies without any protection in place," she said.
"This is definitely deeply frightening — but what is even scarier is how ill-prepared our politicians and bureaucrats are at handling not only our data which is basically equivalent to currency and freedom today but the rapidly changing technology policy landscape," she added.
Published in Dawn, April 14th, 2018