I sat scrolling Facebook — status updates, photographs, rants — when a recipe, a beautiful and delectable-looking dessert shared by my friend Ayesha caught my attention.
Knafeh: I'd never even heard of it, yet mutual friends and Ayesha's friends seemed to be raving about the sweet.
What kind of a food writer am I? I couldn't help asking myself. Yes, the thought did cross my mind. The dessert caught my fancy, and I had to make it, eat it, devour it, research and write about it.
An Arabic cheese dessert is gaining immense popularity beyond the Middle East
And I did.
Off I went to the Middle Eastern store and bought the ingredients, but not before digging into its wholesome, rich and earthy history.
Arabic sweets are a variation of many different cultures due to civilisations that occupied the region. These sweets are unique in taste and are prepared with special care, and are especially popular during the month of Ramazan due to their nutritional benefits. And Knafeh is no exception.
An article titled Taste of a Nation, History of Knafeh and Palestine by Mohammad Ziad, says: "There is no right way to enjoy knafeh, as long as it is in a spirited environment, surrounded by loved ones … It can be enjoyed on streets corners, on the go, in a restaurant or at a celebration of happy moments. Certainly diversity seems to be the strongest characteristic of the legendary cheese-pie dessert."
The word Knafeh is derived from the Arabic verb kanaf (meaning shelter), and dates back a millennium.
Knafeh has a long history of being served as a special treat. It was first mentioned during the 10th century, with origins tracing back to the Palestinian West Bank city of Nablus. Although this dessert started its humble beginnings in Nablus, many other cities across the Arab world have developed variant forms to suit their taste.
There are three main variations in preparing: khishnah (rough), where the crust is made from long noodle threads; na'mah (fine), made from semolina dough; and mhayara (mixed) which, as its name suggests, is made as a mixture of khishnah and na'mah. Additionally, the dessert can be made using cheese or cream. Traditionally, it is served with a garnish of crushed pistachios.
Knafeh is actually an Arab cheese pie. It is believed that cheesecakes/pies were first made on a Greek Island called Samos in 2,000 BC, and were served to Olympians some 1,300 years later. It was, and still is, a popular dish in Greece. All European countries have their own twist on cheesecake/pie and cheese desserts, as do the Arabs and South Asians, with their Rasgullas, Ras malai and Sandesh.
Over the course of time, Knafeh has gained widespread popularity, especially in Lebanon, Jordan, Palestine and Syria. Immigrants from these countries have brought the sweet aroma of Knafeh to the rest of the world, and the world has embraced it. Dessert lovers devour the sweet-savoury Knafeh; it melts in the mouth and the pistachio shavings and sugar-based syrup bring rich texture and depth to the sweet dish.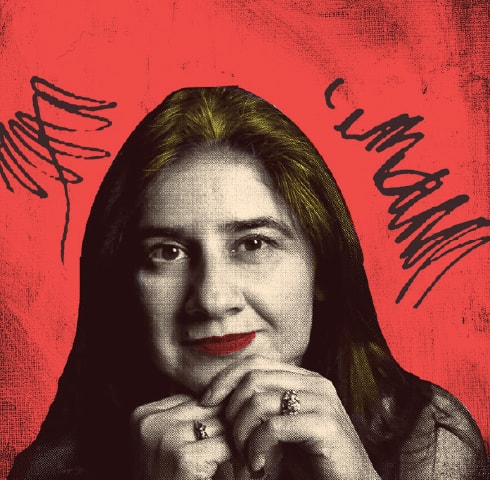 Most Arabs use their family recipes to make Knafeh at home. Here is one that is sure to a be hit in your household.
KNAFEH
INGREDIENTS
16 oz or a pack of knafeh pastry
250g ghee or butter
250g mascarpone
300g crushed nuts and sultanas
100g desiccated coconut
50g pistachios
A sprinkle of rose petals
Water
2 tbsp rose water
Juice from 1 lemon
250g sugar
METHOD
Make sugar syrup by adding sugar and a cup of water to a pan. Bring to boil without stirring, once sugar dissolves squeeze lemon juice and add rose water. Bring down to a simmer. Do not stir. The syrup is ready once it thickens. Set aside to cool.
In a bowl, toss Knafeh pastry, break it apart, mix with ghee or melted butter. Layer the Knafeh pastry in a pan and pack down tightly, top with mascarpone and over that sprinkle crushed nuts, desiccated coconut and sultanas, adding the second layer of Knafeh and pack down tightly.
Place pan in a pre-heated oven — 350 to 375 degrees — and bake until golden brown, for approximately 30 to 35 minutes. Remove from oven and pour syrup. Cool, sprinkle crushed pistachios and rose petals, and serve.
Published in Dawn, EOS, February 4th, 2018