Balochistan Assembly's former deputy speaker Abdul Quddus Bizenjo was sworn in as the new chief minister of the province on Saturday.
Bizenjo's cabinet will comprise 14 members including Tahir Mehmood Khan, Sardar Sarfaraz Khan Domki, Nawab Changez Khan Marri, Mir Sarfaraz Ahmed Bugti, Mrs Rahat Jamali, Abdul Majeed Abro, Mir Asim Kurd Giloo, Mir Amir Rind, Ghulam Dastagir Badini, Mohammad Akbar Askani, Sheikh Jaffer Khan Mandokhel, Agha Raza, Manzoor Ahmad Kakar and Prince Ahmed Ali.
PML-Q's Bizenjo had earlier in the day been voted in as the third chief minister of Balochistan in four years in a session of the provincial assembly. He was elected after former CM Nawab Sanaullah Khan Zehri stepped down from his post last week.
Pakhtunkhwa Milli Awami Party's (PkMAP) Agha Syed Liaqat Ali was the only contestant against Bizenjo after Abdul Rahim Khan Ziaratwal, also of PkMAP, stepped down in his favour.
Balochistan Assembly Speaker Rahila Durrani announced Bizenjo's victory after the process of voting formally ended.
Talking to the media after his election, he dismissed speculations about the dissolution of Balochistan Assembly, terming them as "mere rumours".
He vowed to bring peace to the province and make efforts to alleviate reservations of disgruntled Baloch leaders. However, he warned that elements that tried to disturb the country's peace will not be spared.
"Writ of the government would be ensured at all costs", he said.
On Friday, Bizenjo, an MPA from Awaran, had submitted five nomination papers each proposed and seconded by members of allied parties.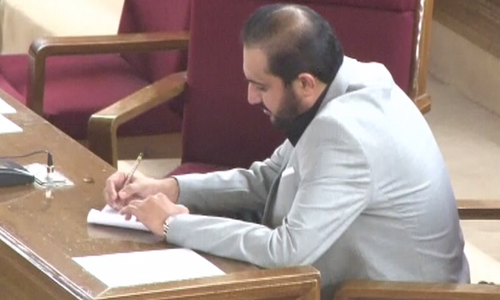 He was proposed by Jan Muhammad Jamali, Sardar Bhootani, Dr Ruquyia Saeed Hashmi, Zafarullah Zehri and Ghulam Dastagir Badini, and seconded by Sarfaraz Bugti, Amanullah Notezai, Prince Ahmed Ali, Mir Aamir Khan Rind and Molvi Maazullah.
Zehri, the former chief minister of Balochistan, had stepped down last week after opposition benches filed a motion of no-confidence against him. He turned in his resignation on January 9, the day when opposition parties planned to move a no-confidence vote against him in the provincial assembly.
He was reportedly asked to resign ahead of the session to spare his party — the PML-N — further embarrassment after Prime Minister Shahid Khaqan Abbasi failed to win over the disgruntled elements in the Balochistan assembly.
PM Abbasi had reportedly advised Zehri to resign after dissenting leaders rejected his invitation to discuss outstanding issues, sources within the PML-N had told DawnNews.