"Think a hundred times before you take a decision, but once that decision is taken, stand by it as one man." — Quaid-i-Azam Muhammad Ali Jinnah
Do you know that you are taking decisions every second without realising it? Decisions can be big or small. For instance, deciding what you want to be when you grow up is a big decision, while deciding that you will wake up early every morning is a small decision. It is the smaller decisions which we make every day that shape our future. The decision to stay up late every night and watch movies, to eat that burger instead of home-cooked food, not to participate in that competition because you want to stay in your comfort zone — we disregard these small decisions as insignificant, but when we reach a certain point in our lives, we realise that we are the product of all these decisions that we made in the past. If you failed in your final exams, it is probably because you unconsciously decided not to work hard throughout the year. That is why decisions play a very important role in our lives.
a certain point in our lives, we realise that we are the product of all these decisions that we made in the past. If you failed in your final exams, it is probably because you unconsciously decided not to work hard throughout the year. That is why decisions play a very important role in our lives.
When you are young, your parents take decisions for you — which things to buy for you, which school to get you admitted in, whether or not to send you on a school trip, etc. And of course, they only do what they feel is best for you. But this does not go on forever.
As you mature, you become responsible for taking your own decisions. Sure, you can choose to let other people decide things for you, but then you are living by rules set by others, you are a living puppet. And nobody else would be there with you when you are in the arena facing the consequences of your decisions.
Often our decisions are influenced by society and peer pressure. You want to do one thing, but everyone else around you wants you to do something else and because you don't want to be an object of criticism and mockery, you do what everyone else expects from you. And this is not a wise decision. Thus, as you grow up, it becomes very important to learn to take wise decisions, if you desire success and fulfilment.
Have a vision
When you are driving a car, you know what your destination is. Accordingly, you take your route. Now imagine driving a car without a clue of where you want to go. You go this way and that, you bump into this and that, you go wherever the roads take you and after a long time you realise that you are lost. You have no idea where you are and why you are there in the first place.
Life works in the same way. It is a journey and you are the driver. You must know where you want to go. You must have a clear vision of what exactly it is that you want. If it is Cambridge University you want to get into, you must first understand what their criteria and requirements for admissions are. Accordingly, you should plan your days and strive to achieve your goal day and night.
If your goal is to lose weight, you must know what steps to take to achieve it, what your diet should be, how many hours you should exercise every day, etc. Follow a plan. Whatever target you want to achieve (long-term or short-term) the decisions you take every minute will determine whether you will get there or not. Your everyday decisions will either move you closer to your goal or away from it.
Do what you really want
There are some things we must do, whether we like them or not. Following the rules of your school is one such example. In such cases, you have no choice but to do what you must. But in other cases, we do have a choice. There are some decisions we take only for the sake of pleasing others. Wearing a dress you absolutely hate to wear but your friends tell you it looks good on you, and not wearing the one that you think looks good on you is an example of such decisions.
Taking a course in software engineering, something that you have absolutely no interest in, only because people say 'you should do it to get a good job' is a waste of time, energy and talent. Life is too short to waste these three gems.
You should decide to do only what you genuinely love and care about (excluding things you have no control over, such as following rules) because when things get tough and you are confronted with challenges, the spark of passion is what keeps you going.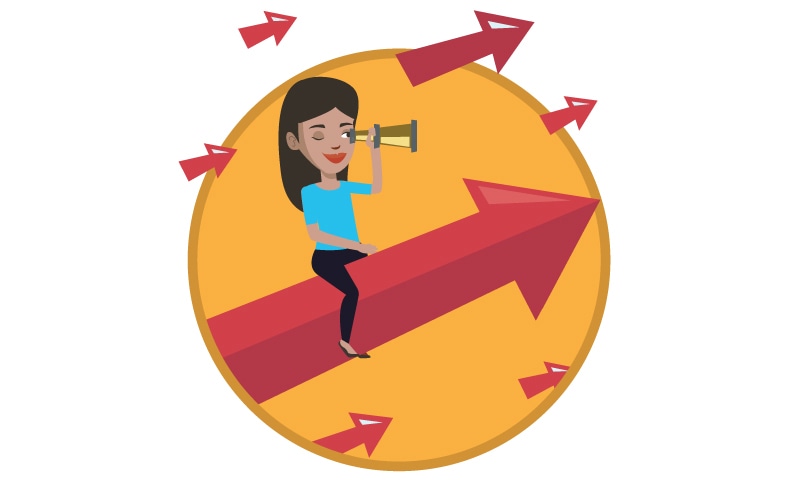 Listen to intuition
All of us are born with an inner guidance system, a compass that shows us directions. Intuition is that faint whisper you hear from within you when you are about to take a decision. It is that gut feeling.
But only when you sit in silence and go deep inside yourself, do you recognise the voice of intuition. In most cases, this voice gets drowned by the voices from outside. We must make decisions based on what truly feels right in our heart. That is how we gain happiness and self-satisfaction. Remember, you are under no obligation to do what everyone else is doing.
You must do what is in harmony with the laws of nature, with your own values and what feels good in your heart.
Seek advice
When taking important decisions, it is always a good idea to seek advice from people who have knowledge and experience. What this does is that it saves you from trial and error, you don't make the mistakes they made and you learn the lessons by saving your own time and energy. However, as I said, people who advice you must have knowledge and experience in that particular area. For example, if you want to know whether a certain college is the best place for you, your grandmother is usually not the best option to approach in this case (because it is likely that she doesn't have the required information about colleges and studies, but she has ample information about things related to her interests or hobbies. This is where you will probably ask a teacher.
But if you want to learn cooking/gardening, your grandmother might be a good person to ask for advice. There are many people out there to misguide you and you must be cautious of them. It is also a good idea to listen to the general opinion of many people as it helps taking better decisions sometimes, but not always. The opinions of other people are, after all, opinions and not facts; they can be wrong.
Remember other people
So far, we have talked about considering your own best interest. But keeping in mind other people while taking decisions is as important as keeping your own self in mind. Nobody is an island; we live in a society where one person's decisions affect many other people, directly or indirectly. What happens when a traffic police constable decides not to be on duty and to enjoy a holiday? So many people get stuck in traffic and there might be accidents too.
Your decisions might even affect the future generations to come. In the world we live in today, we are facing the consequences of the decisions — right or wrong — that our ancestors made years ago. The decisions you take should serve humanity, no matter in how small a form. Even if they don't help anyone, they should at least not hurt, harm or defame others. This is what you must keep in mind.
Last but not the least, you will not always take the right decisions and that is okay. You should learn from your mistakes and move on. But whether right or wrong, once you take a decision, you must stand by it like a concrete wall that no wind or tide can knock down. It is no use thinking about the past, wondering what could have been, blaming circumstances and pitying yourself. You must stand firm against all odds and keep moving forward. Never let fear influence your decisions. Have courage and trust yourself.
Published in Dawn, Young World, January 6th, 2018