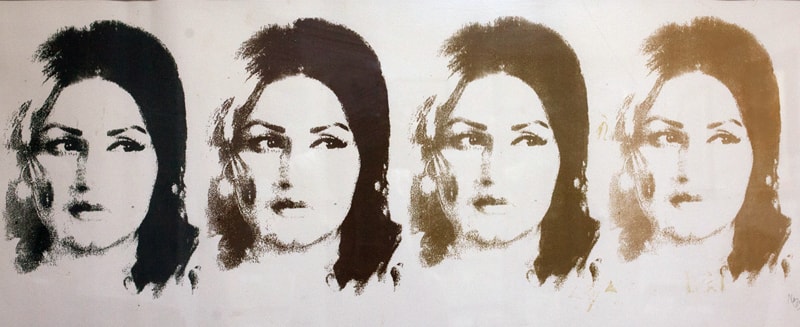 Educator and artist Salima Hashmi was acquainted with Madam Noor Jehan because the latter was friends with her parents Faiz Ahmed Faiz and Alys Faiz. Hashmi also made a documentary, Noor Jehan: The Song Remains, on the life and times of the singer as a posthumous tribute to a woman whom she regards as a "survivor."
Hashmi shared some moments that reveal significant and lesser-known aspects of Madam's larger-than-life personality. The following are excerpts from the interview ...
Determination for survival in the entertainment industry
"I think she made it very clear that she would be her own person. Much, much later when I was researching for the documentary I made on her (Noor Jehan: The Song Remains), I learnt of the intense suffering that she went through in her girlhood. I think she really clawed her way up and, therefore, she knew from day one that she was something special.
She was very sure of herself. And she made no apologies ever. She lived as she pleased but she had such great faith in her own talent.
Dec 23, 2017 was the 17th death anniversary of the iconic singer Madam Noor Jehan. Her mellifluous voice and unique outlook on life is the most cherished and inalienable part of Pakistan's cultural history. Eminent artist Salima Hashmi recalls moments and incidents from Noor Jehan's life that defined her personality
I once spoke to someone who was a young man when Noor Jehan first appeared on the stage as a 'baby singer' when she was about 13 — and already a mature 13 — and she recited a naat. In those days there would be a live performance first and then you would get signed for films. This guy went totally bonkers for her. He talked about the fact that he pursued her.
She made no apologies for her attractiveness. In that sense, she was such a complete diva. And she knew that she could carry it off. But on the emotional level, she was quite different.
When she was being targeted during Gen Ziaul Haq's period by the maulvis (calling her obscene) she more or less called them up and said why don't you come, I'll teach you a few things. And the innuendos were very sexual, the way she said it. And of course, they just piped down like anything. They didn't want to go into a public spat with her because they knew they would be the losers.
On motherhood
I've never seen anybody so devoted to her children as she was. And I think it was because she didn't receive that kind of love. She was extraordinarily indulgent and just adored every single one of her children.
Her daughter Nazia was my student and she wanted to go abroad to study. She said, 'My mother won't agree, can you come and persuade her?' Madam had just come back after her heart treatment at Mayo Clinic. So we sent a message saying that myself and my mother would visit. She was extremely fond of my mother. Alys sahiba, she'd call her. I suppose she sensed that here is a woman who has also given up a lot.
When we arrived there, there she was in her regalia and the tea trolley was wheeled in. I broached the subject and said, 'Madam, let Nazia go abroad for studies, she has got admission.'
She replied, 'Iss ka faida kya hai?' [What's the use?]
I replied that her daughter would be receiving an education which nobody can take away from her. 'But what will she do with that when she returns?' Madam asked. She was very practical in what she was going to be investing her money in.
I said, 'Haan, woh tou kar sakti hai uss ke paas talent hai' [She can do whatever she wants since she has talent] to which she said, 'Haan, mujhe pata hai ... Mere do he bachay talented hain.' [Yes, I know. Only two of my children are talented]. She said this without any regard for anything.
She hinted that it was her daughter's age to get married. I said, 'Madam, achhi larkiyon ke tou rishte humesha aate hain … Mere khyal mein aap ke aaj tak aate hain.' [There are no dearth of marriage proposals for good girls. I think you still receive them to this day.] She looked at me and then burst out laughing.
What very often people don't talk about was that she was an extremely intelligent, intuitive person who could see through people in a very uncanny way. This always struck me as something that was very unusual about her. People who were trying to impress her, she went along with it but, for example, people who would invite her hoping that she would come for dinner and '100 bandon ko bula liya ke sham ko hum kahein ge ke aap kuch gaa ke suna bhi dein,' [invite 100 people and later pressure her to sing for them] she'd be very adamant that she wouldn't. She didn't like the idea.
Relationship with Faiz Ahmed Faiz
She knew my father because my father knew Shaukat Husain Rizvi sahib. She told me about the time when my father was released from jail he went to meet her. 'Sab se pehle mujhe milne aaye' [He came to meet me first], she said. Because he had not met her before so he wanted to thank her [for singing a song Faiz penned on national radio despite the ban on his work]. So she said, in Punjabi, 'O dekho na,' [Just look] my doorman outside, he lets beggars in but when Faiz sahib arrived he stopped him at the door. He came inside and said to me, 'O ji koi Faiz aya ai' [Someone called Faiz is here to see you]. 'Main boli, hai mein mar gayi, hai mein mar gayi, Faiz aye ne. [I said, Oh my goodness, Faiz is here.] I was in a fluster and ran out to welcome Faiz, too much in a hurry to know if I was wearing my shoes or dupatta, cussing the doorman.'
Once when she came over to our house, it was my father's birthday. I was still in college. There was no plan. Hamid Akhtar sahib just said, 'I'm coming over.' It so happened that Raza Kazim had just bought the first spool tape recorder. My father rang him and said, 'Yaar wo le aao jo tumhara khilona hai ... [Bring that toy of yours ...]'
Madam had never seen it. She decided to sing one or two songs: Ab yahan koi nahi aaye ga, Jahan hai mohabbat pyar ki and Mujh se pehli si mohabbat. She had just got married to Ejaz then. So she wanted to show him off a bit to us and also show him that she keeps this kind of company. She said to my father, 'Acha eik aur cheez' [and one more thing] and started singing Mundeya Sialkotiya and we were laughing. When she followed it up with Mukhre pe kaala kaala til, we were by then in fits of laughter because she was singing a love song [to Ejaz]. I remember my mother saying to my father, 'Ah, she's singing it to him not to you, you know.'
Many, many years later, I remembered that recording. My father had said bring me some music. So I went to Raza Kazim. And he said, 'Oh my God, I may have that spool somewhere.' And sure enough, he found it. Then he made a cassette of it for me and my father. And we relived that moment 30-35 years later. There's no music, just her singing.
 Domestic talents
She was a fantastic cook. Unbelievable. And she knew food extremely well. She seldom cooked for people except those who were close to her … Arshad Mahmud told me that she taught his wife how to make aloo gosht. She was very fond of Arshad Mahmud.
Last days
She was on dialysis when I went to see her in Karachi. It was the last time I met her. She was very conscious that she was no longer her very beautiful self but she wore all her makeup and was sitting there. She said she writes Urdu poetry and she had a notebook of her shairi [poetry]. 'I have never shown it to anybody,' she revealed but wanted to show it to Shoaib Hashmi. Shoaib asked to be shown it. She said she would look for it, and said, 'I will only give it to you.' But that never happened.
The beloved of the common man
While I was doing the film on Madam, I went to Shahnoor Studios. I met a man there who said she would always have money in her purse when she would come to the studios and would just distribute it along the way, saying, 'Looks like you need some help.'
Once, he said, he was standing alone just as Madam was getting into her car. She called him over and asked him what was worrying him. He told her his daughter was getting married. She turned to her aide and told him to ask him what he wanted for his daughter's wedding and to give him what he wanted. Without any drama about it at all. She was generous to a fault.
When I went for her qul, the upper classes didn't show up to a great extent. Those who did were arriving in rickshaws or on foot. [Her generosity] was carefully camouflaged, hidden from view, and she made sure it was not broadcasted because she didn't want to be made a fool of. Nobody knew her to be this great philanthropist at all.
Social grace
She was terribly proper. She had a filthy tongue, not that I ever heard it because she was most urbane and well-spoken when she was in good company. But she had the most colourful language viz-a-viz her swear words learnt in the old city. She didn't spare people who were of the same ilk, as it were. Otherwise her manners were impeccable.
Madam had a wicked sense of humour! She told very ribald jokes — which she of course would not recite in my kind of company.
She had a way of obliquely sizing and summing up people which was extremely insightful. There was a gentleman visiting our house, who was a pir of a kind, very urbane and wonderful person. It was his cousin that she had had an affair with. During the course of the conversation, he mentioned that person's name. Madam froze for a second. And she said, 'Haan, who kaafi buzdil aadmi hai' [He is a coward]. He understood immediately, and said, 'Sahi farma rahi hain' [You are absolutely right].
Marriages to Ejaz Durrani and Shaukat Hussain Rizvi
She had been through hell as it were, I think [because of her marriage to] Shaukat Hussain Rizvi. She was grateful for that marriage and she was madly, madly in love with him. Like she was later with Ejaz. She was unlucky in the men that she married.
Rizvi sahib really groomed her because he was a man of urbane taste, very cultivated, with friends among the intellectuals, writers and so on so forth. She was very quick to pick up. And she was not going to let him down in terms of her behaviour. She was terribly bitter about his subsequent behaviour. In his book he really maligned her.
She needed constant reassurance. There was something that gnawed inside her — must've been a throwback from her childhood. She really wanted to be loved all the time and she demanded that of her children. Didn't want to sleep alone, she wouldn't sleep till early morning otherwise.
Once she said to me, with that wicked look in her eye: 'Mujhe Shoaib sahib bohot pasand hain, lekin tum bhi bohot pasand ho.' Meaning 'I would have made a play for [your husband] but because I like you very much, I'm not going to do that to you.' She never minced her words — especially with people she felt comfortable with.
Friendships
I think she relished the company of people who were educated but also very open-minded, people such as Sufi Tabassum, my father, Hamid Akhtar, intellectuals who have some stature. And she could tell fakes from a mile away.
What very often people don't talk about was that she was an extremely intelligent, intuitive person who could see through people in a very uncanny way. This always struck me as something that was very unusual about her. People who were trying to impress her, she went along with it but, for example, people who would invite her hoping that she would come for dinner and '100 bandon ko bula liya ke sham ko hum kahein ge ke aap kuch gaa ke suna bhi dein,' [invite 100 people and later pressure her to sing for them] she'd be very adamant that she wouldn't. She didn't like the idea.
My father would always be asked to recite his poetry, and he would. My mother would say before they would go out for dinner, 'So are you going to be singing for your supper?' He would say, 'Yes, I suppose I will.' But Noor Jehan wouldn't. Except if it was people she genuinely liked. Then she herself would start. You didn't even have to ask her.
She was great friends with Yasmeen Imtiaz. They used to live very near us. [When] Yasmeen was getting married to Naeem Tahir, Imtiaz sahib sent a message to my father to write the sehra. Abba sent me with the sehra, so I went off. Noor Jehan was sitting over there. 'Lao, lao, sehra aya hai tou lao' [bring the sehra to me]. She hummed it and within 10-15 minutes she got the tune and she sang the sehra.
She was very, very good friends with some people in the film industry. Best friends with Neelo, and very great friends with Panna. She also had a great love-hate relationship with Fareeda Khanum. She used to mimic Fareeda. Once I was at a party, Fareeda was sitting at the back. Madam was on a sofa with her back to her and Madam was copying her, her pout and Fareeda doesn't know it. I was just sitting there trying not to laugh. But she also adored Fareeda and would send her gifts such as a sari and say in Punjabi, 'Pa layin' [wear it].
Published in Dawn, ICON, December 24th, 2017