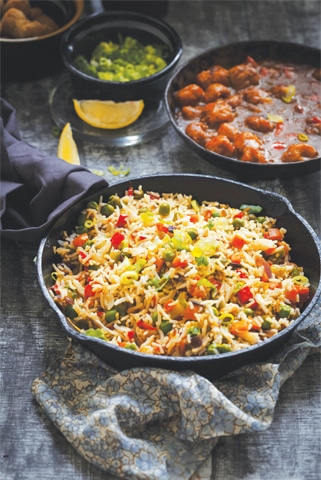 "Chaos existed then, as it does today
Spirituality flourished, as it does today
Peace was elusive, as it is today
Love hung in the balance, as it does today
And I, Feast, nurtured all of the beasts and
humanity, then, as
I still do today."
The publishing world has long been flooded with a multiple genre of cookbooks — from the simplistic glossy images of food coupled with recipes to celebrity-chef authored coffee-table offerings to 'foodoirs' (food + memoir). Blogs further lend themselves to a global explosion of food stories. This stomach-driven onslaught is akin to being at an overly laden buffet and leaves you craving in its trough of mediocrity.
Then you come upon an utterly delightful and imaginative read that permeates your senses sharply with its self-assured storytelling and pristine prose. Bisma Tirmizi's Feast with a Taste of Amir Khusro is one such book; an evocative and nuanced chronicle that brings together the fine art of storytelling, time travel and treasured recipes laced with wisdom into a poignant, timeless tale of love: "Truth be told, sometimes talking is best left to tradition, customs and food, while we remain silent and watch from the sidelines."
Tracing the narrative of immigrant traditions effortlessly, Tirmizi weaves them into a tapestry of culinary delight with centuries' old recipes, peppered with anecdotes. At its heart, it is a love story with food, brimming with life lessons. It is a tantalising, bittersweet account, a blend of guilt and wit, self-discovery and fulfilment. Memory becomes the bearer of these stories and how a recipe becomes an heirloom to cherish and pass on: "Stories and food remain the same, only faces change, and those too only vaguely. The same faces keep coming back every few generations to eat the same food and live out the same stories."
A debut novel that is self-assured in its storytelling and brings together time travel, love and treasured culinary recipes
Ayesha, 13-years-old and weighing 66 kilograms, is caught in a vortex of food cravings and the gnawing anxiety that fuels an obsession from biscuits to pulao: "I love biscuits, can never stop at eating one. So I either devour the second or destroy it.''
The book is a layered account on so many levels. The central story is that of Ayesha as she blossoms into a young woman who seizes life with both panache and grace, and mends herself slowly and surely as she takes control of her food urges. In her soul-searching journey grappling with thoughts of food, she makes life-changing discoveries — that food is shared history, a testament to filial and family bonds that bind us in a daily shared feast as families, communities and entire regions. Even as ethnic and racial bonds weaken, the ties of taste, the traditions and customs linked to food cannot be severed. They are strengthened when we break bread across borders. Hardwired into our genes, we savour the same foods that have pleased our subcontinental palates for millennia.
What makes Feast a true feast for the senses is that it is equal parts cerebral and visceral. The book tells a love story, gently teasing out its flavours while packing a punch with the sensory pleasures of food in the air. Ayesha is irreverent, witty, self-deprecatory and a trooper. She is quick-witted and taps into the deep reservoirs of strength she has built since she cast aside her obese self. In the face of minor love hiccups with Faiz, she can instil immense poise in herself: "I silently call out to my little self from the past for a quick tutorial in confidence."
The story-caravan begins with a hint of love in balance and the heady aroma of pulao playing an accomplice in a sensuous exchange between lovers Gulnar Jahan and Khurram in the verdant valleys of the Hindukush in 1526. Its swathe of time takes in the reign of the Mughals to a circa-1943 romance gently blossoming in the heart of Ayesha's maternal grandmother Shireen in the Convent of Jesus and Mary in Simla, to Ayesha's present day manna-filled Karachi household by the Arabian Sea with trolleys laden with delicacies for tea each evening.
Ayesha draws upon the time-tested wisdom of her maternal grandmother and probes into realms that range from mortality to the mundane aspects of living: "Have you ever thought of food as a lover? ... For food to treat you right, you have to treat it right too ... Relish it, and let it relish you."
Tirmizi delivers illuminating observations and an understanding of the often far from healthy relationship we have with food. This complicated bond we create with food as we search for an identity is a lingering theme in the book. It links Ayesha's compulsive cravings to the story of Shireen's short-lived romance and a life of unrequited craving and obesity: "Naan khatai never disappoints even when the rest of the world does," Shireen consoles herself as she pulls herself together for a life of compromise when her Farhad does not come back for her.
The book is a celebration of women who are keepers of treasured recipes and family stories, who matter-of-factly pass down life's experiences peppered with their insight in day-to-day conversations — at times even bordering on the risqué. It brings to life mothers, aunts and grandmothers jostling together in a culinary memory of feast and food.
And at the very epicentre of the story is the grand pulao, its grains plumped in the lamb, its time-tested, secret family recipe traded by Shireen for love. In the end, the pulao glistens in a pyramid; its scent bringing to life memories of Gulnar Jahan breaking all the rules to feed Khurram shining grains of the magical food. As Ayesha, the bride looking strikingly like Shireen, armed with her food and love almanac, feels happy and liberated, the festivities come full circle almost five centuries later to the timeless ballad of Amir Khusrau's Rung, once again sweetening the night air to ecstasy.
The reviewer is director of an educational foundation
Feast with a Taste of
Amir Khusro
By Bisma Tirmizi
Rupa Publications, India
ISBN: 978-8129149015
208pp.
Published in Dawn, Books & Authors, December 10th, 2017