October 26, 2017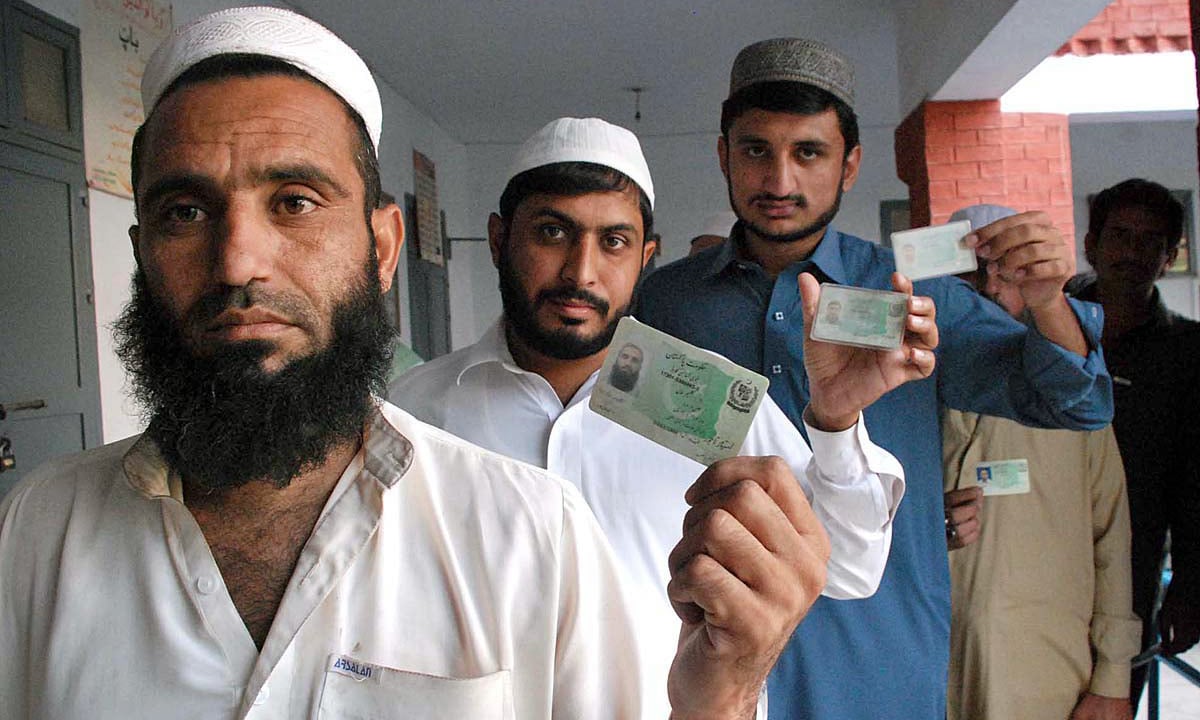 According to data available from the Election Commission of Pakistan's (ECP) newly-introduced Result Transmission System (RTS), PTI's Arbab Amir Ayub is leading the race for the NA-4 constituency in Peshawar with 43,812 votes.
He is followed by PML-N's Nasir Khan Musazai, who has received 23,827 votes so far; 23,428 votes had been polled in favour of ANP candidate Khushdil Khan.
Votes from 258 polling stations have been counted while votes from 11 polling stations have yet to be counted.
Celebratory gunfire has been reported outside PTI candidate Arbab Amir Ayub's house.
Polling for the crucial by-election had wrapped up without any major untoward incident earlier in the day.
Many observers consider the by-poll a litmus test for the popularity of the Pakistan Tehreek-i-Insaf (PTI) government in the province.
The seat had fallen vacant after the death of dissident PTI MNA Gulzar Khan on August 28. His son, Asad Gulzar, is now contesting the seat on a PPP ticket while his main opponents are Arbab Amir Ayub of PTI, Khushdil Khan of ANP and Nasir Khan Musazai of PML-N.
Voter turnout
According to DawnNews, polling was scheduled to begin at 8am but commenced at some polling stations with a delay.
Voter turnout appeared to be strong in the urban areas of the constituency as compared to the rural parts, DawnNews reported.
Examine: Stakes high for PTI in NA-4 fight
A large number of women were seen at the polling stations, especially in urban areas. However, they faced problems in polling at some stations because of lack of polling booths and election staff, according to DawnNews.
Polling was suspended at a women's polling station in Badaber after a fight involving workers and polling agents broke out, reportedly over some men trying to enter the premises. The situation was under control as women police arrived and polling resumed shortly, DawnNews reported.
Analysts insisted before the polls that PTI, ANP, PML-N would be neck-and-neck in the contest
Ten people were arrested from different parts of the constituency and arms and ammunition were recovered from them, police said, without providing further details.
Meanwhile, reporters complained that they were not allowed to enter polling stations despite possessing media cards issued by the Election Commission of Pakistan (ECP).
According to the ECP, 14 candidates representing both major and minor political parties were in the running for the seat.
Vying for votes
The election campaign ended at midnight on Tuesday amid hectic efforts from all parties to woo voters, Dawn reported.
On Wednesday, political parties had set up camps in the constituency to facilitate voters, while a large number of media teams reached the city to cover the election, which many take as a test of the ruling PTI's popularity with the government completing its five-year term in few months.
Political pundits insist the PTI, Awami National Party and Pakistan Muslim League-Nawaz are running neck-and-neck with each other.
The PTI had won the NA-4 seat in 2013 by a big margin of 34,722 votes. The party's candidate Gulzar Khan had received 55,134 votes while the runner-up, Nasir Khan Mosazai of the PML-N, got 20,412. The Jamaat's Sabir Hussain Awan came third with 16,493 votes.
In a statement issued here, the ECP said it had set up 269 polling stations across the constituency for 397,952 voters, including 235,127 men and 162,825 women, and declared 182 polling stations the most sensitive and 82 sensitive in light of security situation.
It also said electronic voting machines would be used at around 100 polling booths of around 35 polling stations on experimental basis.
Security arrangements
The ECP said it had also appointed 269 presiding officers and put in place results transmission system at each polling station.
It said with the deployment of 5,000 policemen and 1,700 army personnel, strict security arrangements had been made in the constituency.The district administration has announced a public holiday in the constituency for the day.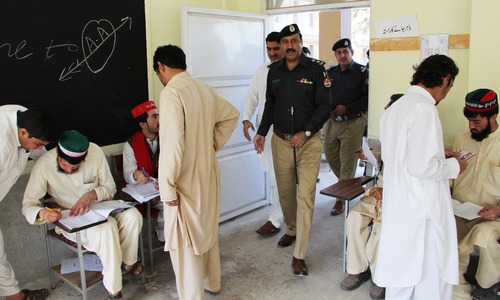 Also on Wednesday, the ECP director general administration and provincial election commissioner visited polling stations in the area to check preparations for the by-election.
The ECP empowered all presiding officers to exercise the powers of first class magistrate to prevent any untoward incident.
SSP (operations) Sajjad Khan at a meeting held on Wednesday directed police officials to ensure peace on the polling day and said presiding officers and police officers would not use mobile phone in polling stations during voting.
He said special cards would be issued to all police personnel deployed for election duty, while in case of any eventuality, rapid response force personnel would rush to the area.
The deputy commissioner of Peshawar banned the displaying and carrying of weapons, and plying of unregistered and applied-for vehicles in NA-4 for 30 days.
He also banned the use of cellphone on the premises of polling stations in the constituency for a day.