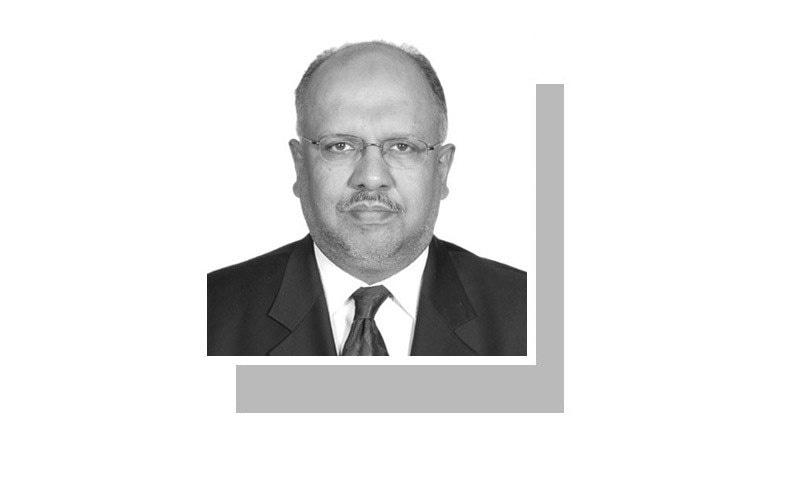 AS Pakistan's liquid foreign currency reserves slip in the wake of a widening current account deficit, falling overseas remittances and a growing international trade imbalance, a return to yet another IMF bailout looks inevitable. The return to the Washington-based global lender by one of its most mediocre and repeated clients appeared almost certain — even before former prime minister Nawaz Sharif was disqualified by the Supreme Court.
Any hope of Pakistan's balance of payments comfortably holding out until next year's parliamentary elections appears increasingly unlikely. And, when there is a new loan agreement, the IMF's well-known medicine will come with another round of belt-tightening measures, notably targeting middle- and low-income households. In return, Pakistan will receive a new supply line of IMF funds to unlock other international loans from various sources, notably multilateral agencies such as the World Bank and commercial sources.
The outcome will seemingly halt a depletion of Pakistan's foreign currency reserves and create a sense of returning calm. How­ever, if past trends are a guide, long-term reforms to help Pakistan graduate beyond its repeated return to the IMF are unlikely.
Welcome to yet another tragic chapter in our economy's history.
Welcome to yet another tragic chapter in Pakistan's haphazard economic journey, where a fresh IMF rescue package looks increasingly likely. Though the PML-N government is eager to ascribe worsening economic trends to events following the former premier's departure, nothing could be further from the truth. Well before the Panama verdict was delivered, Pakistan's exports were already collapsing. And the current account deficit was an increasingly alarming fact of life even when Sharif's disqualification was impossible to predict.
Pakistan's present-day economic ailments have much to do with failures, including policy failures, of recent years, either since or before the PML-N's electoral victory of 2013. Together, the failure to tackle the worst energy crisis in Pakistan's history along with the failure to undertake other key measures, including a much-needed devaluation of the rupee, have eroded Pakistan's ability to meet the challenge.
Meanwhile, the crisis surrounding Pakis­tan's agriculture sector, though not necessarily of immediate consequence to the future of foreign reserves, has added an adverse element to the economy. The government's obsession with fanciful initiatives such as metro bus projects and high-speed roads — all with borrowed money — runs the risk of becoming the proverbial white elephant unless Pakistan's ability to keep up with its mounting debt payments improves radically.
The discussion on Pakistan's future relationship with the IMF will remain incomplete without considering Islamabad's past experiences. The bailouts facilitated by the lender recognised some of the worst gaps in Pakistan's economic framework, though it failed to oversee a raft of sorely needed and long overdue structural reforms. The very fact that Pakistan today is looking at the prospect of yet another IMF loan progra­mme, less than a year after graduating from the last one, speaks volumes for the failure to tackle the country's multiple weaknesses.
A major economic overhaul will not succeed in bringing Pakistan on to the path of sustainable and long-term improvement without forcing a much-needed rule of law surrounding the economy. This ultimate goal will need to be built upon a radical reform of Pakistan's tax collection system in tandem with redefining the country's economic philosophy. Fanci­ful ideas seen in recent years will have to be set aside in favour of add­ressing urgent human needs, whose presence has practically placed more than 70 mil­lion Pakis­tanis, or at least a third of the population, in abject poverty.
In approaching the IMF for another loan, elements of the last loan programme must be carefully examined. Specifically, the IMF's decision to grant the reported 12 waivers over a three-year period of the last loan must be probed in detail.
Driven by a brand new economic philosophy, Pakistan must immediately embark on a comprehensive reform of the tax collection system, while also reorienting the country's priorities away from fancy initiatives to areas that matter the most for the mainstream. Without such a fundamental reorientation of priorities, the danger is indeed much too obvious. As long as Pakistan's interests are driven by the elite to serve the elite, the country's future will be interspersed with periodic bailouts by the likes of the IMF in between short-lived eras of economic growth and recovery.
Going forward, Pakistan's economic outlook and a tainted repute of the ruling structure are not the only elements that will be at stake. Of equal significance will be the credibility of the IMF and its economic formula to begin fixing Pakistan's economic ills.
The writer is an Islamabad-based journalist.
Published in Dawn, September 5th, 2017