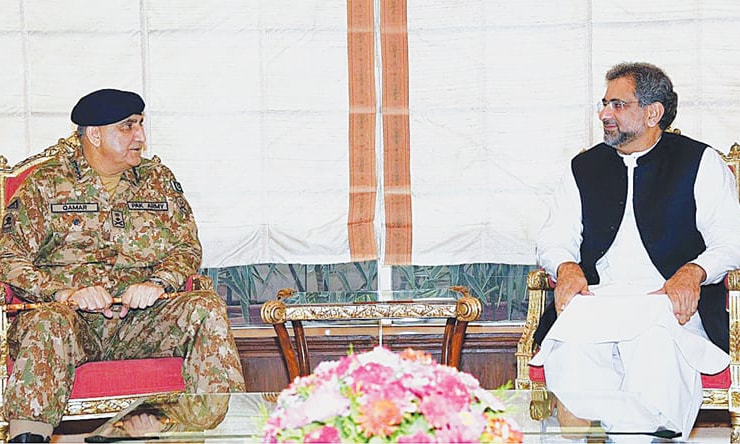 A high-level meeting of military and political leaders under the chairmanship of Prime Minister Shahid Khaqan Abbasi concluded Thursday evening with a strong rejection of US President Donald Trump's accusation that Pakistan has been undermining the US's so-called 'war against terror' despite receiving billions of dollars in aid.
Interior Minister Ahsan Iqbal, Foreign Minister Khawaja Asif, Chairman Joint Chief of Staff Committee Zubair Hayat, Army Chief General Qamar Javed Bajwa, Air Chief Marshal Sohail Aman, and Naval Chief Admiral Muhammad Zakaullah had been in attendance at the meeting, which stretched for over four hours.
In a statement that followed its conclusion, the Pakistani civilian and military leadership countered the US's criticism by reminding it of Pakistan's role in the protracted conflict and asking that the US work with Pakistan with a focus on core issues like the elimination of safe havens inside Afghanistan, better border management, the repatriation of "millions of Afghan refugees" and a re-invigoration of the peace process for a political settlement in Afghanistan.
National Security Committee's statement
The conclusions of the meeting were later shared in Senate by Foreign Minister Khawaja Asif.
"The committee observed that Pakistan had to manage the blow-back of a protracted conflict in Afghanistan that resulted in a deluge of refugees, flow of drugs and arms and, recently, terrorist safe havens in eastern Afghanistan," the foreign minister said, reading out from a lengthy statement.
"The committee observed that these safe-havens harbour anti-Pakistan terrorist groups that continue to operate and launch attacks inside Pakistan. The fact remains that the complex issues and internal dynamics inside Afghanistan pose a grave challenge not only to Pakistan but to the broader region and the international community.
"While noting the US commitment to continue to shoulder the burden of Afghanistan and reverse the expanding ungoverned spaces in the country, the committee observed that Pakistan has consistently supported all international efforts for a stable and peaceful Afghanistan," he added.
"It was observed that Pakistan has also committed more than a billion US dollars to the infrastructural and social development in that country," he observed.
"Over the years, Pakistan has worked with both the United States and Afghanistan to promote peace through a politically negotiated outcome which, in Pakistan's view, remains the best option to bring stability to this war torn country.
"A prolonged military campaign in Afghanistan has resulted in destruction and the killing of hundreds of thousands of Afghan civilians; however, Pakistan has always endorsed and supported all Afghan-owned and Afghan-led initiatives for peace," he said, defending Pakistan's perspective on a lasting solution for the neighbouring country.
"It is hoped that the strategy will pave way for the dignified return of millions of Afghan refugees residing in Pakistan for which we are willing to extend all possible cooperation.
"More specifically, we would like to see effective and immediate US military efforts to eliminate sanctuaries harboring terrorists and miscreants on the Afghan soil — including those responsible for fomenting terror in Pakistan. The Afghan war cannot be fought in Pakistan," he warned.
"On its own part, Pakistan has taken indiscriminate actions against all terrorist networks and sacrificed tens of thousands of troops and civilians in this fight.
"The demonstrated security improvement inside Pakistan would not have been possible without eliminating all terrorist hideouts.
"Moreover, successful cooperation with the US in the past against the common enemy, terrorism, reflects Pakistan's unflinching commitment to eliminate this menace.
"The committee stressed that instead of any financial or material assistance, there should be understanding and recognition of our efforts, contributions and sacrifice of thousands of Pakistanis and over $120b of economic losses.
"We consider the lives of the people of other countries as sacred as the lives of our own people, which is why we have not let our resources be used against our neighbours," he later said.
"The claims of aid worth billions of dollars being provided to us by the US are also misleading to the extent that since 2001, the reimbursements to Pakistan only account for a part of the cost of the ground facilities and air corridors used by the US for its operations in Afghanistan — rather than any financial aid or assistance," he said.
"On the matter of the people of India-held Kashmir, the committee has reiterated Pakistan's political, diplomatic and moral support," he said, responding to the US's blacklisting of a Kashmiri separatist group which enjoys popular support in the conflicted region.
"The committee has also reaffirmed Pakistan's resolve to protect its sovereignty and territorial integrity," he told the Senate.
Preempting possible criticism of Pakistan's nuclear programme after the US's shift in stance, he reminded those listening that: "The committee understood that as a responsible nuclear-weapon holder state Pakistan has in place a robust command and control system, which has been universally recognised and appreciated."
Turning to the Afghanistan conundrum, the foreign minister assured that: "Pakistan will continue to extend all possible cooperation to the international community for the objective of achieving peace and stability in Afghanistan and the broader region."
"Pakistan's effective counter-terrorism operations have clearly proved that tide of terrorism can be reversed and we are willing to share our experience with both the US and Afghanistan," the foreign minister offered.
In Trump's cross-hairs
The national security meeting was held to come up with a combined response to President Trump's new stance regarding Afghanistan and South Asia, in which he had singled out Pakistan for its alleged involvement in terrorism.
"We have been paying Pakistan billions and billions of dollars at the same time they are housing the very terrorists that we are fighting," Trump had said in his speech on Monday night.
He demanded that Pakistan should "stop offering safe haven to agents of chaos" as he presented his policy for the 16-year-long war in Afghanistan in his first formal address as commander-in-chief.
While inviting India to provide more economic assistance and development to Afghanistan, Trump discarded his previous criticism of America's longest war as "a waste of time and money".
Reactions to Trump's tough stance
On Wednesday, US Ambassador David Hale had called on Gen Bajwa to brief him on the new policy.
Responding to the US's invective, the army chief had said: "We are not looking for any material or financial assistance from the US, but trust, understanding and [an] acknowledgement of our contributions."
Earlier, on Tuesday, the day after Trump's speech, Ambassador David Hale had also met Asif and told him that US Secretary of State Rex Tillerson will discuss the bilateral relationship between the two countries and the US's South Asia policy in greater detail in their upcoming meeting.
During the meeting, Asif had reiterated Pakistan's desire for peace in Afghanistan and told the ambassador that he had accepted the invitation extended to him by Tillerson and looked forward to his interaction with Washington.
The same day, US Secretary of State Rex Tillerson had underlined the measures the Trump administration could take to prevent Pakistan from allegedly supporting the Afghan Taliban.
Tillerson had also reminded India of the need to "take some steps of rapprochement" for improving ties with Pakistan.
Support from allies
After Trump's allegations against Pakistan for allegedly harbouring terrorists, China and Saudi Arabia had come to the country's defence in separate statements and asked that the world acknowledge Pakistan's contribution in the fight against terrorism.
After a meeting with PM Abbasi on Wednesday, Saudi Crown Prince Muhammad bin Salman Al Saud acknowledged Pakistan's efforts and sacrifices in its fight against terrorism.
Separately, Chinese Foreign Ministry spokeswoman Hua Chunying had asserted that Pakistan was on the front line in the struggle against terrorism and had made "great sacrifices" and "important contributions" in the fight.
Chunying called on the international community to recognise Pakistan's role in the fight against terrorism.