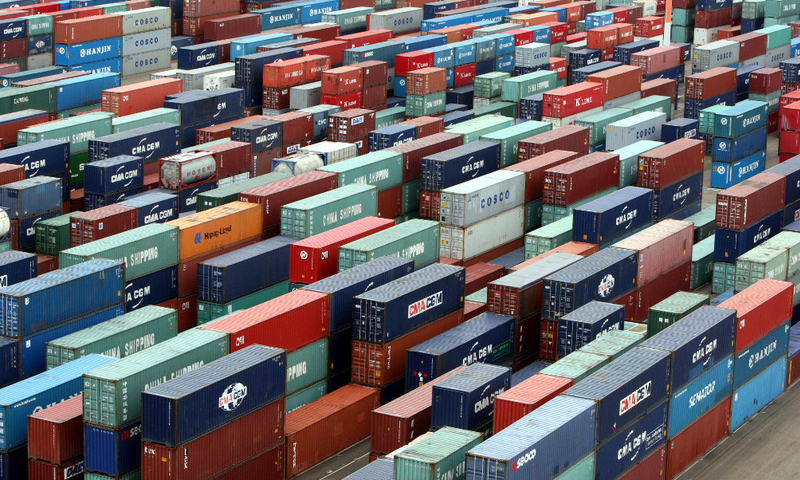 KARACHI: A record cargo volume of 52.49 million tonnes was handled at Karachi Port during 2016-17, registering a growth of 4.89 per cent over the previous year's 50.05m tonnes.
According to details, dry cargo handling jumped 7.46pc to 37.17m tonnes during the year as against 34.59m tonnes the port dealt with last year.The breakup of imports comprised 18.57m tonnes of dry general cargo which stood at 2.79pc higher over the last year when 18.07m tonnes were handled.
The import of bulk cargo made a remarkable growth of 23.85pc at 10.05m tonnes as against 8.12m tonnes handled in 2015-16.
The import of liquid bulk cargo, however, declined by 0.45pc to 14.00m tonnes from 14.06m tonnes of previous year.
Similarly, exports of all categories of cargo recorded growth, with dry general cargo rising by 1.62 per cent to 7.923 million tonnes as against 7.797m tonnes of 2015-16. Like imports, the exports of liquid bulk cargo also recorded a fall of 4.91pc at 1.31m tonnes from 1.38m tonnes of last year.
As a result, both import and export of liquid bulk cargo slightly declined to 15.320m tonnes during 2016-17 from 15.451m tonnes recorded last year.
The container handling at Karachi port also registered a growth of 7.78pc at 2.10m TEU (twenty feet equivalent unit) from 1.95m TEUs handled last year.
The containers loaded with import cargo rose by 7.10pc at 1.07m TEUs against 1.00m TEUs handled last year. The export cargo containers increased by 8.49pc to 1.03m boxes from 0.95m TEUs a year ago.
The movement of vessels also increased by 1.53pc to 1,922 ships from 1,893 recorded in 2015-16. The container carriers were reported at 758 during 2016-17 compared to 738 last fiscal. Around 244 bulk cargo ships called at Karachi Port as against 222 vessels a year ago.
The number of oil tankers calling at the port, however, declined to 541 from 559 in 2015-16.
Published in Dawn, July 6th, 2017