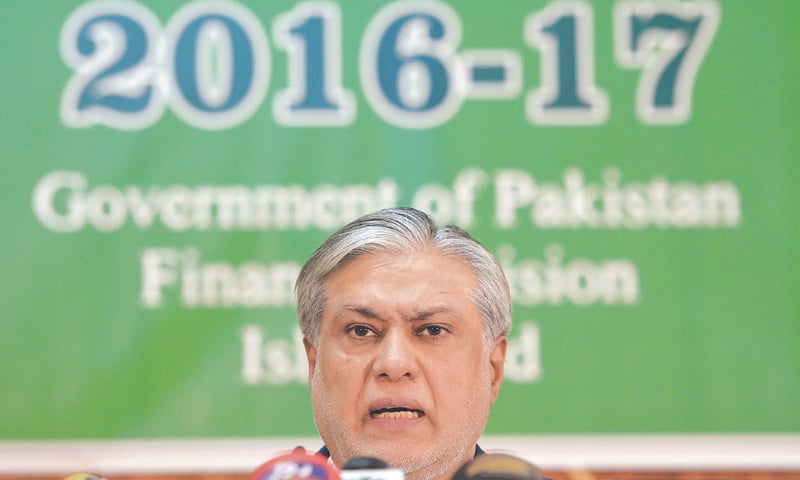 • Economy surges past $300bn for first time: Dar • Current account deficit triples • Services boom, Agriculture recovers, Industry struggles
ISLAMABAD: After a decade-long slump, Pakistan's economy surged past the $300 billion mark in the outgoing fiscal year, claimed the finance minister while unveiling the Economic Survey for the outgoing fiscal year. The economy grew at a rate of almost 5.3 per cent, the highest in a decade, with robust support from the services sector.
A low point of the year was a struggling industrial sector where almost all targets were missed in its various subsectors, while agriculture blossomed following a slump last year. Its growth rate came in at 3.46pc, narrowly missing its target.
Finance Minister Ishaq Dar, who launched the Economic Survey 2016-17 at a news conference, flagged falling exports as a point of concern but was upbeat that overall performance of the economy was positive enough to steer the country among the top 20 economies by 2030.
The minister became visibly flustered when questions were put to him about the slippages on the economic growth target of 5.7pc and its various sectors. "Let's not obsess over targets," he insisted, arguing these were set mostly to challenge his team to work harder and perform. Instead, he claimed the economy was now poised for a take-off after years of hard work.
He also bristled at criticism over his economic performance, saying negative portrayals of the economy in the press was sending confusing signals abroad at a time when all foreign institutions and investors saw Pakistan among G-20 by 2030 and among top 15 by 2050.
"For God's sake have mercy, this is everybody's Pakistan," he shot back at one point, visibly vexed by questions pointing towards the weaknesses in his track record, and reiterated the call to decouple the economy from politics and set a common national economic framework that should be followed by all parties regardless of who is in power.
"You guarantee me I will be the next finance minister and I will guarantee we will not go back to the IMF programme," he said when a reporter asked whether he could guarantee Pakistan will not return to the IMF in 2019.
Mr Dar said it was rather a matter for celebration that the country's growth rate had broken the 3-4pc barrier after a long time and was now moving towards 6pc growth trajectory. At the same time he explained that the size of Pakistan's economy was understated to the extent of 20pc according international institutions like the World Bank which had been given a contract to re-assess the GDP in 8-12 months.
Shift in economy
The finance minister said a key point of the current year was a 2pc growth by the services sector in the overall size of the GDP at the cost of industrial and agriculture sectors. The share of services sector increased to 59.6pc against 19.5pc share of agriculture and industry's share of 20.9pc.
On the whole, the industrial sector is estimated to have grown 5pc against a target of 7.7pc and revised growth of 5.8pc last year. Of this, manufacturing showed a 5.27pc growth instead of the targeted 6.1pc and 3.7pc growth last year. Large-scale manufacturing posted a 4.9pc growth, well behind its 5.9pc target even though it performed better than last year's 2.9pc increase.
Small and household sectors increased at a rate of 8.2pc — almost on target. Electricity generation gas distribution showed a miserly 3.4pc growth against a target of 12.5pc and last year's 8.4pc growth despite the government's full focus on these areas.
Construction, another governmental priority, also showed 9pc growth, against an increase of about 15pc last year, and missed the target of 13.2pc. Both these areas were also part of the CPEC focus that consumed more than Rs450bn during the year.
Agriculture
In overall terms, the agriculture sector grew by 3.46pc, just short of its growth target of 3.5pc for this year but this showed impressive recovery when seen in the context of from a low of just a 0.27pc increase last year. Important crops registered an increase of 4.12pc in output, significantly higher than 2.5pc target and compared to a 5.5pc slump last year.
Sugarcane accounted for the largest increase in output, surging by 12.4 pc, while cotton and wheat grew marginally by 7.6 and 0.5pc, respectively.
The minister claimed credit for agriculture recovery, saying Rs341 billion of Kissan Package that involved supply of inputs at subsidised or reduced rates including fertilisers, tubewell tariff, etc. He said this sector would remain under focus in the upcoming budget to ensure food security and avoid cotton imports.
Livestock subsector retained its last year growth rate of 3.4pc although it missed the 4pc growth target. Cotton ginning also showed a 5.6pc growth this year over last year when cotton output registered a 22pc decline.
The services sector posted the healthiest growth at 6pc against a 5.7pc target. Financial services led the growth with 11pc. The services sector generally showed broad-based improvement with general government services 6.9pc, housing 4pc, private services 6.3pc, transport and communication 3.9pc and wholesale and retail trade 6.8pc.
The minister said the inflation measured by Consumer Price Index (CPI) increased by 4.1pc and well within 6pc target but should be seen in the context of 8.7pc inflation in 2013, when his tenure began. Food inflation has risen 3.86pc and non-food by 4.25pc, which was a satisfactory position, he said.
The minister conceded that exports fell 3.06pc in nine months and stood at $17.9bn against $20.5bn of full last year but hoped it would recover to $21.6bn by the end of the fiscal year owing to the lagged impact of an export package announced a few months ago.
Imports surged by 18.7pc to $37.84bn compared to $33.44bn last year but 40pc increase was caused by plant and machinery, he said. Breakdown of import growth showed a 70pc share of power sector, 23pc in textiles, 69pc in construction and 37pc in agriculture. The minister urged everyone to see these figures as evidence that the economy was building its own future.
As a consequence, the current account deficit increased to $7.25bn in nine months compared to $2.5bn last year. This will rise by another $1bn before the year ends, he warned. The surging deficit owed itself to declining remittances, which fell 2.6pc to $15.6bn. Foreign direct investment on the other side was almost double at $1.73bn compared to $860m.
External front
Foreign exchange reserves as of May 23 stood at $20.93bn including the central bank's $16.15bn despite repayment of $500m to China and another $500m Eurobond contracted by previous regimes, he said.
Per capita income in dollar terms improved by 6.4pc to $1,629 a year compared to 1.1pc growth last year. Total investment increased by 11pc to Rs5.026 trillion while fixed investment increased by 14pc to Rs4.5trn including public sector's Rs1.36trn. Total investment to GDP ratio stood at 15.8pc against a lowest of 12.8pc in 2012-13.
National savings on the other hand declined to 13.1pc of GDP this year against 14.3pc last year. The stock market, he said, had now gone beyond 52,000 points from 20,000 in 2013 while market capitalisation had doubled to $10trn.
On the fiscal side, revenue to GDP rate improved to 16.3pc, tax revenue stood at 13.1pc of GDP and non-tax at 3.1pc. Net external debt on the other hand amounted to $41.9bn while net public debt amounted to Rs18.9trn or at 59.3pc of GDP.
Published in Dawn, May 26th, 2017