May 12, 2017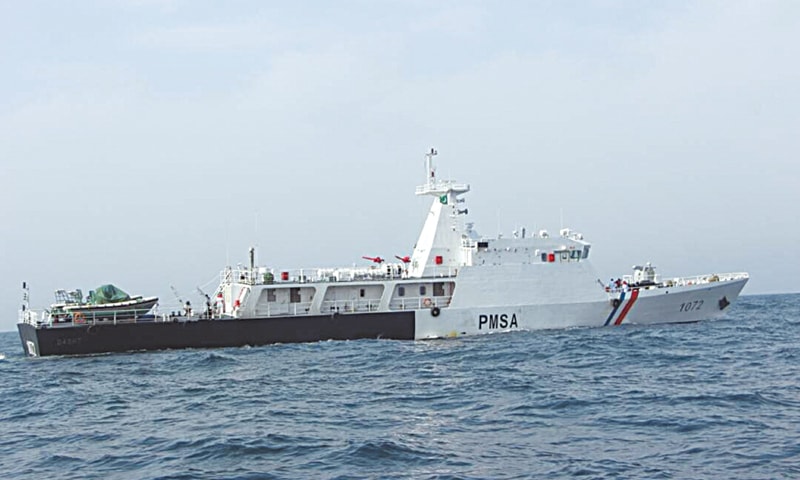 KARACHI: A third Chinese-built maritime patrol ship PMSS Dasht — named after the Balochistan river — arrived here at the Karachi Shipyard on Thursday.
The ship built for the Pakistan Maritime Security Agency (PMSA) was commissioned at Guangzhou, China.
Its arrival in Pakistan after visits to Malaysian, Indonesian and Sri Lankan ports was marked with a welcome ceremony where PMSA director general Rear Admiral Jamil Akhtar HI(M), senior officers and families of the ship crew gathered to welcome the ship.
Rear Admiral Akhtar highlighted the need for a stronger Maritime Security Agency in the overall security environment of the North Arabian Sea, particularly in the wake of the China-Pakistan Economic Corridor (CPEC).
"It is after realising the maritime security needs that the government of Pakistan undertook this programme as a timely response to evolving challenges in our maritime domain," he said, thanking the government for allocating funds for this project.
He said that PMSA ships would help in the economic benefits of CPEC, as the agency would be able to stand guard against the security challenges posed by "our enemies including criminal elements".
Earlier in January, PMSA ships Hingol and Basol, also named after Balochis­tan rivers, were inducted into the PMSA fleet.
The PMSA, being the sole law enforcement agency at sea, is mandated for maritime law enforcement functions in all maritime zones of Pakistan, including anti-poaching, anti-smuggling, anti-narcotics and anti-human trafficking missions.
Published in Dawn, May 12th, 2017