March 31, 2017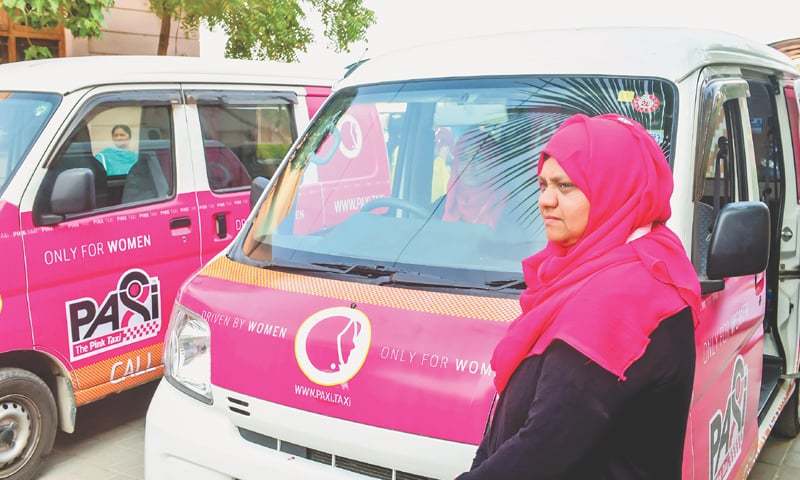 KARACHI: Her brow furrowed, juggling shopping bags and packages near the Disco Bakery in Gulshan-i-Iqbal, the girl scans the area for some means of transport. On seeing the vehicle, she hurries up to it to inquire whether it will take her to Block 11. The driver unlocks the passenger door for her to get in and they're off.
This is no ordinary taxi that she has hailed and the driver inside is also no ordinary driver. This is the pink taxi, Paxi, driven by one of Paxi Pakistan Pvt Ltd's female 'pilots'. The driver's attire somewhat matches the car's exterior: a long black coat and a pink hijab. The passenger feels as if she has stepped into another world. Although she's in a rush, she has no issue with the driver initiating the ride by first entering a four-digit code on her phone. The latter explains what she is doing, and the passenger is eager to learn more.
"Wow, superb!" she exclaims, checking out the roomy, air-conditioned cab and other aspects of the service. "I was dreading a bumpy rickshaw ride and then I saw you," she says to the driver. "Are you usually parked around here?" The driver smiles as she explains to the passenger that she can download the Paxi phone app and thus hail any Paxi cab that may be nearby.
"We encounter pleasant surprises everywhere we go. Almost everyone we meet and who learns about Paxi says the same thing: 'Wow! We didn't know this was happening in Pakistan,'" says young Kiran Rao, Paxi Pakistan's first female driver, who is also a civil engineering student.
Though Paxi's pink taxi service is exclusively for women, men are also appreciating it. "Just the other day, I noticed this gentleman staring at me while I was parked at Gulshan Chowrangi," says Rao. "Then he approached me and knocked on my window. I lowered the window and he asked me how his wife could use the service." She adds that another time, another gentleman also inquired if they offered a pick and drop service as his daughter, who studies at the DHA Suffa University, was looking for one; currently, she had to change several buses along the route. "Slowly, this service is capturing the imagination of the people, men included," says Rao.
The service, unveiled in Karachi earlier this month on Women's Day, has started this week, initially from Gulshan and Gulistan-i-Jauhar. "We have just 10 cars and as many pilots at the moment. Obviously, they will not be enough as demand grows. So there are more of us waiting in the wings. We are getting many requests for starting a pick and drop service for college and university girls and for working women as well. We are open for booking right now and the service will also be provided eventually. After all, we are here to make lives easier for female commuters," Rao says.
Safety and security are an issue on the streets of Karachi. Therefore, the pink taxis are available only from 7am to 6pm. "We don't drive after dark," Rao tells Dawn. "Even during the day, we keep the taxi doors locked at all times, and the windows closed. During our training and initiation, we are also told to always use our heads in differentiating between a threat and a routine occurrence. We know a bit of the mechanics as well and can fix minor engine troubles. We can't change flat tyres, though, no one here would let us do it!" She shares an anecdote: her cab's tyre had a puncture and she got out to change it, but "this is still Pakistan where no self-respecting man would let a woman change a tyre, so I was requested to kindly be seated while they did the needful."
The Paxi drivers meet at lunch every day for debriefing and to discuss issues that may need advice in resolving. "The pilots are expected to know the areas assigned to them," says a senior Paxi driver, Noor Jehan. "During our training, we are shown how to go about using Google maps and the Global Positioning System. If I have had a problem during the day using our app, I would certainly bring it up, such as when a ride has ended and the passenger has disembarked but the app just won't accept 'end ride,'" she says. "The problem was experienced by one of our pilots recently. It was explained to her by another tech-savvy pilot that she needed to be online to send that command to the main system."
Published in Dawn, March 31st, 2017