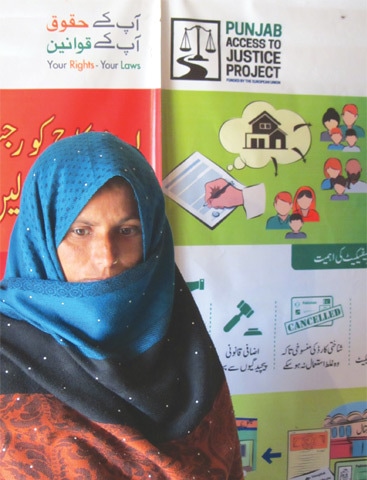 Thirty-five-year-old Samina Bibi of village Goth Lal in Bahawalpur district was married off at 12 after which she proceeded to have seven children. However, when her elder daughter Sawera, a 14-year-old student of grade 9, was being forced to leave school and marry her cousin the same age as hers, Samina took a stand. She approached the local paralegal, Muhammad Saleem, for help. He met with Samina's husband and father-in-law, and explained to them the adverse health impacts of child marriage. He also told them that legal action could be taken against them since the legal age of marriage in Pakistan is 18 years for boys and 16 for girls. Saleem somehow managed to convince the family to postpone Sawera's wedding to her cousin until they reached the legal age for marriage.
Saleem explained that he was empowered to help Samina because of the training he had received in different laws and skills to suggest a variety of options to community members to resolve legal issues. "It is a patriarchal society here but if you go and talk to the men they do end up agreeing that marrying off young girls is a wrong custom," he says.
According to an estimate, out of the 40 million people living below the poverty line in Pakistan, around 10 million are in Southern Punjab. Most are small farmers living off the land in villages, growing wheat and cotton. With a low literacy rate and no access to basic needs, they know little about the laws of the country, let alone their legal rights. Incidents of violence against women are common, including domestic abuse and under-age marriage.
---
With training and awareness, communities in Bahawalpur district are finding legal solutions for their issues
---
In Bahawalpur district, however, local communities are empowering themselves by learning about their legal rights and ways to access justice through a project called Strengthening Legal Empowerment. It began in January 2016 when training was provided to community members as paralegals. Aside from serious women's issues, the local communities also confront issues such as civil documentation (how to renew and make national ID cards), problems with Wapda (over-billing) and issues with the Benazir Income Support Programme (eligibility and wrong names on cards due to clerical mistakes).
"We provided the paralegals with a series of trainings on dealing with these issues," says Mohammed Faseeh Jameel, an advocate of the High Court in Bahawalpur who has been helping with the training component of the project.
The Rural Support Programmes Network (RSPN), reaching out to over 43 million rural Pakistanis, is implementing the project with support from the National Rural Support Programme (NRSP) and community organisations in Bahawalpur district called Local Support Organisations (LSOs). An LSO is a cluster of smaller village organisations which are first formed. In a small village called Chak Number 24 near Bahawalpur town is an office where one LSO, called Kehkashan, meets on a regular basis. It was set up in 2010, covers 14 villages in the area and has a community fund of over 2.6 million rupees from which community members can take loans to set up small businesses.
The LSOs are run by the women of the community and regular elections are held to select the general secretary, treasurer, etc. The women trained as paralegals were mostly LSO office holders, for instance Sabiha Bibi, who is the general secretary of this LSO. The LSO already has a system in place in the union council and selecting someone means that she already has a standing in that community to undertake work as a paralegal. "The training taught us how to deal with Wapda and Nadra and to approach the union council," explains Sabiha. "We now understand the concept of paralegals and the legal needs of the people".
Soon after the project began, Saba Parvez, a member of the LSO, approached Sabiha for advice. "Saba told me about her situation — living with her two-year-old son at her mother's place after separation from her husband who had beaten her and thrown her out and didn't support her anymore," says Sabiha. "She wanted to go to court to resolve the matter and we helped her. The NRSP referred us to the Farmer Development Organisation, a local legal aid organisation, and we found a lawyer Zahida Parveen who took up the case. The civil court called the husband who agreed to a compromise with Saba, signing an agreement in the court. She returned to her husband. It took around two months for the case to be decided."
"For three years I was living at my mother's home, without any support from my husband's family," says Saba. "The situation would have continued forever if it had not been for the court. Now I am home and so far my husband is behaving himself. He has a job and is supporting our small family," smiles Saba. "If he misbehaves I will go back to the court," she adds with a, smile.
---
We don't force anyone to take legal action," says Advocate Faseeh Jameel. "Paralegals only present the possible legal ways to resolve an issue and people can decide for themselves."
---
"We don't force anyone to take legal action," says Advocate Faseeh Jameel. "Paralegals only present the possible legal ways to resolve an issue and people can decide for themselves."
Around 16 paralegals have been trained so far in Bahawalpur district and they receive seven to eight cases per month, mostly concerning civil documentation issues such as lost birth certificates, registration issues (for CNICs) and issues with Wapda. As awareness increases, more people are coming forward with more grim issues of domestic violence and under-age marriage.
The paralegals share information on law, related procedures and also do referral, mediation and negotiation. They are changing the way decisions are taken by local power-holders, jirgas, etc. Earlier, the local people were reluctant to go to court or local jirgas, fearing that they would have to give bribes or go through an influential local politician.
"Domestic violence is a huge issue here," says Advocate Jameel. "After Saba's success at the court, her sister who is also a victim of domestic violence, approached us. Usually in the family courts, cases are decided quickly and most families settle on a compromise for the sake of their children. Couples usually separate if children are not involved."
"Our rural communities don't know their legal rights," says Sabiha. "But with legal training, enhanced awareness and through our own efforts we can find solutions," explains Muhammad Saleem.
They feel that the system of justice can work and that it can deliver once the people are made aware of their legal rights and the various options available to resolve legal issues — even in the poverty-stricken rural areas of Southern Punjab.
Published in Dawn, EOS, February 19th, 2017