KARACHI: Pakistan's economy could become the 16th largest by 2050 based on its gross domestic product (GDP) at purchasing power parity (PPP), said a report prepared by Pricewater­­house­Coopers (PwC), a multinational professional services network headquartered in London and considered among the 'Big Four' auditors.
This means the country would overtake Italy and Canada, which currently rank at 12th and 17th places, respectively.
The report, titled 'The Long View — How Will the Global Economic Order Change by 2050' and released earlier this month, projected a number of new emerging markets taking the centre stage. Emerging economies such as Indonesia, Brazil and Mexico are likely to be larger than the UK and France, it said.
A table appended to the report indicated that on the basis of PPP, Pakistan would climb from its current 24th place (with GDP at PPP amounting to $988bn) to 20th place ($1.87tr) by 2030 and to 16th place ($4.2tr) by 2050.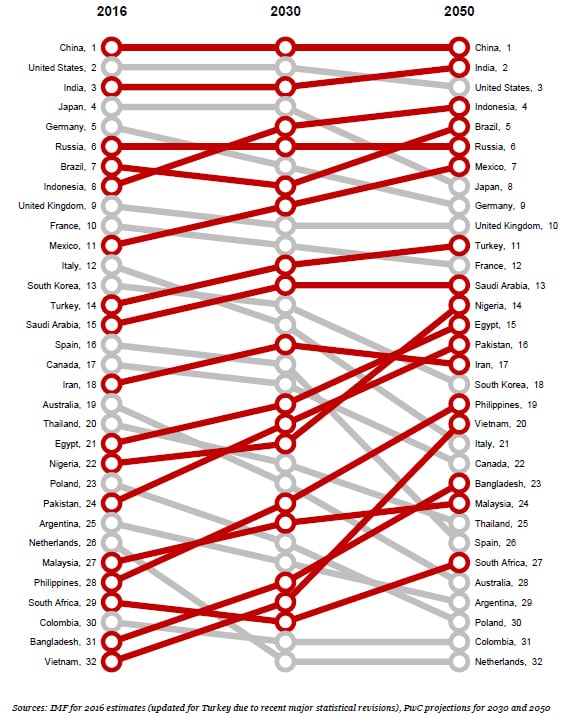 In terms of GDP at real market exchange rate (MER), Pakistan's economy is projected to rise from 28th place ($284bn) at present to 27th by 2030 ($776bn) and to 19th ($2.8tr) by 2050.
GDP at PPP adjusts for price level differences across countries and provides a better measure of the volume of goods and services produced in an economy.
In contrast, GDP at MER provides a better measure of the value of goods and services produced in an economy and converts a country's GDP in national currencies to the US dollar based on current market exchange rates, it said.
China has already overtaken the United States to become the world's largest economy in PPP terms, said the report. India currently stands in third place and is projected to overtake the US by 2050.
France will no longer be among the world's 10 largest economies on this basis, with the UK falling to 10th place, while Indonesia could rise to 4th place. "By 2050, six of the seven largest economies in the world could be today's emerging economies in PPP terms according to our projections," the report said.
Key findings of the report projected that the world economy could more than double in size by 2050. Assuming broadly growth-friendly policies, emerging markets would continue to be the growth engine of the global economy.
Published in Dawn February 9th, 2017
Now you can follow Dawn Business on Twitter, LinkedIn, Instagram and Facebook for insights on business, finance and tech from Pakistan and across the world.