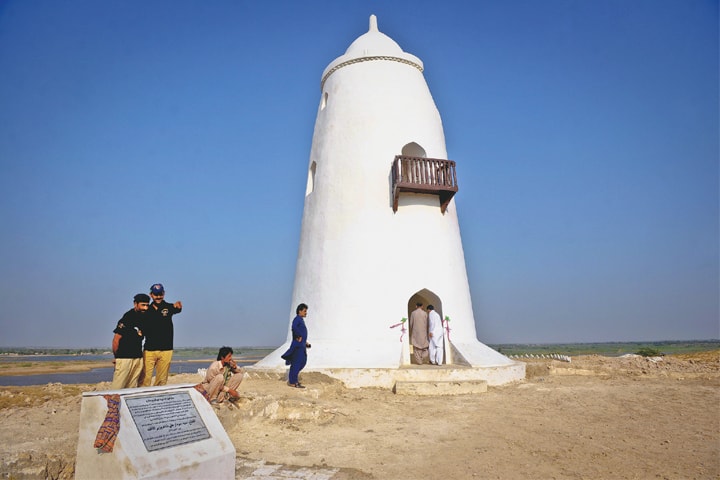 On top of a small hillock in District Thatta stands the Mohammad Bin Qasim Fort Tower. Until news about it first broke four or five years ago, very few people outside of Thatta had heard about it. Last month, however, it was finally opened to the public after being restored to its original glory by the Endowment Fund Trust according to an agreement signed with Sindh's ministry of culture.
Pir Patho, which looks like a watchtower or lighthouse, is attributed to Mohammad Bin Qasim because it is apparently located where the young general first set up camp after arriving in Sindh in the 17th century.
Locals of the area, who believe Pir Patho could have been a mosque's minaret, have their own interesting story to tell about its origins — that it dates to back to hundreds of years before Mohammad Bin Qasim's arrival to the province.
The Pir Patho shrine and a valley are clearly visible from one of the tower's windows. It is also said that the River Indus once flowed nearby and the Pir Patho village was located close to the tower — the majority of the villagers were Muslim.
---
Historians have speculated for years about the recently restored tower in Thatta but the legends about it are fascinating in themselves
---
According to local lore, during the 12th century, on the hillock where the tower stands today, lived Sadiq Saami Faqir, a much-feared sorcerer. Gul Mohammad Khushk, owner and editor of the weekly local, Nangar Thatto, says that growing up in this area he had heard many stories about 'Saami the wizard.'
"He fits the description of 'terrorist' by today's standards. People of this area were terrified of him. Though his first name was 'Sadiq', he was not considered Muslim by them. In their eyes he was a non-believer, an atheist. And in his eyes, they were his prey," says the journalist.
"Every Friday, Saami would organise a carnival on the hillock where he invited the village folk. And during the carnival he would kill one of them before sucking out all of his or her blood. He was a man-eater, a cannibal," Khushk explains.
Although everyone knew about Saami's 'rituals', the villagers would still attend the carnival – according to folklore the locals were hypnotised into attending it.
Around the same time, men such as Sheikh Bahauddin Zakariya and Lal Shahbaz Qalandar roamed these areas for tableegh (preaching Islam). One such man, Pir Patho, settled on the hill opposite to Saami's residence.
"The Muslims of the area said he was Sultan Shah Alam, who they believed was a king who had renounced his right to the throne in favour of holy teachings," continues Khushk. "The Hindus of the time also believed that he was royalty, though they said his real name was Gopi Chand. Both Hindus and Muslims referred to him as Pir Patho."
People approached Pir Patho for help and begged him to do something about Saami. But Pir Patho did not possess any magical powers the way Saami did, and didn't feel strong enough to confront him. Instead he approached Sheikh Bahauddin Zakariya, who told him about another saint, deep in meditation in far away Junagarh, who could help in the matter.
"That was when Pir Patho set off for Junagarh after making a brief stop at the River Indus from where he caught four palla fish to serve as a gift for the saint," says Khushk.
After travelling for 40 days, he finally met Hazrat Sakhi Jamil Shah Datar of Girnari. "What is strange, or which may be seen as a kind of small miracle, is that the Palla fish Pir Patho had caught from the River Indus remained alive and fresh as if they were caught just a moment ago," says Khushk.
Legend has it that after being convinced to travel back with him to Thatta, Jamil Shah Datar confronted Saami and turned him into a stone that was thrown away. "His stone figure, many say, was discovered many years ago in the Tharparkar desert. To purge the hillock of evil, the people built a mosque there called the 'Mosque of Two Mehrab'," says Khushk.
"The tower that stands near the mosque could be its minaret. Since Jamil Shah Datar, despite having brought an end to Saami, did not want any fuss or fame about his spiritual powers, the people named the area after Pir Patho," points out the editor as he finishes the story.
Ismail Memon, another resident of Pir Patho, has his own explanation about the tower. "Apart from a few islands, this entire area was covered by water. The port of Debal was nearby and this tower was built much later — in the 17th century — and was a lighthouse."
Historian and writer Badar Abro says that since there is no piece of writing or literature mentioning the tower, one has to speculate about why it was built based on historical records. Many scholars believe Pir Patho could have been part of what was once Debal port.
"When the British arrived here and were looking for Debal port, some believed it to be at Bhambore, some said it could have been at Pir Patho, while others went searching for it in Brahminabad which is a little further away from this place," he explains.
"Pir Patho has been quoted in some history books as Debal but unfortunately there has been no excavation here, so people have started associating it with Mohammad Bin Qasim's landing here," says Abro. "Just like there was an ancient city at Bhambore, there must have also been one at Pir Patho. The place is reminiscent of it, especially in the depression towards the East side of the tower, where there is now a graveyard."
Abro says that he, like the late Dr Ahmad Hasan Dani, believes there are two separate mosques on the hillock instead of one and these have been built in different times. "The tower is located at the edge of the courtyard of one of the mosques. It could have been its minaret but it has windows on every side and on the top too. Usually it is not like this on minarets," he explains.
"Then the depression on the east side was most probably the Indus belt and this place was a river port. So it could very well have been a lighthouse. Perhaps it served a dual purpose during the 13th century — at the end of the Sumra period," Abro adds.
For now it seems Pir Patho shall continue to be shrouded in mystery. But aside from its beauty, the folklore and stories surrounding this tower is part of its charm.
The writer is a member of staff.
She tweets @HasanShazia
Published in Dawn, Sunday Magazine, November 13th, 2016