The government on Monday announced details about the committee constituted to launch an inquiry into the Dawn's story and asked it to submit the report within 30 days, it has been learnt.
Justice (retd) Aamir Raza Khan will be the chairman of the committee, which has representatives of the security agencies ISI, MI and IB, read a notification issued by the interior ministry — a copy of which is available with Dawn.
Secretary Establishment Tahir Shahbaz and Punjab's Ombudsman Najam Saeed will also be part of the committee, along with Director FIA Usman Anwar.
The committee has been formed to probe Dawn's story "Act against militants or face international isolation, civilians tell military", which reported details of a high level civil-military meeting discussing the issue of Pakistan's banned outfits.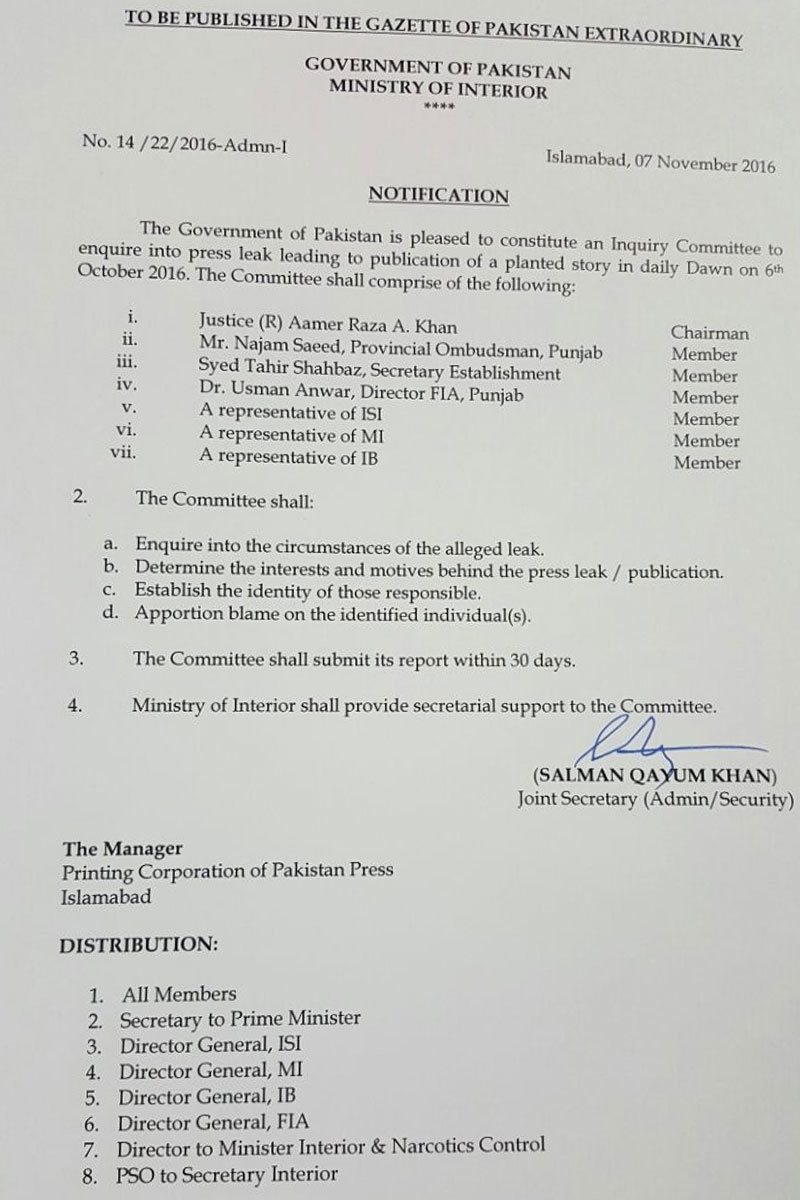 "It will enquire into the circumstances of the alleged leak and establish the identity of those responsible," read the notification.
The report of the high-profile security meeting has forced the government to initiate an inquiry to identify the person responsible for its leak.
It also led to the sacking of Pervaiz Rasheed as Information Minister, as the government felt Rasheed should have told the newspaper not to publish the story when he was contacted by the reporter.
"Pervaiz Rasheed called the reporter into his office. Through my entire investigation... I reached the conclusion that Pervaiz Rasheed should have told the reporter that this story is wrong, 'Do not publish this story in view of national interest'," Interior Minister Chaudhry Nisar had said in a press conference last week.
The story, the backlash
The Prime Minister's Office had rejected the story, but the military maintained the story had been "leaked" and demanded a probe into the matter as it viewed the leak as a breach of national security.
Journalist Cyril Almeida's name was also placed on the Exit Control List (ECL) after the publication of the story but his name was later removed by the Interior Ministry as a "goodwill gesture".
In an Editor's note, Dawn clarified its position and stated on the record that the story "was verified, cross-checked and fact-checked."
Last month participants of a corps commander meeting expressed serious concern over what they said was "feeding of false and fabricated story of an important security meeting held at PM House and viewed it as breach of national security.