It was more than just an outpost or a transit point — last year, the Istanbul airport was my refuge, albeit for a few hours, as I changed planes to head to Pakistan, sometimes to visit my ailing parents, and other times, to attend their funerals.
On those several visits, that I never wanted to make, I wandered around the Istanbul airport searching for isolated corners to hide in and reflect on the sudden changes in my life. But there were never any empty places.
The Istanbul airport was always brimming with people, tens of thousands of them, who were starting, ending, or waiting for their journeys.
Also read: Resilient Istanbul grapples with aftermath of 'IS attack'
The airport, like the rest of the city, is a welcoming place for travellers from around the world. Last year, I sat in a corner and watched millions of pilgrims in white robes occupying large parts of the terminal as they transited to and from Makkah.
In another smaller part of the Istanbul airport, hundreds of Pakistani expatriates arriving from Europe and North America were waiting for their flight to Pakistan. Children busy turning airport accessories into toys, their parents, while lounging, making new acquaintances at the airport; collectively praising the Turkish Airlines service and disappointingly comparing it to Pakistan's national flag carrier.
European tourists congregated at the ubiquitous duty-free shops. From perfumes to Turkish delight (desserts), the duty-free shops at the Istanbul airport can compete, if not beat, with any successful retail mall.
But if there's anything I've seen consistently on my travels to Turkey, it is that they are an astoundingly resilient people.
After the triple suicide bombing and gun attack on Tuesday that killed at least 41 travellers and injured hundreds more, the Turks have jumped right back. Istanbul Airport — one of the largest in Europe — has already resumed operations.
Turkish authorities are blaming IS for the carnage. At the same time in the United States, Mr Donald Trump is reiterating his demands to bar Muslims, if not all, at least many from some specific countries, from entering the United States. As the number of victims of religious extremism rises, even Mr Trump's otherwise irrational and xenophobic enunciations seem sensible to the right-leaning American electorate.
A sustained violence
Earlier in January, a suicide blast in Istanbul's historic Sultanahmet square killed 10 people. Just a couple of days before the explosion, I was playing with my children in the same square where the bodies of the injured and dead tourists lay.
Also read: Has Omar Mateen won Trump the US presidency?
This indiscriminate terrorist violence has two origins. Turkey — like many populous Muslim-majority countries — is fighting a civil war against an ethnic minority, the Kurds, who have, over the years, claimed responsibility for numerous terrorist attacks. In such a scenario, the rise of the militant Islamic State group in the region has made matters worse.
Turkey's geography is also not helping either.
Over the past several decades, Turkey has effectively served as the border between Europe and chaos; where relative peace lies on one side of the border and death and destruction lie on the other.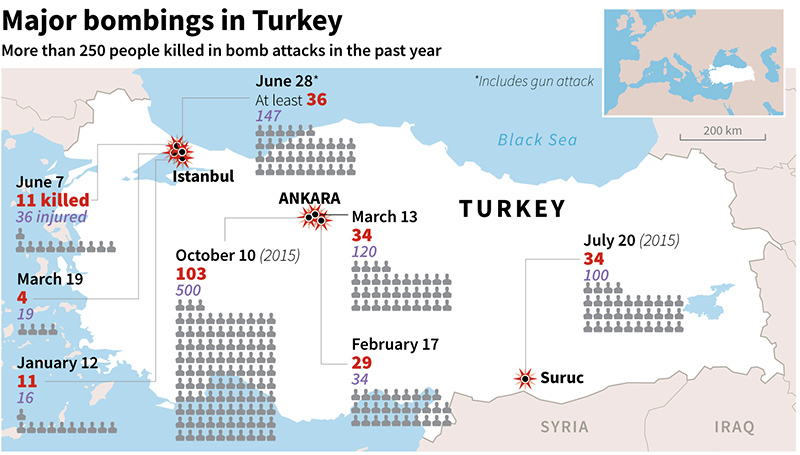 The collapse of civil order and the rise of IS in Syria has added to Turkish vulnerabilities. Millions of Syrians have had to flee and take refuge in Turkey, as have battle-hardened militants who are making their way to Europe and beyond.
Equally potent is the IS propaganda that crosses borders without a hitch and has successfully radicalised youth in diaspora. The attacks in Paris and Brussels are venomous examples of this.
Airports are the modern-day equivalent of dhabas on dusty roads or shops in the fairytale bazaars of the past — they are the modern metaphors for destination. However, the IS cannot promise a journey to the Muslim youth because it has no destination.
It has only a narrative of death and destruction, Turkey must ensure that theirs is one committed to re-building.