The people living at these camps are neither happy nor calm, probably the two things they left home in search for.
The Greek island of Lesbos is in full bloom during these spring days. The sun has warmed the Aegean Sea to swimming temperature.
By the port of Mytilene, I saw two young Pakistani men wash themselves in the salty seawater, before returning to the squatter camp where they have been living for the last few weeks.
I've been covering the story of migration to Europe for more than five years, but somehow, the Pakistani migrant workers in Greece feels like the last chapter.
Also read: Pakistanis among 200 migrants deported to Turkey by Greece
Arrivals have nearly come to a halt and these economic migrants are stuck all over Greece and former Yugoslavia, feeling increasingly desperate as they begin to realise their fate.
They are not getting to Germany or the UK anytime soon. The EU has decided instead to send economic migrants to Turkey from Greece as part of a deal struck last month.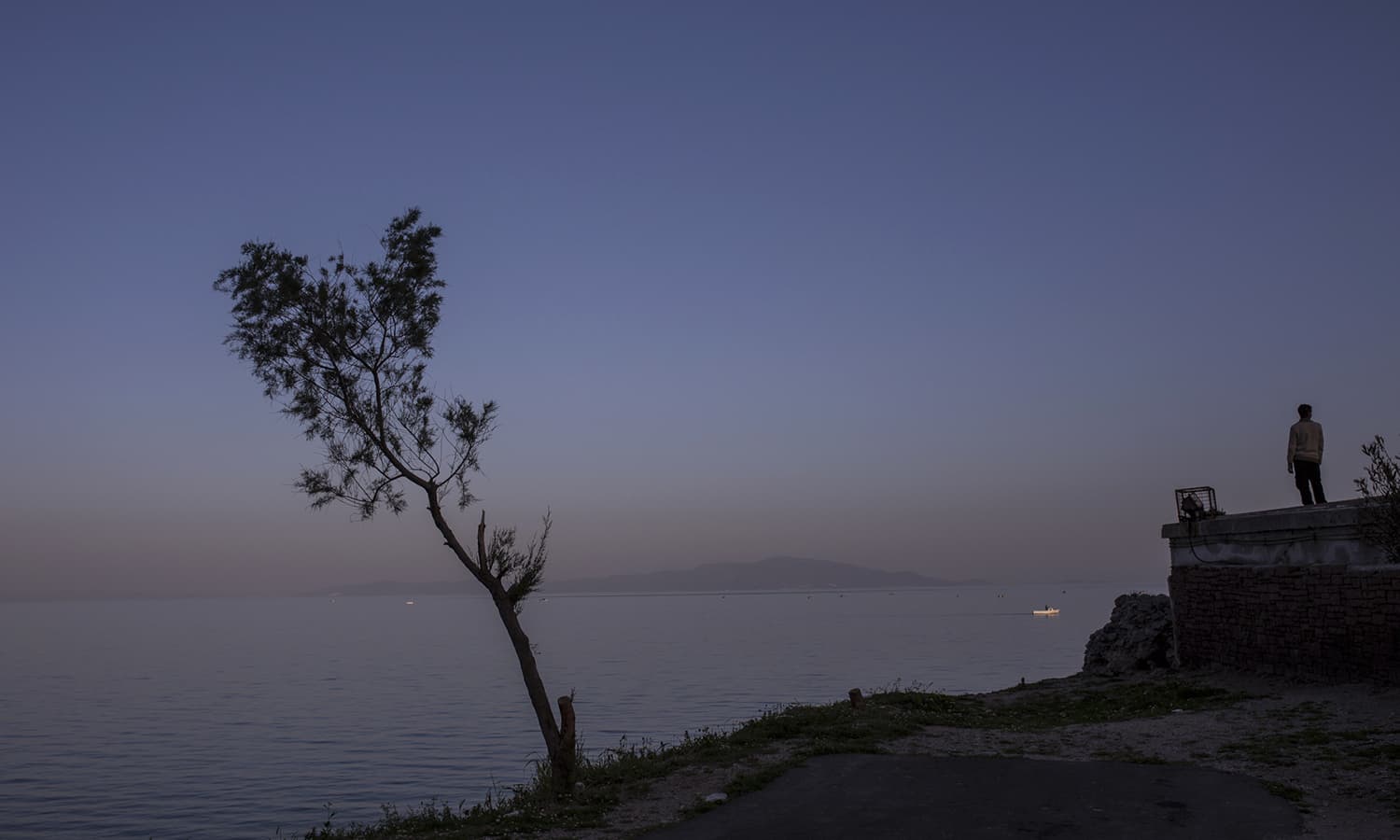 Unlike others who are locked in a detention facility a few kilometres away, these young, mostly Pakistani, men spend days sitting on a hillside overlooking the sea playing Bhabhi (a card game) or volleyball.
During the cool nights, they gather around a fire and sometimes sing Pakistani songs.
At meal times, they receive simple dinners of rice or potatoes with vegetables and beans, provided by donations collected by European volunteers. Occasionally, volunteer Spanish lifeguards come by with bags of raisins or nuts.
Also read: The Pakistani slaves of modern Greece
When they appear, hundreds of young migrants run to the receiving line. Lolo from Madrid greets his Pakistani friends with hugs.
"They are some of the ones I saved from the sea," he told me.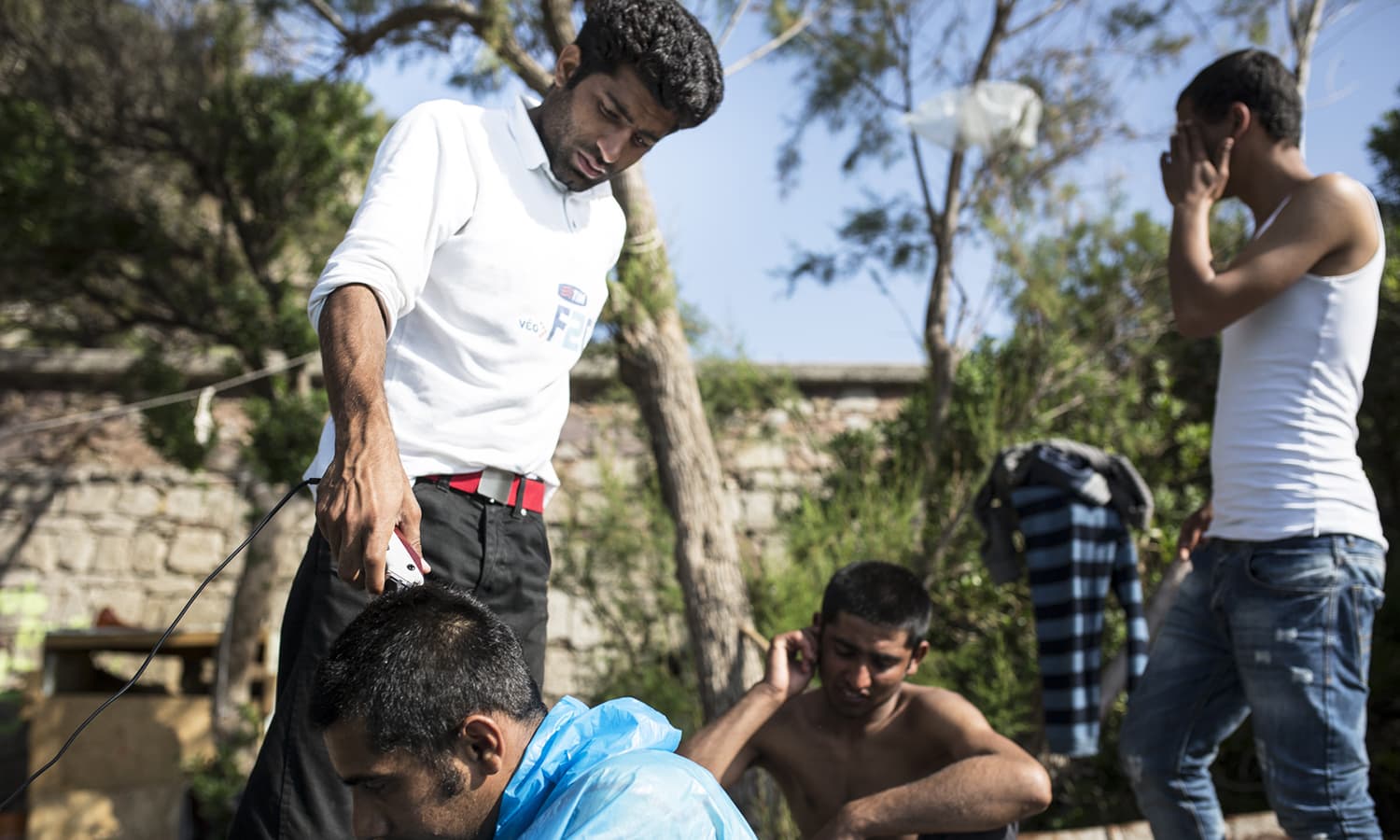 The people living at the camp are neither happy nor calm, probably the two things they left home in search for.
Instead, they are on constant alert, knowing that at any time the police may raid the camp, dragging the migrants to detention.
A spokesman from the mayor's office told me that if they don't go peacefully, police will have to be called in and migrants will be taken to the detention facility.
Even more threatening is the probability of being deported to Turkey which intends to sends migrants who do not meet asylum criteria back to their countries of origin, under readmission agreements. Last week, 326 migrants were deported, among them 200 Pakistanis.
At the same time, Turkey has been working on the details of a readmission agreement with Pakistan, in order to implement a second wave of deportations from Turkey to Pakistan.
Take a look: Trav(ail)ogue of illegal Pakistani immigrants
"My hair turned white due to the tension," explained Ijaz, a 38 year-old father from Gujrat. The sole provider for his family (including two small boys, wife and elderly parents), he sold his family home to pay for the dangerous journey from Pakistan through Iran, Turkey and then by sea on small flimsy rubber boats to Greek islands like Lesbos.
Sitting on the rocks by the seaside, Ijaz told me: "I am a very poor man. My children have no good education, good clothes or good food."
He covered his face with his hands, then looked at me forlornly. Like many others, he has lost hope. He is terrified to be deported back to Turkey, neither a safe country nor an easy place to find decent employment.
Also read: EU refugee crisis: The tragedy of nationalism
Hassan from Lahore, who spoke to me by telephone from inside the detention center, recounted how he was kidnapped in Istanbul. He told me that an Afghan man offered to help him find accommodation. The accommodation ended up being a basement apartment, where he was beaten and held for ransom, until more than a month later, his family paid 3,000 euros in ransom.
Other Pakistani men told me similar stories.
For these migrants, Greece — where they are treated as less than human, where they reside in sheds and eat food that the other inhabitants of the island country would not even touch — is still lesser of the two evils.
"We'd rather die than be sent back to Turkey. It is not a safe country," they said.
—All photos by author
---
Jodi Hilton is an American photojournalist who has been covering migration in the Middle East and Europe since 2010. She graduated from the Missouri School of Journalism.
In 2008, she travelled across Pakistan and published her stories and photographs in Europe and America.
---
The views expressed by this writer and commenters below do not necessarily reflect the views and policies of the Dawn Media Group.