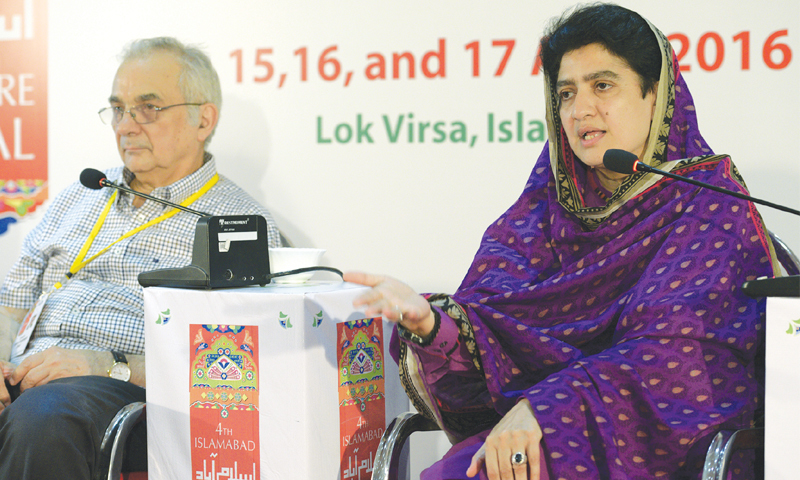 For many people, particularly those who aren't enthusiasts, literature is little more than a subject studied in school, or classes taken in college. It becomes synonymous with mainstream classics, and names of poets and writers one has never really read. But another aspect of literature is the way it can humanise a people that have been forgotten, sidelined, or stereotyped by society.
Speakers at the Islam­abad Literature Festival session on 'Baloch Litera­ture and Society' often sidetracked into discussions of the treatment of Balochistan by the Pakis­tani state, or the ethnic and linguistic history of Balo­chistan, with moderator Mujahid Barelvi trying — and failing — to keep the focus squarely on Baloch literature. Other than Wahid Bux, professor at Quaid-i-Azam University, the remaining panellists did not seem equipped to discuss Baloch literature — focusing instead on the history and politics of the region. Accompanying Bux and Barelvi on the panel were (Balochistan Assem­bly's first female speaker) Raheela Durrani, poet Fahmida Riaz, and former ambassador Ashraf Jehangir Qazi.
Qazi, when he first began speaking, prefaced his point with the disclaimer: "I'm not a poet or a writer, or even Baloch." He explained that the population of Balo­chistan can be divided into three main demographic groups: Baloch, Pakhtun and Brahui — despite the commonly held belief that only the Baloch live in Balochistan. He added that the Baloch believe they have three languages: Balochi, Saraiki and Brahui.
Qazi explained in some depth the history of Balochistan's main ethnic demographics, as well as how Baloch people have settled in various parts of Pakistan, while holding onto, and identifying with, their Baloch roots. Bux said the approach of Baloch poetry was unique in its ability to not only identify itself by its Baloch identity, and was broader in scope. He said Balochi poetry is, at its heart, about the struggle between beauty and ugliness.
The panellists also discussed Pashto literature originating from Balo­chistan, and Urdu literature on Balochistan.
Riaz, who spoke about her first trip to Balochistan in the '70s, said that all of the provinces of Pakistan have been ignored, and Balo­chistan is included in this. Back then, she said, people from Punjab
had no knowledge of Balo­chistan and what was happening in the province. While censorship in Pakistan was not as pervasive as it was believed to be, one of the books that had been banned was a book on the history of Balochistan by Gul Khan Nasir.
Qazi also said that many Pakistani citizens were largely ignorant of Baloch history. He added that there is a "dominant narrative" regarding Indian involvement in Balochistan, saying: "They are coming, but there's an English proverb, 'fishing in troubled waters' — why are the waters
troubled?" He said the historical injustices and problems facing Balochis­tan needed to be understood: "Until you understand Balochistan, you will never find solutions to Pakistan's problems."
Durrani also discussed the treatment of Balo­chistan by the Pakistani state, as well as her own experiences regarding her entry into provincial politics. Following a short questions and answer session, the concluding note was the recitation of a poem by Riaz on Balochistan.