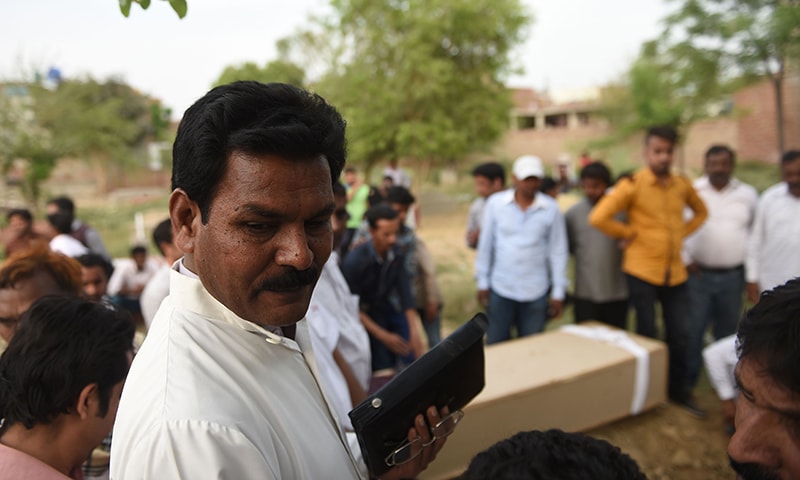 LAHORE: Shakeel Anjum spent Easter Monday burying six victims of the carnage in Lahore and says he is in pain, his head is aching. He wonders: How much further will this go? How many more bodies will he lay to rest?
The pastor's voice is heavy after presiding over service after service for Christian victims of Sunday's carnage, when a suicide bomber blew himself up in a park crowded with families enjoying the warm Easter evening.
The blast sent ball bearings ripping through children and killed 72 people while wounding scores more. A faction of the Pakistani Taliban had claimed the attack.
Related: At least 72 killed in suicide blast as terror revisits Lahore
Anguished families spent Easter Monday burying their dead, bent over coffins in grief.
The six people that Anjum buried lived within the same two blocks of Lahore's Youhanabad area, he tells AFP, clutching a black-covered Bible in his hands.
"We are such a loving community in the country of Pakistan," he says, referring to the country's Christian minority, which is believed to make up around 1.6 percent of the estimated population of 200 million.
In 2013, a double suicide bombing killed at least 82 people at a church service in Peshawar while last year's church attacks in Lahore killed 17.
"We need much consolation," Anjum, pastor of the Children's Chapel in Youhanabad says. "We have become tired, we are worried, have become scared.
"See, we pray that this country should remain safe forever. We are Pakistanis, we love Pakistan. "Christians were hurt in Sunday's attack because it took place on Easter — but there were also Muslim victims, he says. "Our Muslim brothers... those families are crying too.
Also Read: Are Christians, Pakistanis?
"We are all being hit by this, Christians and Muslims also. "Among those he buried was Mutahir Javed, who was in his 20s.
"I tried to pump my son's chest and give him CPR but he was no more. He died right in front of me," Mutahir's father Javed Bashir tells AFP as relatives wail around him.
Anjum also buried Salamat Masih, also in his 20s, whose mother had to be restrained by other women in her grief.
"My son, my son, nobody should lose their sons," she sobs.
"Doing so many funerals, it's my job, but my heart doesn't feel good, "Anjum says.
Related: Heart-rending scenes at Lahore hospitals
When you become a pastor, he says, you don't think about funerals. You think about the Bible and taking its message to the world — life, not death.