Online grocery shopping is an unexplored but exciting element in Pakistan's expanding e-commerce landscape.
While physically exploring huge cash 'n' carry stores is a popular way to shop, the surge in online grocery stores indicates some space in the market for those who wish to avoid that hassle and order goods at the click of a button.
Will the trend catch on? We decided to test a few online grocery stores to evaluate the experience:
First-time visitors will love this well-designed website, which features a video tutorial on the main page to help the customer place an order.
The home page lists all items under neatly arranged categories: aside from foodstuff, CartPk.com sells personal care products, fresh vegetables, meat, baby and home care supplies, mithai and cakes, prepaid cards and even cell phones.
Orders of Rs1,000 and above are delivered free of charge. For the rest, the service charge is a minimum fee of Rs100.
Why's it special? The bakery!
They deliver sweet meat and an assortment of cakes! Instead of rushing to the bakery before a birthday or special occasion, you can have a cake delivered to your doorstep just in time for the party.
Verdict: We'll visit again
We ordered 12 dish washing bars for the office and as promised, our order was delivered within two hours. A rep confirmed the order through a phone call and also sent a text message informing us that a rider was on the way.
The service is efficient and appears to have a smooth workflow. A little more marketing and advertising could do well for their business.
Rating 4/5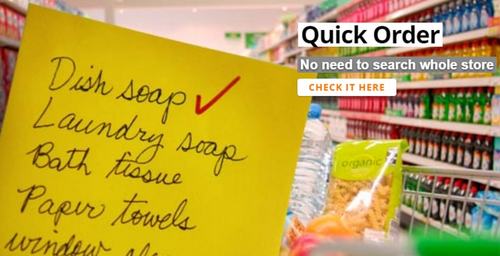 It's a bit off-putting that the 'About Us' section is dull (and also has copy errors); it claims customers have "No need to go in rushy place to buy grocery and other items."
The service promises same day deliveries for orders placed before 6pm, as well as a 'Quick Order' option that allows you to search and find what you need without browsing through the categories and individual items.
Categories include food items, baby care supplies, cosmetics, drinks, household supplies. Some items come with special offers, and the service has even compiled Ramadan packages.
There are ample of choices available for buyers, especially in the groceries section. The special offers section, however, is a disappointment as only tea-whiteners and milk-chocolate are available at discounted rates.
Why's it special? The Quick Order section
This is probably the best thing about Gomart.pk. A consumer can simply type in what they want, even if they do not have a specific brand in mind. The site automatically loads all available options, and you can pick the suitable one to add to your cart.
The verdict: It's a no show
We ordered a box of 100 tea bags, priced at Rs330 with a flat shipping rate of Rs250, so our total order cost Rs580.
We received an email thanking us for registration and another providing an order receipt. We placed our order after 6pm and expected delivery the following day.
After six days, there are no tea bags or updates about the order. Luckily, it was cash on delivery so no money was lost but it is annoying that we are still waiting for the tea bags to have a strong cup of chai.
Here's some advice: Don't just rely on a good site — deliver what you promise!
Rating 1/5
Unlike other services, Quick N Easy's site includes search filters for product categories. One can filter the items available based on a price range, or a specific brand, which makes the process much easier if you know exactly what you are looking for. To add to that, the service has a discount on every single product.
For orders of Rs500 and above, the delivery is free. For orders below Rs500, delivery charges will be applicable according to the area of delivery.
Why's it special? Tailored delivery charges
Unlike most online grocery sites, Quick N Easy offers area-specific delivery charges and not a flat shipping rate. The site also lists pet food (though limited brands) and their 'offers' section is filled with deals that many will find hard to refuse.
Verdict: Don't hold your breath
We ordered a hand wash priced at Rs135 (including delivery charges). However, the item was delivered four days later.
The rider was not a regular delivery guy, but an employee who lived nearby. If he did not happen to live close by, we wonder if we may have never have received the soap. His excuse for the delay was that the service is flooded with "too many orders".
If you're ordering cat food, tell your pet to be patient. The grocery site is easy to navigate, but hardly quick with delivery.
Rating 2/5
The site is designed to mimic an actual supermarket, with products listed in boxes of 'aisles.' Their homepage features a list of popular brands, deals, a link to the android app, and a 'How to Order' section for newcomers. Their promised delivery time is 24 hours if the order is placed before 12 PM.
All product categories have sub-categories, making the search a fairly smooth experience for the customer. The only filter available, however, is 'price'.
This grocery service boasts of a pet food section but only offers cat food and fish food.
Why's it special? Fresh greens
Tazamart promises to deliver fresh fruit and vegetables.
The verdict: Seeing is believing
We ordered a hand wash, but unlike their "free delivery on first order" claim, our bill included an additional Rs150 for delivery charges.
We received the order receipt on email but there were no other updates until 11pm on the same day, when someone from the service called to say that the "hand wash you ordered is out of stock."
The service's testimonials claim orders are delivered on time. However, our experience suggests the store management is careless about updating their site as out of stock products are showing as available. Their follow-up was also slow and badly timed. An 11pm phonecall is illogical since no one expects to receive groceries at 1am.
Rating 2/5
Other than the above mentioned stores, we also placed orders at DoorStep and AaramShop, one of the oldest online grocery stores in Pakistan.
DoorStep took our order with a flat shipping rate of Rs100 (which applies to orders under Rs1000) and sent us a receipt. We placed our order on a Friday, which is apparently the one day they do not deliver orders. Strange? We thought so.
The e-grocery canceled our order and sent us an email, with an additional clarification that they only deliver in Lahore. Our suggestion is that they should inform customers ordering from Karachi and other cities before confirming their orders.
Aaraam Shop works on a neighbourhood shop delivery model and delivery depends upon the location of the nearest store. They took our order, but since they were unable to locate a grocery store within our area, they couldn't deliver.
Final verdict: We're not impressed
Online Pakistani outlets are a long way from giving shoppers an alternative to physical stores. It isn't all doom and gloom, but to serve as viable alternatives, online retailers must prioritise customer experience.
The writer is a Dawn.com staff member
Do you want your product/service reviewed? Email us at web@dawn.com
Now you can follow Dawn Business on Twitter, LinkedIn, Instagram and Facebook for insights on business, finance and tech from Pakistan and across the world.