KARACHI: The national flag carrier has incurred an estimated loss amounting to Rs1.8 billion since last week, as angry employees protested against the government's proposed plan to privatise Pakistan International Airlines (PIA), spokesperson Danyal Gilani said Thursday.
As demonstrations against privatisation plans and imposition of Essential Services Maintenance Act 1952 on PIA employees continued for the third day in all major cities, the PIA spokesman told Dawn.com over 150 flights have been cancelled in the past three days of the strike.
Gilani said between Jan 26, when the strike was announced and Feb 2, when a demonstration outside Karachi airport turned bloody as two PIA employees were shot dead, the airline suffered a loss of Rs1 billion.
A PIA spokesman earlier told Dawn that most people had cancelled their bookings because of reports about the strike.
The airline lost Rs500 million between Feb 2 and 3 and by the evening of Feb 4, the cash-strapped carrier will lose another estimated Rs300 million, he said.
PIA has reached an arrangement with private carrier Airblue and Shaheen Air to fly passengers affected by the strike to select destinations.
Gilani said PIA is in final stages of negotiations with Etihad Airways and Turkish Airlines to facilitate passengers booked to travel internationally. The services of a private carrier are being used to accommodate passengers booked on domestic flights.
Meanwhile, the PIA management has arranged four Boeing 747 jumbo planes to bring back hundreds of Pakistani pilgrims stranded in Jeddah because of cancellation of PIA flights.
Chairman's resignation accepted
Prime Minister Nawaz Sharif has accepted the resignation of PIA Chairman Nasser Jaffer, said a statement from the Prime Minister House.
Aviation Secretary Muhammad Ali Gardezi has been given additional charge of PIA chairman, said the statement.
Jaffer had announced in a TV interview on Tuesday that he resigned following the death of two PIA employees during a clash with security personnel in Karachi.
"My conscience doesn't allow me to head the organisation anymore," he lamented at the time.
Protesters used force when strike failed: Rasheed
People protesting government's proposed plan to privatise PIA turned to using force when their call for a nationwide strike failed, Information Minister Pervaiz Rasheed said Thursday.
Despite the strike call, Rasheed said, employees continued to work and flight operations remained "fully operational" because of his appeal against the strike.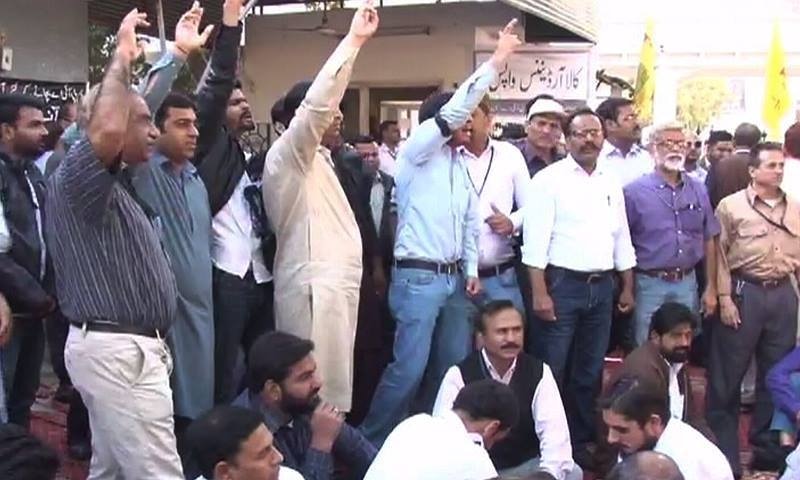 Flights were only disturbed when the protesters took to the streets and "wanted to implement the strike by use of force," he said.
The minister also lamented the deaths of two PIA employees during the protests, saying "they were our brothers and good citizens of Pakistan".
Privatisation of PIA
The National Assembly on January 21 witnessed the passage of six bills, including one to convert the national flag carrier into a public limited company.
Under the bill, Pakistan International Airlines Corporation (PIAC) is to be converted into a public limited company as Pakistan International Airlines Company Limited (PIACL).
The government plans to split the ailing national flag carrier PIA into two companies and sell the control of its core business to a global airline, but the opposition to the sell-off has been intense.
But representatives of PIA employees announced on Sunday their opposition to the government's privatisation plan, saying they would continue their strike and bring flight operations to a halt from Tuesday if their demands are not met.
With additional reporting by Irfan Haider in Islamabad.
Now you can follow Dawn Business on Twitter, LinkedIn, Instagram and Facebook for insights on business, finance and tech from Pakistan and across the world.