You want a new smartphone but your savings can hardly afford an iPhone or Samsung. You quit dreaming and scout around for an affordable yet decent looking phone which looks good, works well for communication and isn't too heavy on the pocket.
Lo and behold! Launched a few months ago, Telenor's Smart Mini is one of the new Android-based budget smartphones introduced with 3G capability. While it's a big improvement over the previous model, the real question is: is the Smart Mini affordable, attractive and any good for day-to-day use?
A good first impression
The packaging was neat and the phone itself is decent looking: almost all my friends who saw it were impressed.
For one, it is smaller in size and costs only Rs4,490. Telenor users get 3GB of free Internet access for the first six months, and a complimentary Rs600 balance. The budget-friendly smartphone can be unlocked to work with any cell phone network.
Now for the nitty-gritties.
A phone for old-school users
It is low on specs compared to other models, with 512mb RAM, 4gb storage and a 1.3ghz Quad Core Processor; not the most impressive numbers, but an entry level smartphone in this range cannot be compared with a high or mid-range Android phone.
This set is essentially designed to attract old-school users who prefer button-based interfaces and want to harness the force of 3G Internet without spending thousands on a glossier model.
There's nothing premium about it
The phone is a fingerprint magnet, and reflects plastic all over. But it isn't slippery. Aluminum-like wrapping running across its sides gives it a slightly unique feel. The name 'mini' suits it, since a user can literally hide the lightweight handset in his/her palm.
The power button feels stiff, but it's unclear whether that problem exists across phones or was specific to the unit tested. Under the screen are three non-backlit capacitive navigation 'touch' keys. The user interface is stock Android and Telenor has added some beautiful wallpapers to the collection.
'Bright karein!'
The 3.5-inch screen on the phone has average display. It is not scratch-resistance, and touch responses are mediocre. Colours wash out as the phone's brightness is increased, which is already very poor. In normal fluorescent light, one has difficulty viewing the screen, and reading is even harder in sunlight. The phone's light sensor to control brightness must be activated before heading out.
The screen's resolution of 320x480 is low, which is a standard practice in budget phones since it doesn't drain battery. On the flip side, small text is difficult to read and videos are not sharp enough.
Budget smartphones understandably come with compromises, but manufacturers should note that good daylight viewing is crucial. A majority of budget phone users use their handsets outside and poor daylight visibility can turn away many.
It performs better than you expect
Like its name, the Smart Mini is small and smart. The 1.3ghz Quadcore processor is good enough to perform day-to-day tasks with ease. In fact, Mini handles some tasks better than one might expect.
Repeated multitasking or multiple active apps in the background can drag a system into serious lags, but Telenor anticipated the problem and bundled in a near task killer app within the app switching drawer, which is just a tap away.
The storage might not seem much, since about 2.5GB is available for data. Users will have to install an SD card for more files and apps. The phone holds two sim cards, and unlike other companies, Telenor is delivering these handsets unlocked.
What is great about the Smart Mini is that it has a software update option under settings, which means Telenor can dispatch updates over the air.
Opera and Chrome both work smoothly considering the specs. A good way to test how a system holds the browser is to open websites like Facebook in their full Desktop versions. Smart Mini tested great; YouTube and online videos play fine over the WiFi (commonly used video formats flawlessly work up to 1080p). The only issue is the display's size.
The two speaker grills at the bottom on the back give the impression it's a stereo sound unit, but that's just clever design play. There is only one speaker behind one of the grills.
Tip: Due to limited RAM and storage, find one browser that suits your requirement and stick to it.
Smart Mini's 512MB RAM might not allow you to play every available game in the Android store, but there are quite a few options nonetheless. Some fun games include Badland, Raging Thunder 2, Racing Fever, MX Meltdown, Punch Boxing, Switch and Ramboat.
Telenor also has a flash light app and the usual communication and networking apps including QuickOffice, which works with Microsoft Word and Excel files.
Beware Adware
Unfortunately, some apps included in the phone carry Adware, which is a key concern with this package.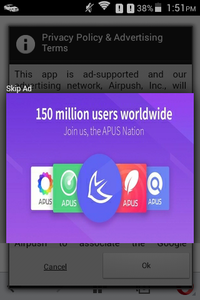 Adware is generally not harmful, but affects the device's overall performance and can be extremely annoying. Adware sends spam notifications and repeated pop-ups on top of whatever one is doing, or forces users to install harmful apps. Because infected apps are part of the bundle, users might not be able to remove them easily. Telenor should hopefully address this issue with an update.
Tip: Uninstall/disable the flashlight and the file managing apps from settings
Telenor Smart Mini for dummies
For new users, Telenor has installed the "InternetTutor" app. It guides first-time users using an interactive video available in both Urdu and English. The tutorial is good but covers only basic functions and Internet browsing.
In case signing into the Play Store is complicated for first-timers, Telenor has included its own 'Telenor Apps' store. This apps library is not as huge as that of other Android stores, but there are a couple of benefits:
Easy download. No login or sign-up required.
A mobile operator payment option for paid apps. If you need to buy an app from the Telenor app store, you can pay with the mobile balance on your account.
Compromise on camera
Although specs on the Internet say it carries a 2mp camera, every test indicated a 3.1mp one. The quality, however is questionable. Even in very bright light, the photos are heavily processed to look good, but all the finer details are lost. In low light, images are filled with noise.
The camera can shoot videos, and has panorama and HDR. Pinch-to-zoom works but there is no touch-to-focus. One can't expect too much in terms of quality, but for most users the camera serves its purpose. The front camera is 0.3mp— it might not take record-breaking selfies, but it does fine for video chat.
Battery blues
Playing games, using 3G, browsing the Internet, watching videos and making extremely long calls will heat up this smartphone.
The battery takes nearly two and a half hours to charge 100 per cent, using the charger provided.
How long it lasts depends on how much of what you use. But moderate use should make the battery last throughout the day, which means not too much of Internet or games.
The verdict
Telenor Smart Mini is not for users familiar with better Android machines. It is for first-time users or those looking for maximum functions within a budget—these users will not be disappointed from the Mini's performance, though they might be bothered by the camera. There are certainly better 3.2mp camera models available by competitors.
Smart Mini is a good, affordable step in learning one's ways around smartphone technology, mobile internet and social networking, before upgrading to larger handsets. The phone should deliver decent performance for a while, as long as users don't plan to fill it with resource hungry apps.
The author is a graphic designer and freelance writer with a focus on tech.
Do you want your product/service reviewed? Email us at web@dawn.com