Months before the attack, 16-year-old Taimoor Malik participated in a skit which illustrated a terrorist attack at the school. Playing the role of an army major, he was killed fighting militants.
The day of the horrific attack, his classmates say Taimoor died just as heroically.
Taimoor is just one of the 131 students killed in the December 16, 2014, attack on Peshawar's Army Public School (APS). There were many who faced a similar fate, with the entire nation sharing the pain of the tragedy.
A native of Charsadda, pampered Taimoor was the youngest of five siblings. He loved to eat, and loved making omelettes.
His siblings appear to be shocked into a silence at the loss of their youngest. His mother said her heart breaks every day, and that she will never forget her son.
The journalist
Amongst those who lost their lives was an aspiring journalist, a student of science who was not very fond of physics and chemistry and imagined himself more as an anchor on prime time television.
He shared the name of Pashtun ruler Sher Shah who took control of the Mughal Empire in 1540 and is still remembered as one of the greatest administrators and rulers of medieval India.
Like a true Pashtun, our Sher Shah, a victim of Taliban brutality, was curious about horses, reading books that detailed their taxonomy. He could tell the classification of a horse just by its structure and physique.
Sher Shah loved to study Turkish and Islamic history and was a skilled member of the debating club. His favourite book was 'Worlds Together, Worlds Apart'.
Sher Shah's father cries for his eldest son every night, and questions his son's fate.
The 'sweet' promise
Before he went to school that day, Shah warned his sisters not to eat the sweets his uncle had gifted to him, the masaledar gurh. But never came back home to fight with them.
Son of Misal Khan and Shukria Bibi, the 16-year-old Shah Fahad joined APS four months before the attack.
Before that, he studied at a school in Hayatabad, where he lived with his aunt. But his parents wanted to see him every day and so he was admitted to the Army Public School in Peshawar.
Shah's parents are shattered by his death. His father's eyes were full of tears when he spoke about Shah, while his mother has not yet recovered from shock.
Husnain, the philotherian
Husnain loved to visit his village, where he played for hours with young farm animals. The 14-year-old was quite particular about his clothes and would always ask his father to buy him new outfits.
"I had big dreams for my son. I hoped that Hasnain would complete his studies and work hard to make a mark in society," his father told Dawn.com.
Deeply scarred by the loss of her young son, Husnain's mother was unable to speak about him.
The youngest victim
It was six-year-old Khaula's first day of school in grade one. She was overjoyed that she had finally joined her siblings instead of staying home. It would be her only day at school.
Daughter of Altaf Hussain and Safoora Bibi, Khaula was the youngest and only female student killed in the horrific attack.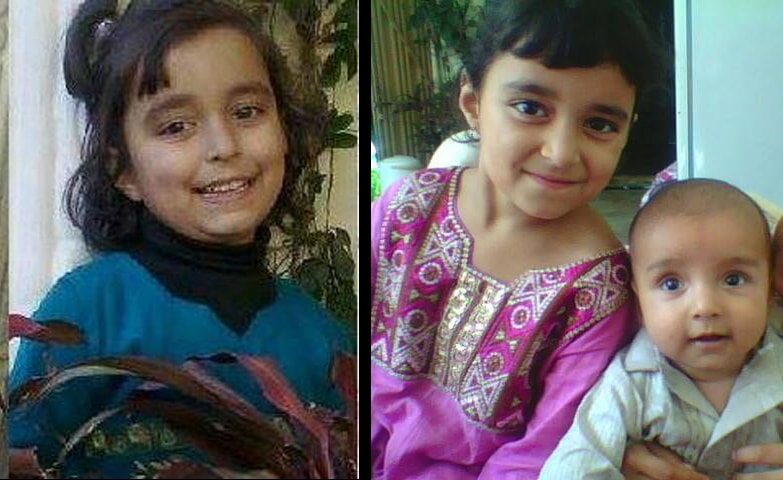 Her family describes little Khaula as a flower. Even at a tender age, she was passionate about education and was outspoken about the right of female children to go to school.
The young Khaula once persuaded a professor in her neighbourhood to send his daughter to school, and despite his vehement opposition, he melted ─ he was swayed by Khaula and her sweet words.
Her mother says she will never recover from her loss. Her father tries to be brave for his family, but in his heart, he mourns Khaula every day.
The gatekeeper who did not live to see his newborn
One of the gatekeepers of the school, Bilal, was attacked by terrorists when they saw him helping children escape from a back exit.
He and his wife were expecting their second child when he was killed in the attack. His wife has named her newborn Hanan because Bilal loved that name.
Sadly, Bilal's youngest son will never know his father.
For his elder son, Abbas, now three-and-a-half-years old, Bilal had dreams of a good education to help him become a doctor.
Sadly, Bilal's youngest son will never know his father.
The teacher who returned to get killed
Sofia Hijab, a mother of two and a hard-working teacher, was present in the auditorium while the attack was happening and had managed to come out of the premises safely. But she decided to go back for her students and pulled out many of those injured before the attackers targeted her.
She started teaching at APS as a junior teacher two years ago but her dedication and hard work led to her promotion as a senior teacher within a short span of time.
Her colleagues remember her as a hard-working woman who enjoyed having a laugh every now and then. She liked to keep people together and would arrange meet-ups and one-dish parties for her colleagues.
Sofia's husband recalled his wife's love of holidaying at various tourist spots, of which Murree was her favourite.
When it came to food, she enjoyed cooking and eating chicken biryani and would make various seafood dishes over the weekend for her family.
Those that survived
Also Read: 144 Stories: Remembering lives lost in the Peshawar school