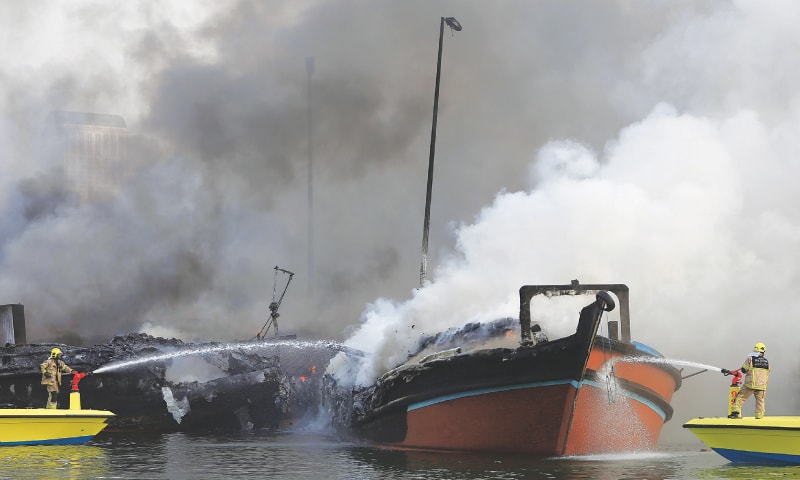 DUBAI: Firefighters rushed to contain a blaze that broke out on Monday aboard cargo vessels docked alongside the main waterway that runs through the heart of Dubai.
The fire began in the afternoon along the Dubai Creek, sending thick black smoke billowing above the Mideast commercial hub's densely packed Deira district, which is home to hotels, office buildings and gold and spice bazaars popular with tourists.
Dubai's government media office said the fire was brought under control within three hours, and that one minor injury was reported. It was not immediately clear what sparked the blaze, which spread to boxes and crates of merchandise stacked up along the quay.
Bank employee Khurram Kabir from Bangladesh, who saw the fire on his way home from work, said multiple boats were burning and others were trying to escape the flames as thick smoke filled the air.
"I have never seen this kind of smoke before," he said. Another witness, Tariq Rajput, an accountant who works in an office in Deira, said the flames appeared to rise 10 to 15 feet in the air and that the smell and appearance of the fire suggested rubber or oil was fueling the blaze.
The Dubai Creek is a saltwater inlet of the Persian Gulf coursing through the old core of the city that remains an active trading port. It is mainly used by traditional wooden boats known as dhows that ferry goods ranging from tires and cooking oil to refrigerators and televisions to Iran and other destinations. Larger cargo container ships dock at bigger harbors elsewhere in Dubai, including the sprawling Jebel Ali Port, the region's busiest seaport.
Published in Dawn ,July 14th, 2015
On a mobile phone? Get the Dawn Mobile App: Apple Store | Google Play