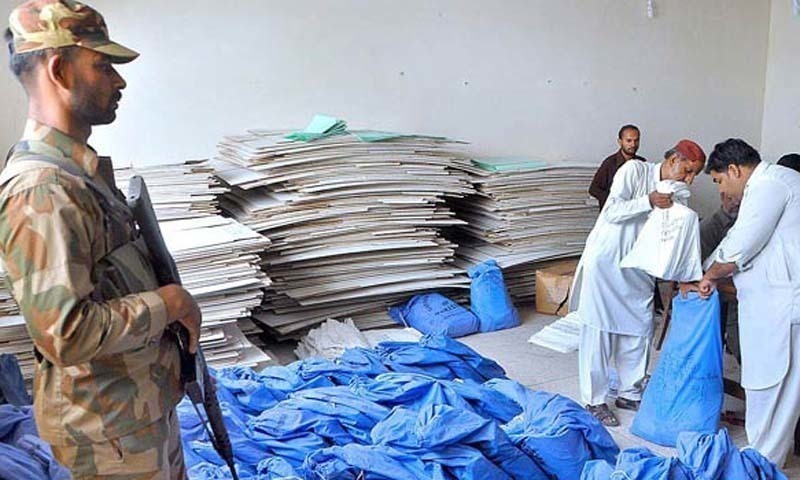 GILGIT: Polling for 24 seats of the second Gilgit-Baltistan Legislative Assembly concluded on Monday. Voting began at 8am and continued until 4pm, without any breaks.
About 600,000 registered voters were scheduled to exercise their polling rights in today's elections.
Voters will elect six members of the legislative assembly from Skardu, four from Diamer, three each from Gilgit, Hunza Nagar, Ghizer and Ganche and two from Astor.
Candidates representing the Pakistan Muslim League-Nawaz (PML-N) and the Pakistan Tehreek-i-Insaf (PTI) are contesting for all 24 seats of the Legislative Assembly, Pakistan People's Party (PPP) candidates for 22 seats, Pakistan Awami Tehreek (PAT) for seven, Majils Wahdat-e-Muslimeen (MWM) candidates for 15, Jamiat Ulema-i-Islam- Fazl (JUI-F) for 10, All Pakistan Muslim League (APML) for 13, Tehreek-e-Islami for 12 and Jamaat-i-Islami (JI) for six seats.
Gilgit Deputy Commissioner Gilgit Rana Rizwan said the polls were conducted in a peaceful and smooth way in the district as no unpleasant incident was reported during the whole day.
He said there were a total of 215 polling stations in the district and the number of registered voters in Gilgit was 98,000.
He said all the institutions worked efficiently to ensure peaceful and transparent elections.
800 army personnel, 1,200 police officials along with Rrangers and GB Scouts were deployed at the polling stations to maintain law and order, he mentioned.
The DC said the administration visited different polling stations besides having an aerial visit of them.
Tight security arrangements were made across the region to ensure smooth voting process. For this purpose, eight units of the army have been deployed in the region. Vehicles are also being inspected at entry and exit points.
Eight units of the army have been deployed in the region in wake of the elections today. -DawnNews screengrab
In wake of the elections, a public holiday has been declared across the region and banks are closed.
Also read: Gilgit-Baltistan elections: Army deployed across all districts
In all, 1,143 polling stations had been set up in seven districts of Gilgit-Baltistan and ballot papers dispatched to polling stations under the supervision of the army.
Out of the total, 282 polling stations have been declared highly sensitive and 269 sensitive.
According to the Election Commission of Pakistan (ECP), there are 618,364 registered voters in the region. The number of female voters is 288,889 while that of male voters is 329,475.
A total of 272 candidates are in the run for the Legislative Assembly.
The elected members of the Legislative Assembly will elect further eight candidates — three technocrats and five women.