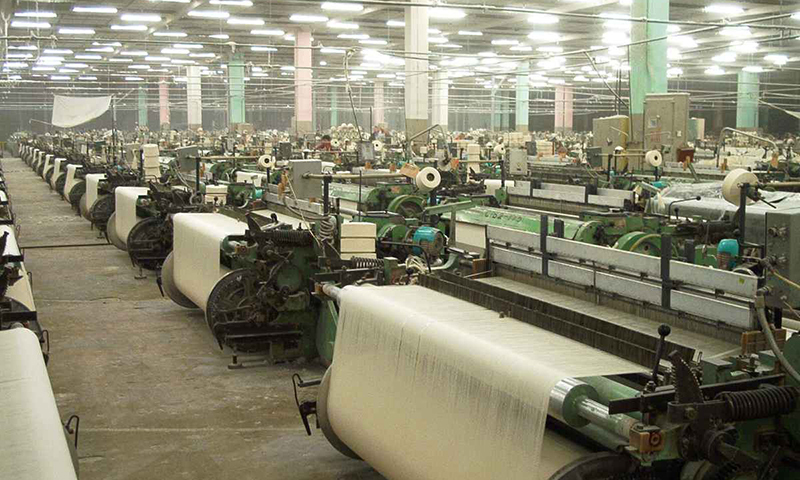 ISLAMABAD: Pakistan's exports of textile and clothing fell by 1.21 per cent in 10 months of the current fiscal year from a year ago.
Export proceeds of textile and clothing fell to $11.281 billion in July-April 2015 from $11.420bn over the corresponding period of last year, Pakistan Bureau of Statistics data showed.
On a monthly basis, nominal growth of 2.94pc was witnessed in April 2015. In the last couple of months, exports of textile and clothing witnessed a negative growth.
Export of low value-added products dipped by 7.50pc; cotton cloth 10.98pc; art, silk dropped by 12.02pc and other textile material 0.11pc. Raw cotton export witnessed a steep decline of 26.22pc during the months from a year ago.
Contrary to this, exports of cotton carded was up by 2.49pc; yarn other than cotton yarn 5.40pc; made-up textile, excluding towels by 0.09pc and tents, canvas 73.26pc.
Export of value-added products witnessed an increase during the months. Knitwear exports increased by 7.76pc and readymade garments by 9.14pc in July-April 2015 over last year.
Export of bedwear dipped by 1.13pc. However, export of towels witnessed a growth of 3.20pc. Total exports stood at $19.921bn in July-April 2014-15 as compared to $20.979bn in the same period last year, a decline of 5.04pc.
Oil and food: Import bill of oil and eatables in July-April 2014-15 witnessed a decline of 10.298pc to $14.06bn from $15.674bn in the same period last year.
However, total import bill during the period increased by 1.83pc to $37.763bn from $37.084bn a year ago.
The import bill of food products witnessed a surge of 21.76pc to $4.205bn as compared to $3.453bn.
The import of wheat witnessed an increase of 72.90pc; pulses 34pc and all other products 57.67pc. Import bill of sugar also increased by 11.34pc.
Oil import bill reached $9.855bn during the period under review as against $12.221bn in July-April 2014-15, a decline of 19.36pc.
Import of crude oil declined by 24.29pc and petroleum products by 16.26pc.
Published in Dawn, May 21th, 2015
On a mobile phone? Get the Dawn Mobile App: Apple Store | Google Play
Follow Dawn Business on Twitter, LinkedIn, Instagram and Facebook for insights on business, finance and tech from Pakistan and across the world.